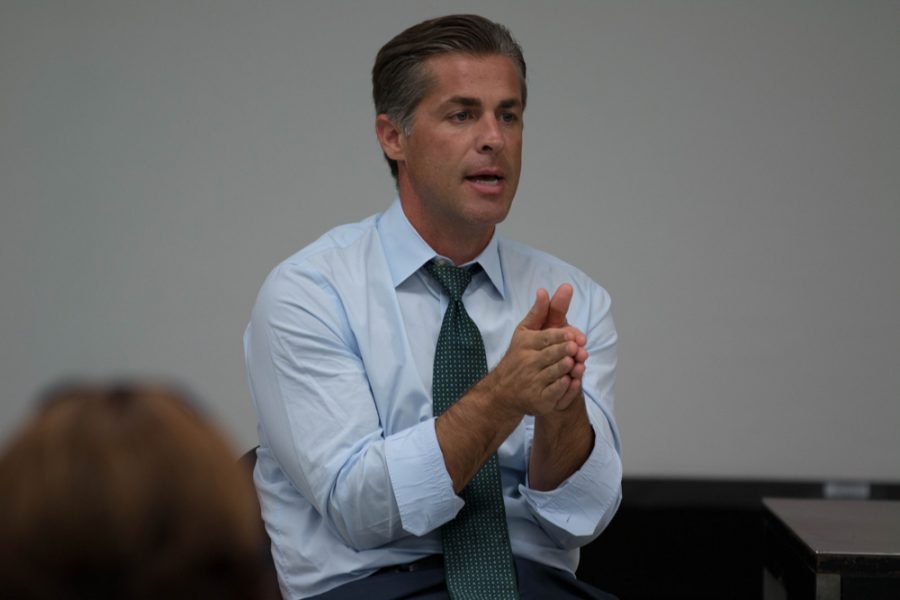 Brian Hayes
Dan Giroux grew up the youngest of 11 children.
He was raised Catholic — his father was President of Newman University in Wichita in the 1980s. His mother taught English and worked in property management at the end of her career.
He met his wife, Christine, at Creighton University. They've been married 15 years and have four children, ranging from 6 to 13 in age.
Giroux worked as a prosecutor in the Sedgwick County District Attorney's Office. He worked in the violent crimes and sex crimes divisions. Many of his cases involved prosecuting child molesters. Today, Giroux is managing partner of the Wichita law firm of Dugan & Giroux Law, Inc.
Giroux is the Democratic candidate for the 4th District in Kansas, which represents south central Kansas in the U.S. House of Representatives. Giroux is challenging incumbent Republican Mike Pompeo, first elected to the 4th District in 2010. The district covers more than 16 counties — including Sedgwick, Harvey, Sumner, Butler and Cowley — in south central Kansas.
Some of Giroux's family has moved out of Kansas, which Giroux said is a microcosm for what is happening in Kansas.
"We are losing our talent," he said. "We are losing our brothers and sisters. We are losing our sons and daughters. We're losing them at a very rapid rate. You can't blame that on anything other than bad policies — bad policies that have been generated by the far right where [Pompeo] has not interjected."
Giroux said he thinks Congress's policies have caused a lack of focus of bringing jobs to Kansas. He said the policies discourage job growth.
"I think there are things we can really do in south central Kansas to build jobs, to make us a better community, to live out our full potential as a community that we're not doing right now," Giroux said.
His objectives include job retention in Kansas. This involves opposing the Trans-Pacific Partnership, which sets the rules for global trade. Giroux also advocates improving infrastructure to boost the economy. In addition, he wants the government, at all levels, to work together to serve the needs of the people, something he said is not getting done.
Giroux has not endorsed a candidate for president and said he probably won't until right before he votes.
"Hillary [Clinton] has a pedigree about her," he said. "She's been around government, she understands foreign policy. She understands things because she's been there and done that before. The big thing to me is trade. There was one point in time where she was pro-TPP."
He is not a fan of Republican nominee Donald Trump either.
"I have a lot of issues with Trump," Giroux said. "He's very perplexing and frustrating with some of the things he says and some of the discourse he's bringing to the table."