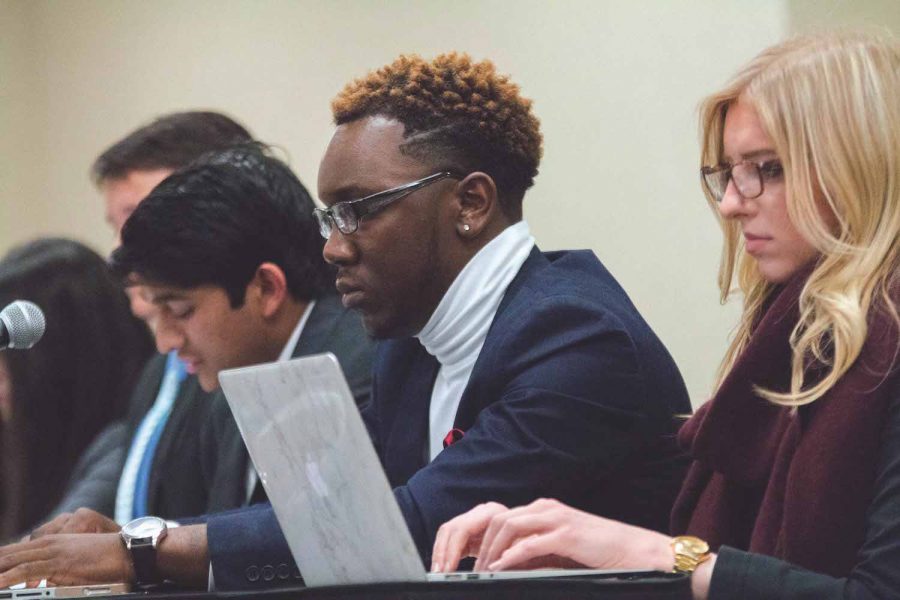 Evan Pflugradt
Wednesday's Student Government Association meeting, the first of the semester, focused on reviewing potential changes to SGA campaign guidelines as well as confirming seven new senators.
One proposed bill, authored by Student Body Vice President Taben Azad, called for a $1,200 cap on campaign spending for each ticket as well as a $100 limit for independent candidates.
"Typically, you get $50 for every senator you have on your ticket and $250 for both your presidential candidate and your vice presidential candidate," said Student Body President Joseph Shepard.  "If a ticket fills up their entire slate, that's essentially $3000."
Not everyone running for office has the means to compete with this spending potential, Shepard said.
"There's a decent amount of people who don't have deep pockets, but still have the passion and the desire to run and represent the student body.  Just because someone is able to produce more yard signs, more publication, more media, doesn't mean that they are the most qualified candidate."
Senators recognize the difference that a spending cap could make with regards to campaigning.
"Going from almost $4,000 to $1,200 would cut campaign options and marketing abilities pretty slim," Sen. Ryan Siebuhr said. "You really won't be able to do as much as last year."
According to Shepard and Azad, the benefits of scaling back spending outweigh the inconvenience.
"Making voter turnout a priority requires us to increase the ability of individuals to run as a senator or on a ticket," Azad said. "I really want to reach that 20 percent voter turnout.  I think the best way to do that is to encourage more members of the university to run for a position by leveling the playing field."
The proposed legislation will be on the agenda at next week's meeting.