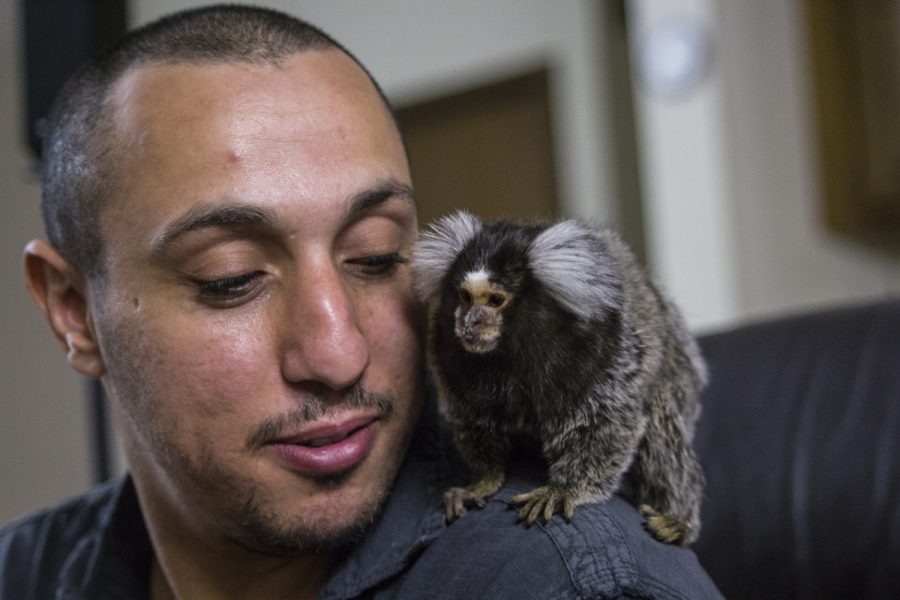 Hannah Roberts
Taking an international flight, landing at Eisenhower National Airport and making the way to baggage claim — only to be greeted by a marmoset monkey.
That was the welcoming international students were given last week as they arrived in Wichita. Muhamad Mansour, a student from Palestine studying international business, is the man behind the monkey. This year, he joined the International Student Organization welcoming staff, made up of about 50 people.
Mansour said he hoped bringing his monkey to the welcoming would help students who are new to the United States feel more relaxed, but the decision came on a whim.
"ISO sent an email requesting volunteers to welcome the international students that come to Wichita State," Mansour said. "I had some free time on my hands so I signed up for that. But since the monkey was with me, I thought that would be cool to just take her with me. And I did, and that was amazing."
Beba on his shoulder, Mansour greeted students at the organization's welcoming desk at Eisenhower Airport.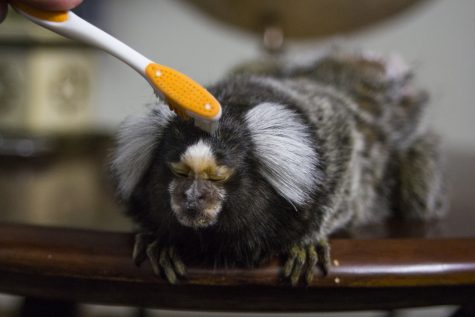 "She was with me all the time," Mansour said. "Lots of people noticed. The airport manager finally walked by. He didn't seem too bothered. He said,'Ilike,butithastobeina cage.' At that point I had 20 minutes on my shift, so I told him I'd leave. He was very patient."
Mansour said he does not like to cage Beba, only using one when he must discipline her.
"The very one time I did put her in a cage for a day, I noticed some changes in her personality — negatively," Mansour said. "Just like a human being."
Mansour has had Beba for a year and a half. He bought the marmoset in Florida.
"I've raised her since she was two days old," Mansour said. "I literally bottle fed her. No matter what — I go overseas, I leave for four months — every time I get home she'll jump at me. Just like a human being. She misses me."
Mansour said he thinks it's pretty cool to be known as "that monkey guy."
"You get a lot of attention, obviously," Mansour said. "It's not something I looked for or thought about when I got the monkey. I just wanted the monkey. But then other things come with it. Maybe a bit too much attention … It's an attention magnet."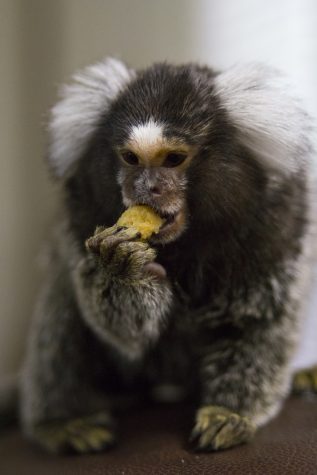 Mansour said Beba is very curious.
"She'll be playing with kids," Mansour said. "Sometimes kids cried because I had to leave. One of my friends had a four-year- old, and when I left she started crying really bad. And she's like, 'The monkey is leaving!' So I had to go back and sit a little bit longer to calm her down before I left again. There's many stories like that."
As part of the welcoming staff, Mansour said he thinks WSU is doing a good job of welcoming international stu- dents to the U.S. Mansour was born in Palestine, and came to the States in 2009.
"I think the people in Wichita are very friendly," Mansour said. "When I first came I didn't speak any English. I used to even try to draw pictures to try to get my message across. It was pretty bad.
"I remember those days. It's really nice to have someone to welcome them and someone else to take them to wherever they reside for the next few months or years."
Mansour said he's been all over the US since moving here, and thinks the people of the Midwest are the nicest.
"You go to California and you stand in a line and you are just a little bit too close, they'll be like, 'What's going on, why are you so close to me?'"
Mansour said he thinks Beba was a good icebreaker for incoming international students.
"Just looking at her makes you feel more comfortable," Mansour said. "I would like it myself. Marmosets do some amazing stuff."