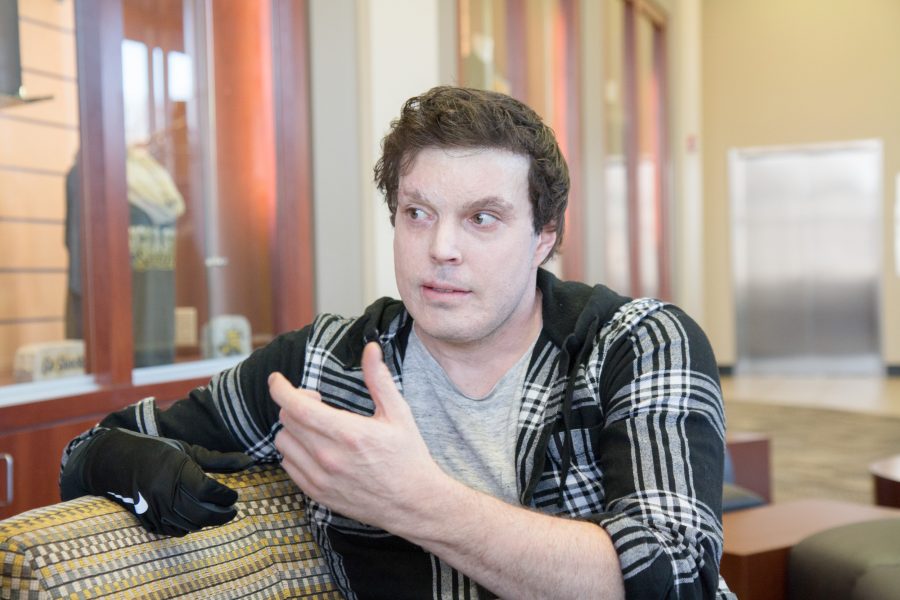 Selena Favela
Jared Estes can't stand the word "victim."
But starting one night in March of 2005, he had good reason to feel like one.
That was the night Estes and his wife, Paige, both WSU alumni, were hit by a drunk driver. The car burst into flames upon impact and Estes was left with severe burns on most of his body.
But it wasn't until he woke up from a coma two weeks after the accident that he learned that the worst pain had yet to come — his wife, Paige, never made it out of the burning car.
"I started looking at my future and I didn't see anything good in my future," he said.
All he saw was more pain, he said. More surgery. More trips to the hospital. Wavering between life and death.
And his prediction wasn't entirely wrong. Three years of recovery meant more than 50 surgeries.
He held onto his dream of returning to his hometown of Bucklin, Kansas, to visit the grave of his late wife.
He promised himself he would make it through and pay his respects to Paige. This goal, he said, got him through the long recovery process.
He envisioned a moment of catharsis, the culmination of all of the emotional and physical pain.
When the day he dreamed about finally materialized, it looked nothing like he had imagined it for so long.
He was virtually immobile. His right eye was still sewn shut from skin grafting surgery. He couldn't even cry. It was at that moment he decided he did not want to go on.
Then Paige's mom pulled into the cemetery. She brought with her Paige's two younger siblings, Samantha and Bubba.
"As soon as they started to walk towards me, something hit me really hard," he said. "It was their faces. They looked so much like Paige."
It was that moment that he changed his mindset.
"What if Paige and I's roles were switched and I was gone and I was watching her sitting there giving up the same way that I was?" he said.
When he left the cemetery that day, he had a new goal in mind.
"I was going to come back from this," he said. "I was going to be strong again. I was going to be happy again. I was never going to stop fighting–– and I wasn't going to do it for myself. I was going to do it for Bubba and Samantha."
Since then, Estes has left his job at the Kansas Collisium to pursue speaking about his experiences — and the lessons they taught him.
Estes has made a full time career of traveling around the country and speaking at high schools, universities, and U.S. Army bases about resilience, grace, perspective and letting go.
"I absolutely can't stand the word 'victim,'" Estes said. "As long as we have a pulse in our minds we can always fight back against even the toughest of circumstances."
Estes said it's important for people to remember to stay strong during "dark seasons."
Because it could always be worse.
"Every one of us in our lives (is) going to have more than one 'why me?' moment," he said. "Especially with the political climate right now and the way our differences are being highlighted, I am here to remind everybody what we all have in common. We all need each other."