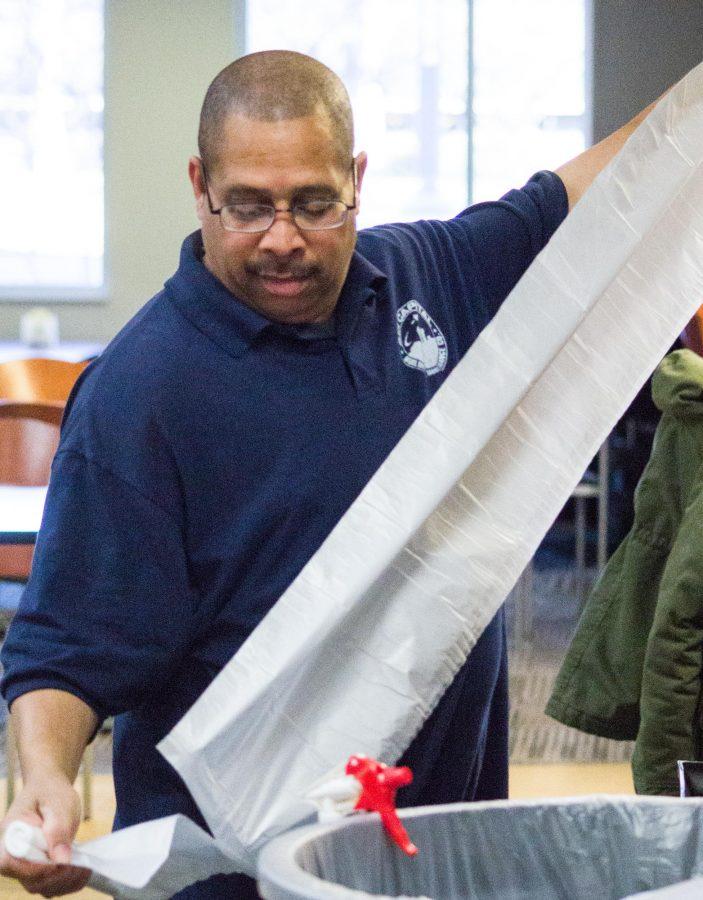 Hannah Roberts
Wichita State Freshmen Kenya Sevilla studies in the Rhatigan Student Center almost every day.
"I like the lighting and how it's set up," the nursing student said. "I'd say it's like home because I'm here all the time."
"It's peaceful. It's clean and the food's right there," Sevilla said
She can thank Clark Jernigan for contributing to the atmosphere by keeping the center clean for the past 16 years.
"I've been on this campus my whole damn life. I've been a Shocker for all of my life. I can't help it," he said. "I like the people. Sometimes I almost feel guilty because I'm having so much fun."
Jernigan is the Custodial Supervisor for Air Capital Building Maintenance Company; the company the university has a contract with for cleaning services.
He also filled the vending machines for about nine months and had a temporary job working on landscape at WSU before that.
A lot of that fun comes from the people he works with and the students, especially the students.
"Some of them are very unique, some are really funny, just a variety," he said. "It's interesting talking to them and them talking to me. I get a kick out of that."
Jernigan said his parents bought a house across the street from the WSU's Main Campus in 1959 before he was born. He is 53.
Years later, he moved in and it's now his home. He walks to work.
He said he remembers when fruit trees – pears, cherry, apple and apricot trees – were where the campus is now.
"We'd climb the trees and eat fruit," Jernigan said about his friends and himself.
He also remembers going to his father's graduation in 1970.
His father played running back on the football team and ran on the track team.
His father had a nickname: "the colored comet."
"This was in the 50s," Jernigan said.
His father was also friends with Dave Stallworth who played for the New York Knicks for six years and other basketball teams, he said. After one game at least,  Stallworth called his father about attending a Knicks game and went out with the team after the game.
Sam Cross, general manager university dining services, said the center needs people like Jernigan.
"They really have the ability to impact customer service without directly interacting with the customer," he said.
They keep everything stocked – napkins, plastic ware, – and clean up spills, Cross said. It would be different without them.
"The place would be a mess," he said.
Azal Alharazi is the lead supervisor of retail services.
"It's part of our job. We hire someone special to clean the lobby," she said. "We try to make it feel like home."