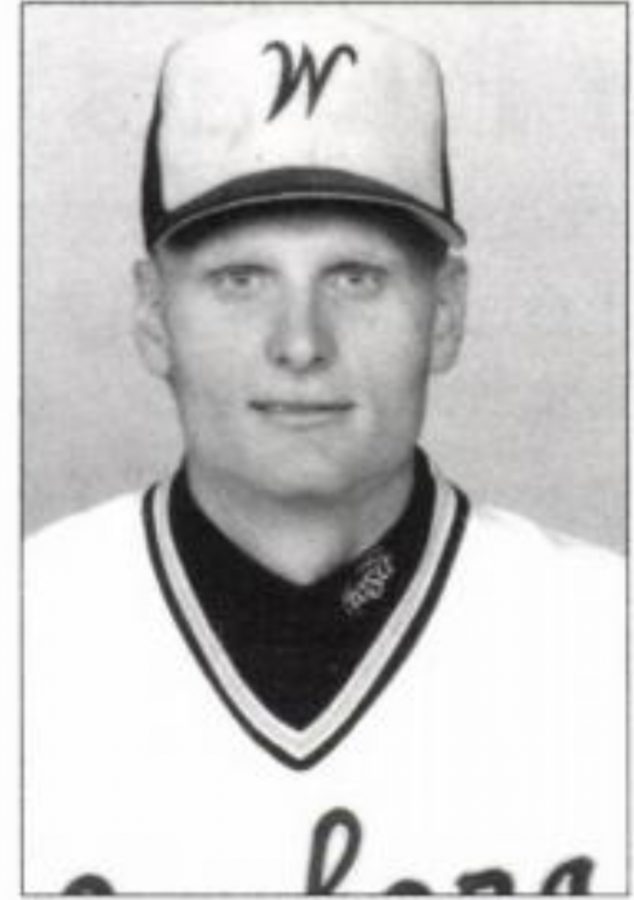 Bryant Klusener hung a Wichita State baseball poster in his room when he was 8 years old. He had attended games at Eck Stadium as a child and admired the players who went on to play in the major leagues.
There was one reason beyond the rest as to why the junior from Andover kept that poster hanging in his room: follow his father's footsteps of playing baseball at WSU.
"I've always knew he played here and went to the College World Series and thought it was the coolest thing," Bryant Klusener said. "My entire life I've always dreamed about coming here and playing here like he did."
Klusener's father, Matt, was drafted by the Chicago White Sox in the 40th round of the MLB amateur draft, 1031st overall. Instead of turning pro, the Shawnee Heights High School product decided to play for Gene Stephenson's Shockers.
From 1991-1994, Klusener's pitching led to WSU making three straight appearances in the College World Series from his freshman to junior seasons. The Shockers were the national-runners-up in 1991 and 1993.
"I got to play with a lot of great players and made some lifetime friendships," Matt Klusener said. "With all that, I wouldn't trade that for the world."
As his son Bryant grew older, Klusener's son began developing a love and a skill for baseball since he was four years old. For the next 10 years, Bryant's head coach would be his father.
Matt Klusener said Bryant had developed a heavier skill set than most of the kids in his league at the age of six. At age 12, Klusener described his 12-year-old son having a skill set that was not ordinary for kids his age.
Klusener said that his son had a lot of power to his swing and understood the littlest details about the fundamentals of the game, doing things that separated him from the better players in the Wichita area.
"You could talk to him about (the fundamentals) and he would understand what the heck you're talking about," Matt Klusener said. "His understanding of the game was really good and better than most kids."
Once high school approached, Bryant turned into a four-year baseball letter winner at Andover High School, playing almost every position during his high school career. As a freshman he was named to All-Ark Valley Chisholm Trail League second team as a utility player and earned the same honor as a sophomore, this time as a pitcher.
Bryant earned All-AVCTL first team honors as an outfielder in his junior season and earned the same honor as a senior at the shortstop position.
During Bryant's senior year, he led AHS to a 5A state tournament appearance while being placed on 5A All-State second team.
While Bryant was collecting all of the high school honors, he kept in touch with WSU head coach Todd Butler hoping to have the opportunity to sign with the Shockers in 2015.
While Butler thought that Klusener was a quality player, he wanted to watch Bryant develop, Matt Klusener said.
Keeping his dream to play at WSU alive, Bryant signed with nearby Butler Community College in El Dorado.
"Going to Butler helped me develop my skills a little more between my freshman and sophomore year," Bryant Klusener said. "It was close, so (WSU) came to a lot of my games. I just needed those extra couple of years to develop into a better player to have a chance to be (at WSU)."
During his sophomore year at BCC, he hit .349 in 2016 while compiling 60 hits with 44 RBIs and nailing two home runs to become an all-region gold glove winner.
At the conclusion of his two-year career at BCC, Klusener and his family had a meeting with Butler in his office.
In that meeting, Bryant walked out as a Shocker with tears streaming down his father's face.
"There's a lot of great players that played here in the past and there's a lot of those great players that have sons coming up now," Butler said. "It's a big responsibility for us to see each and every one of those kids play. Klusener has done a very good job. Hopefully he's going to be an impact for our team as the season goes."