Wichita State: Please put students back in the student section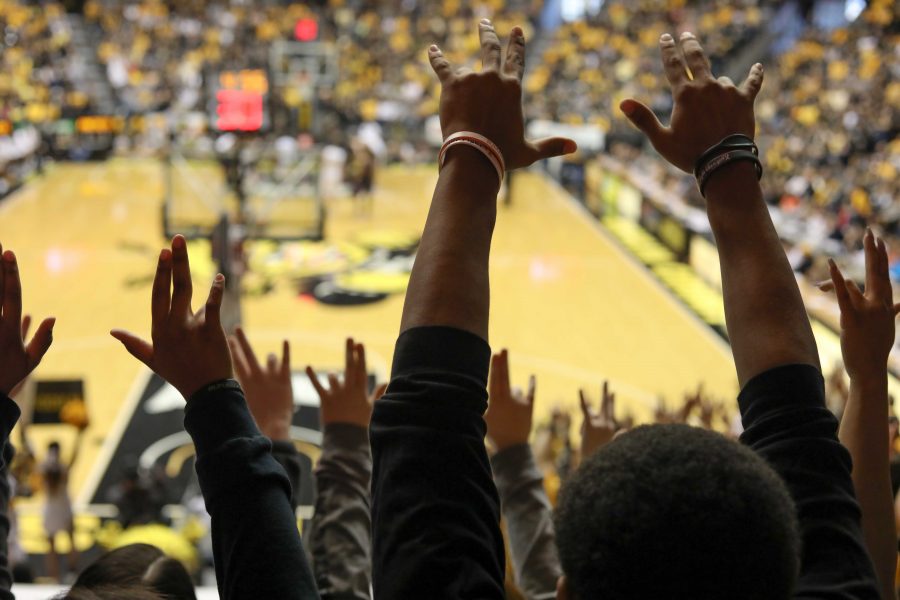 Saturday, Wichita State was the featured game on a nationally televised ESPN network.
An older, non-student audience represented the university in all its glory.
Season tickets are steep, but non-students have found a way to beat the system — and it's killing the student experience.
Season tickets for men's basketball, if you're fortunate enough to work your way onto the waiting list, start at $390 each, and it doesn't stop there. Be expected to pay a Shocker Athletic Scholarship Organization donation of $460 for two seats, which you'll renew every season.
There are no limitations for the student section, which holds all general admission tickets — an easy buy-in to premier seats.
And what qualifies someone to have the privilege of a student ticket? Enrollment in a one-credit-hour class.
If you're not game to pony up the dollars to your alma mater for season tickets, why not enroll in yoga? Yoga not fit for you? Try billiards.
Rock climbing. Ice skating. Horsemanship — I don't know what that is, but WSU offers it.
For a little more than $250, any Wichita resident can enroll in a one-credit-hour course and have the rights to a ticket at any home athletic event.
It's not a bad deal — unless you're actually a full-time student trying to enjoy your college years.
I had this struggle come up recently.
I decided to stick around for a Tuesday evening game earlier this season.
Competing for a good seat, I got there slightly before they opened up to the public an hour-and-a-half before the game.
As good as I could get, I landed in the third row — behind the usual crowd who had been camping out all throughout the day. Still, a good seat for the wait.
Yet, soon after I sat down, an older gentleman approached me.
"Excuse me, you're in my seat," he said. "My family and I sit here every game."
There's no reservations on the seats — and for $22, the cost of a general admission ticket, he can have as good a seat as he wants.
The man, I came to find out, is retired, and generally gets to the stadium extremely early.
After all, he has what students don't have: excess spare time.
No order, whatsoever, limits the student section and who occupies it. His claim on my seat was legitimate. As a student, I don't have a clear section of my own.
At other state universities, there's distinct separation between general admission and the student section. And the rules and regulations for the student section are steep.
At the University of Kansas, students must be registered in a minimum of six credits to receive a student ticket. They also have to pay an athletic fee tagged to their student bill. Without it, there goes their ability to pick up a ticket.
Students are then put into a lottery system to determine the seating order. The odds of snagging the highly sought after front row more than once season are next-to-none.
There are too many issues with the student section, its disorganization and lack of regulations.
President John Bardo, who uses basketball as a key recruiting tool for students and student retention, should put more emphasis on getting students back in the student section.
About the Writer
Evan Pflugradt, Sports Editor
Evan Pflugradt is the former Sports Editor of The Sunflower.

Pflugradt past served as the publication's Editor in Chief, Opinion Editor and a reporter....