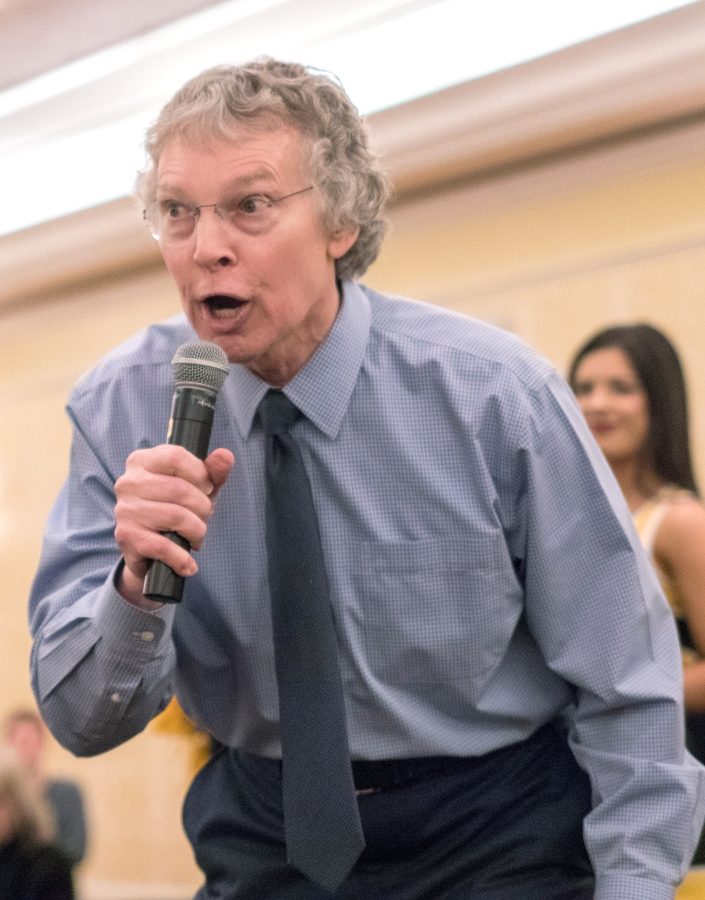 Hannah Roberts
Dave Dahl ran for Judge of Division II in the 18th Judicial District Court in 2012, winning the election and starting his duties in 2013.
During his election campaign, Dahl had to take time off from what he loved to do: call Shocker basketball games.
At the time he was elected, Dahl knew that the time management of trying to handle both jobs would be a challenge.
"I'm very precise about my time," Dahl said. "So I know, for example, how much time it takes me to prepare for a ball game, which is about nine hours. I've been able to balance it out real well."
When play-by-play broadcaster Mike Kennedy got the job of calling Wichita State sports in 1980, Kennedy knew he would need a right-hand man to call basketball games. Kennedy invited Dahl, a former WSU football player, for a closed basketball scrimmage in order to see if the chemistry between the two would work.
Dahl became Kennedy's color commentator from that moment on.
"He's really professional about everything he does," Kennedy said. "He puts the same kind of effort into (broadcasting) as he does with his law practice and with now being a judge."
Dahl's job as a color commentator is to give analysis on what is going on during the game and explain why a certain play did or did not work. In order to prepare for a broadcast, Dahl prepares game notes and a scouting report when he is not working as a judge.
Along with performing a double duty, Dahl also is caring about his colleagues and the people that are surrounded in his life.
"He's protective of those that he loves and cares about," Kennedy's wife, Debbie, said. "I knew I had to get his approval when I was dating Mike."
After being an attorney for 37 years, Dahl was unsure if he wanted to be a judge because judges do not make a lot of money.
People talked to him about running for judge, but Dahl said he was not ready to run just yet. In 2012, Dahl still had the dream of becoming a judge and decided that the timing was right.
"You get to a certain age where you have to say 'I'm either going to have to do it or forget about it," Dahl said. "I was at that point in my point in my life about six years ago. I talked with my family, I talked with a number of people about it. They suggested that I pursuit and we are at a point financially where we could do it."
Dahl does not do the away games anymore for WSU basketball, saying it makes it easier on his work as a judge. Even though Dahl considers himself a goal setter, he is content with where he is at in his life and where his career is going, especially with calling basketball games for WSU.
"I'm pretty much a goal setter, but I'm content with doing Shocker basketball games," Dahl said. "That's where my heart is and that's where I've been fortunate to spend my time. I don't care to go beyond being a district court judge. I feel very lucky to be doing it and I hope to be doing it for about seven more years."