Seeding conundrum: Gregg Marshall's notorious battle with the selection committee
Wichita State has a history of being undervalued in the NCAA Tournament.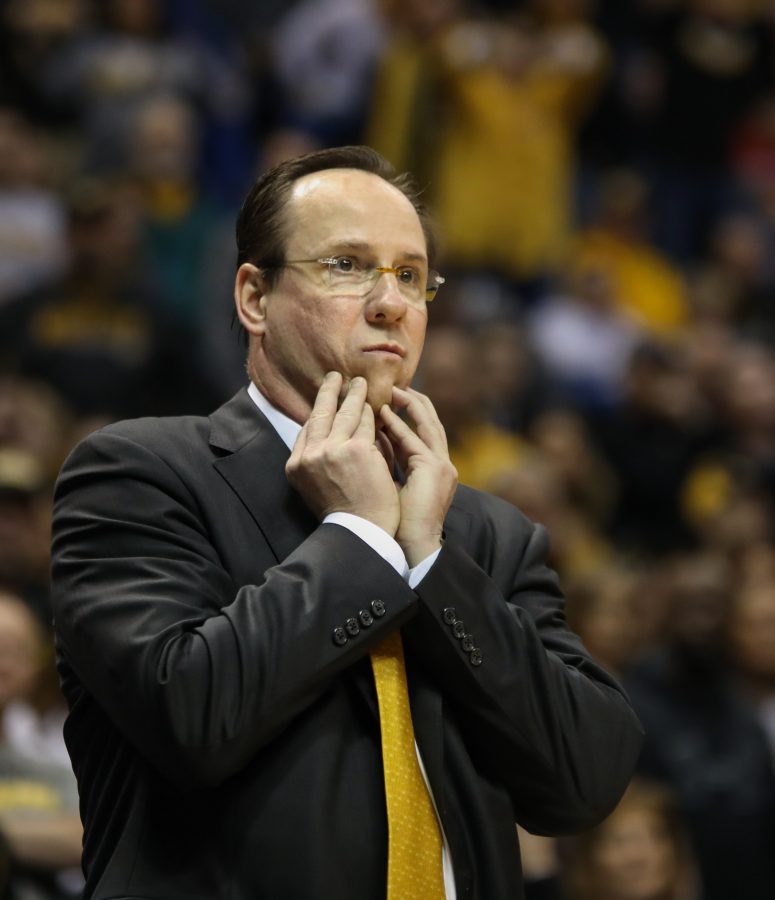 Wichita State has relieved the burden of securing a spot in the field of 68, but their seeding in the NCAA Tournament is still a question of doubt.
Worrisome are the Shockers (19-1 since Jan. 1), to be undervalued.
Last year, the Shockers narrowly entered the field as one of the last four, landing in Dayton for a play-in game.
With a 20-point routing of Vanderbilt and a nervous shock to Arizona head coach Sean Miller who famously sweat through his shirt in only 20 minutes against the Shockers, Marshall told reporters, "We're a one-seed. We're so good we have two ones," he laughed at his undervalued 11-seeded Shockers upset sixth-seed Arizona.
Even Vegas oddsmakers had the Shockers favored as the lesser seed. And that trend only continued when the Shockers advanced to face No. 3 seed Miami in the Round of 32.
When the Shockers pulled in a seven-seed a year before, they ousted No. 2 seed Kansas by 13 points. Critics argued the selection committee made the wrong choice about the Shockers, saying the Jayhawks shouldn't had met a team like the Shockers until at least the Sweet 16.
In the historic run to the Final Four, Wichita State crashed the party as a nine-seed.
Seeding the Tournament's 68 teams is determined by data metrics and intense video watching. Selection committee members can speed through a game in the course of about 45 minutes with breaks removed.
"Committee members have a wide-range of observation, consultation and data resources available to them throughout the season and during selection week," NCAA.com writes. "These resources provide the foundation for a thorough and educated process that is reinforced by the committee member's discussion and deliberation. Each of the 10 committee members uses these various resources uses these various resources to form their own opinions, resulting in the committee's consensus position on teams' selection and seeding."
The committee includes former Wichita State athletic director Jim Schaus, who is now the athletic director for the University of Ohio. There's no precise formula the committee follows for seeding, but they appear to be heading in a positive direction for teams like Wichita State, discussing data metrics more and more.
Metric systems like those created by Ken Pomeroy and Jeff Sagarin, which measure margin of victory and offensive and defensive efficiency, show the Shockers in a different light — one that could warrant a higher seed.
Wichita State ranks No. 9 nationally in KenPom and No. 11 in Sagarin. If based solely on those metrics, WSU could land a four or five-seed in any of the four regions. Still, the Shockers appear not to be a lock for anything higher than a seven-seed.
If based off KenPom, the Shockers tend to be ranked closer to their RPI number, rather metrics like Pomeroy, though Pomeroy, in short history, tends to be more telling come tournament time.
In 2016, sixth-seeded Arizona, No. 14 in Pomeroy had to play an 11-seed Wichita State, who was ranked No. 10 by Pomeroy in the first round of the NCAA Tournament. And a year before, Kansas, a two-seed, and ranked No. 16 by Pomeroy, had to play a seventh-seeded Wichita State who was rated No. 9 by Pomeroy.
Currently, Kansas is rated No. 10 in KenPom — they are projected the likely No. 1 seed in the Midwest region. Wichita State stands ahead of them in KenPom listed as No. 9 in the ratings system.
Additionally, the Shockers rate better than Arizona, Oregon and Duke in Pomeroy's measurements — all of which are projected two-seeds in the NCAA Tournament. Sagarin rates Wichita State ahead of Oregon and Arizona in his metrics.
ESPN's BPI index system has the Shockers rated No. 16, again ahead of potential two-seed Arizona.
ESPN's Jay Bilas said Wichita State "is not a double-digit seed" in a conference call with reporters, the Wichita Eagle's Paul Suellentrop first reported.
"The committee has a wonderful chance to screw this tournament up by mis-seeding Wichita State because they have the résumé of a double-digit seed," Bilas continued. "This is a five-seed. And if they put them as a double-digit seed, the team that gets them is going to get screwed."
In the last four NCAA Tournaments, Wichita State has a 6-3 record against teams seeded equal or higher than them.
"I think we're a four or five seed," Marshall told the Wichita Eagle, "which means we'll probably get a six or seven."
About the Writer
Evan Pflugradt, Sports Editor
Evan Pflugradt is the former Sports Editor of The Sunflower.

Pflugradt past served as the publication's Editor in Chief, Opinion Editor and a reporter....