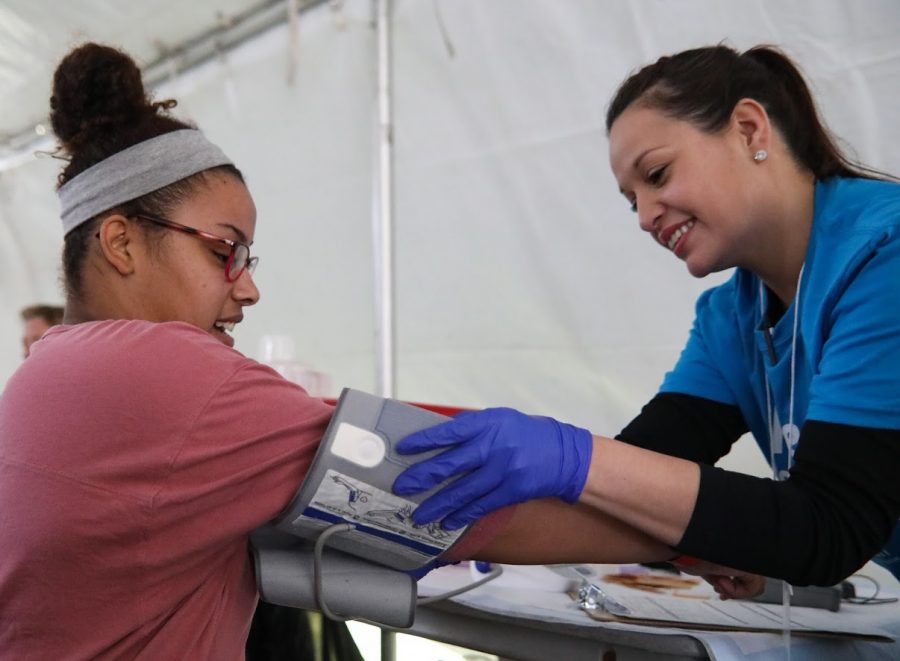 'The greatest disease is the lack of love'
Wichita State, Via Christi and around 40 community organizations came together Saturday for a day of free healthcare in Fairmount Park. Hundreds — including Kaesha Malcolm — were treated.
April 10, 2017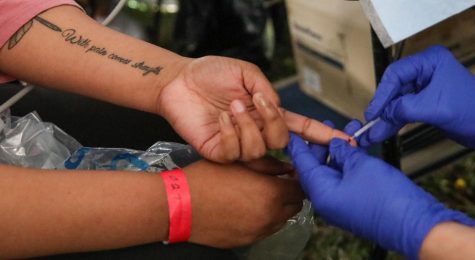 Kaesha Malcolm hadn't seen a doctor for her hypothyroidism in over half a year.
It's not that she didn't need a doctor's visit.
She's in and out of the emergency room more often than she'd like.
Malcolm, 19, doesn't have health insurance. She lost it when she turned 18.
Saturday morning her mom, who is uninsured, texted her. She told her she could get free healthcare in Fairmount Park — a block away from Wichita State in Fairmount neighborhood — right then and there, no strings attached.
Malcolm was at Fairmount Park an hour later.
Malcolm was one of over 200 patients treated during Via Christi and WSU's day of free health care Saturday. The daylong "hospital in the park," a first for Wichita, provided all the services of a doctor's visit, each service given its own tent in the park. More than 40 Wichita-area organizations worked together to give patients a complete checkup.
Via Christi developed the event as an effort to improve the Wichita community. When Via Christi reached out to Wichita State to partner for the event, the university immediately said yes, Provost Tony Vizzini said.
More than 200 WSU students were among the near 500 blue-shirted volunteers,  many of those college of health professions students.
Those students and other volunteers guided Malcolm and other patients from registration to discharge. On that winding path – the tents were positioned sporadically throughout the park; some patients hit every tent, others just a few – to discharge, students, professionals and other volunteers ran medical tests and checked teeth, vision and hearing, among other services.
Some patients had their first vision test and dental exam in decades.
Alyssa Bigler, a physician's assistant graduate student, said one patient had extreme anxiety about checking her teeth, worried about what she'd find out.
"She hasn't seen a dentist in 20 years," Bigler said. "Getting her in there was amazing. She felt so accomplished.
"She asked to take the bib home as a trophy. She said, 'This is a big moment in my life.'"
'I just want to be healthy' 
Malcolm's main concern, she said, was testing her thyroid. The test was a once-a-month occurrence before she lost health insurance.
"(My thyroid) controls my weight and everything, so if it's off, it's going to be all bad," Malcolm said. "It could make me really depressed or tired or gain a lot of weight. That was what I was like before I started my medicine, levothyroxine. I think it's off now because I haven't got tested in a long time.
"I've been extremely exhausted, so I just want to see if it's off again or what's going on."
In the medical tent — a large, tight-spaced tent filled with professionals, frantic assistants and the disinfected smell of a doctor's office — Malcolm's biggest concerns, including her thyroid, were addressed.
The professional volunteers did blood work and testing and set up a future urinalysis appointment to check for infections. Before leaving the tent, Malcolm's prescriptions were filled for free.
"I get prescriptions in the ER, but it costs too much for me," Malcolm said. "Here, they get it cheaper or free. So that's great."
The volunteers also provided something just as valuable as the one-day-only services — access to follow-up care.
"
This isn't a one-and-done day for those we may have served."
— Via Christi CEO Mike Mullins
Via Christi CEO Mike Mullins said "creating access for tomorrow" is the only way to truly affect patients' well-being.
"As I said this morning, this isn't a one-and-done day for those we may have served," Mullins said.
Malcolm was referred to a $50-a-month program that would cover her thyroid testing.
Malcolm, a West High graduate currently without a job, smiled when asked about the program. She said it makes her future brighter.
"I've been applying at a lot of places," Malcolm said. "I used to be in the nursing program. I kind of want to go back to school, but I'm not sure for what.
"I really just want to get a job and pay for what I can.
"I just want to be healthy."
'If you're healthy, show me'
After discharge, Malcolm used a meal ticket for lunch — a hot dog, chips and cookies — and watched the Fairmount United Church of Christ's pastor invite attendees on stage (positioned behind the park's community facility) to sing hymns.
Malcolm said given the chance, she'd come to another "hospital in the park."
She said she's lucky she heard about it — and wishes more people knew about the event.
"
Poor people who have neglected their health forever aren't going to be the ones to say, 'Look at my mouth.'"
— Darryl Carrington
The neighborhood knew. Community liaison Darryl Carrington – who, along with his Hugo Wall team, leads the charge to strengthen the Fairmount neighborhood and WSU connection through conversation and engagement – said he went door to door throughout the Fairmount community telling residents of the event.
Though happy with the turnout, he didn't reach his goal of 500 patients. He said many were too proud to attend. He hopes those who did attend take advantage of their referrals and follow-ups.
"Poor people who have neglected their health forever aren't going to be the ones to say, 'Look at my mouth,'" Carrington said. "They're embarrassed. They're not used to this congregation of professionals.
"If I go get my blood pressure checked, I encourage others to do it. Affirm your health. If you think you're healthy, show me."
Carrington said many of his Fairmount neighbors recoil when he approaches, not wanting to engage.
Saturday was different.
"My neighbors elude me," Carrington said.
"Today, they came out."