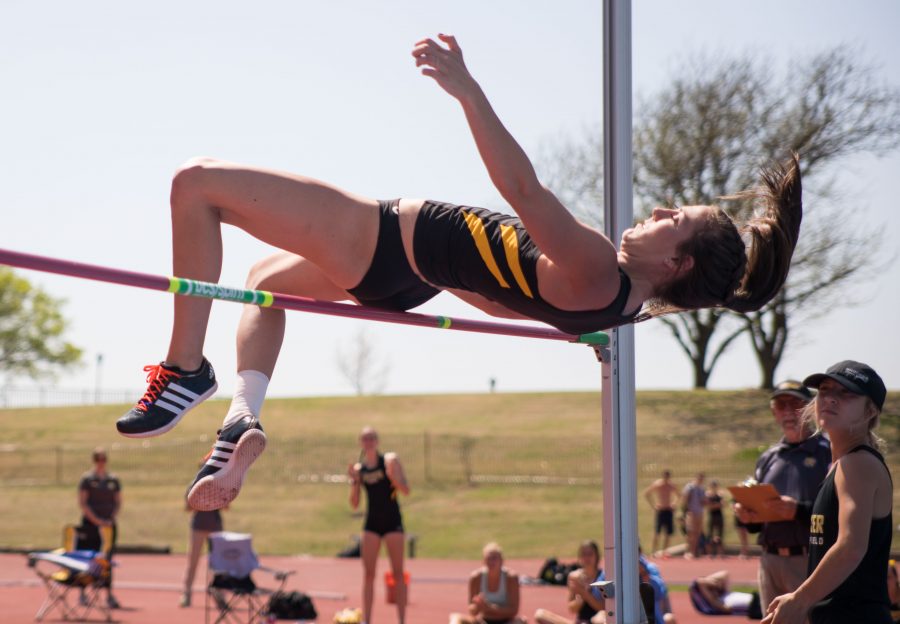 Hannah Roberts
The 70th K.T. Woodman Classic came to a close Saturday with Wichita State winning six more events and bringing their overall total to ten titles for the meet.
The WSU women in particular dominated in the final day of competition.
The 4X100 relay team of junior Raianna Maples, freshman Jacque Darby, and seniors Taylor and Nikki Larch-Miller claimed first place with a time of 45.12—the second fastest time in school history.
The Larch-Miller twins asserted their dominance in the 100-meter hurdles, Nikki winning the event with a time of 13.30 and Taylor claiming second with 13.39.
The WSU women also went 1-2 in the 400-meter hurdles where senior Gavyn Yetter and sophomore Claudia Rojo clocked in at times of 1:00.96 and 1:01.02 respectively.
Freshman Emily Gardiner won the pole vault with a height of 11-08.5/3.57m, and her teammate, sophomore Alesa Frey took second with a height of 11-02.5/3.42m.
In the hammer throw, sophomore Kelsey Slawson threw 146-08/44.71m to win the event, also claiming the 10th-best throw in school history. Sophomore Alex Adams' throw of 142-04/43.38m was good enough for second.
The WSU men faced stiff competition, but Junior Isaac Poe won the 400-meter hurdles with a time of 52.65.
In the 100-meters, sophomore Michael Wells placed fourth overall with 10.43, the second-fastest time in the Missouri Valley this year, and the seventh-fastest in school history.
WSU claimed two less titles than the twelve they earned at the 2016 K.T. Woodman Classic.
The Shockers will be back in action on Wednesday in Lawrence for the Kansas Relays.