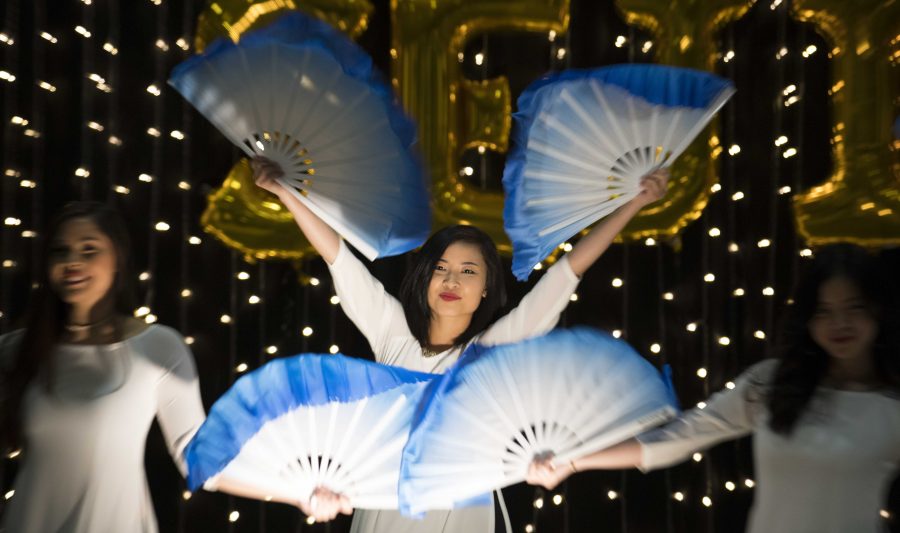 Brian Hayes
The words "Sehati Sejiwa"— "one heart, one soul"— spelled out in golden balloon letters set the tone for the statewide Malaysian Night hosted in the RSC's Beggs Ballroom Saturday night.
The evening was the result of a collaborated effort between WSU, KU, and KSU students and attracted a total of 232 guests, said Fiona Kee, secretary of the associated Malaysian students of Wichita. Kee is also a reporter for The Sunflower.
The event was the first of its kind.
The event showcased traditional Malaysian music performances and colorful dances, including a traditional lion dance. The playing of both the Malaysian and American national anthems kicked off the night.
The event featured Malaysian ambassador to the U.S. Tan Sri Dr. Zulhasnan Rafique as a guest speaker, who flew in from Washington, D.C., to attend the event, Kee said. He said it was his first time visiting Kansas and admired Wichita's "homely feeling" and the sense of closeness in the community.
"The (Malaysian) community has grown significantly," said Aashvinder Randhawa, who graduated from WSU in 2013 with a degree in aerospace engineering after leaving Malaysia to attend college in 2010.
In addition to traditional Malaysian music, popular American songs were performed.
"We have an element of American in us already when we come here," Randhawa said.
Jonathan John, a student from Malaysia who graduated last semester, said there were around 70 Malaysian students at WSU.
"It was a great effort put together to unite Malaysians from all parts of Kansas," John said.
The phrase "a nation in unity" was reiterated by speakers throughout the event.
Jonathan John, a Malaysian student who graduated last semester, said race often draws a dividing line in Malaysian society that is felt even in the United States.
"One thing sometimes we struggle with is the racial separation because there's Indian, Chinese, Malay in Malaysia. it's a multiracial country," John said.
He said events like this help bring about a sense of community for Malaysian students despite their differences.
"Events like this break the barrier," John said. "You come together, you speak together, you hang out together."