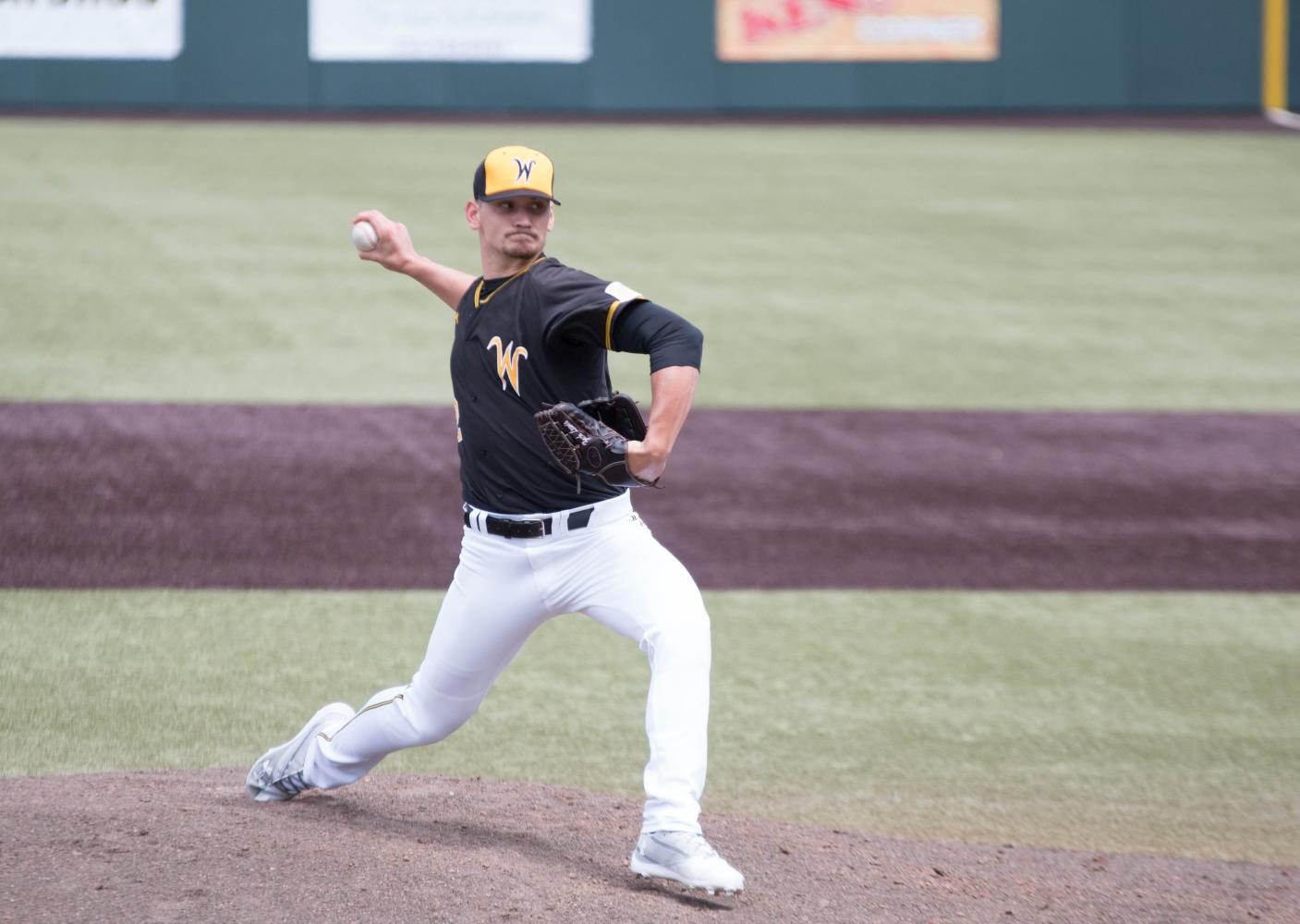 Selena Favela
Despite the falling temperatures as the day went on, Wichita State's bats heated up to give them assertive victories over Illinois State in Friday's doubleheader.
In game one, WSU used a seven-run fifth inning to propel themselves to an 11-1 run-rule victory over ISU.
Greyson Jenista paved the way for the Shockers, going 2-4 with three runs batted in and a home run.
Senior Zach Lewis pitched six innings of one-run ball for WSU and earned the win, his fourth of the year.
"Lewis pitched well," head coach Todd Butler said. "He's been sick all week, but he toughened up and battled today."
ISU scored first in the first inning thanks to a John Rave triple. He would later score when Owen Miller grounded out to give the Redbirds the early 1-0 lead.
The Shockers responded in the second inning. Freshman Noah Croft drew a walk to begin the inning, and a sacrifice bunt from junior Trey Vickers moved him to second. Sophomore Luke Ritter followed with a walk and sophomore Jordan Boyer lined a single into center field to score Croft.
Ritter would come around to score following a Redbird error that allowed freshman Alex Jackson to reach base.
WSU added to their lead with two more runs in the third inning when sophomore Josh DeBacker laced a single to score sophomore Alec Bohm and senior Willie Schwanke.
The Shockers' big inning began with three straight walks to load the bases. With one out, Boyer walked to give WSU a 5-1 lead. Jackson drove in another run with a fielder's choice, and Jenista followed with a three-run home run to right field.
After a second ISU error, Schwanke doubled down the right-field line to score Bohm, and Croft singled to center field to score Schwanke to give the Shockers an 11-1 advantage that they would carry to the end of the game.
Game two began nearly identical to game one.
ISU scored one in the first, courtesy of Miller. He drove in Rave with one out, who had walked to begin the game.
WSU again responded quickly. Jackson and Jenista drew back-to-back walks to begin the game before Bohm singled to load the bases. With one out, junior Gunnar Troutwine grounded into a fielder's choice that was misplayed by the shortstop, allowing Jackson to score. Vickers took advantage of the Redbird mistake and singled in Jenista and Bohm to give the Shockers a quick 3-1 lead.
Jenista singled to start the fourth inning, but was caught stealing. Bohm walked, and advanced to second on a balk by ISU starter Trevor Cross. Schwanke lofted a fly ball into no-man's land in short left field to score Bohm and give WSU a 4-1 lead.
With two outs in the inning, Ritter, pinch hitting for freshman Jacob Katzfey, walked. Boyer then fingled to center field to bump the Shockers' lead to six.
WSU starter Cody Tyler was pulled after allowing a double to Miller. Junior Chandler Sanburn came in with one out and struck out two batters to get the Shockers out of the inning.
ISU tacked on two more runs in the sixth inning off of Sanburn. Joe Aeilts tripled with one out to score Parola. Joe Butler singled following Aeilts triple to shrink the Shocker lead to four.
Sophomore Connor Lungwitz came in to pitch the seventh and eighth innings in relief of Sanburn. He retired the Redbirds in order in both innings.
"Lungwitz looked really good coming out of the bullpen. He pitched really well," Butler said.
Senior Reagan Biechler came in to close out the game and secure the win.
With the two wins, WSU (20-22) moves to an even .500 in Missouri Valley Conference play. They'll play Saturday afternoon at 11:00 a.m. in the series finale with Illinois State, weather permitting.