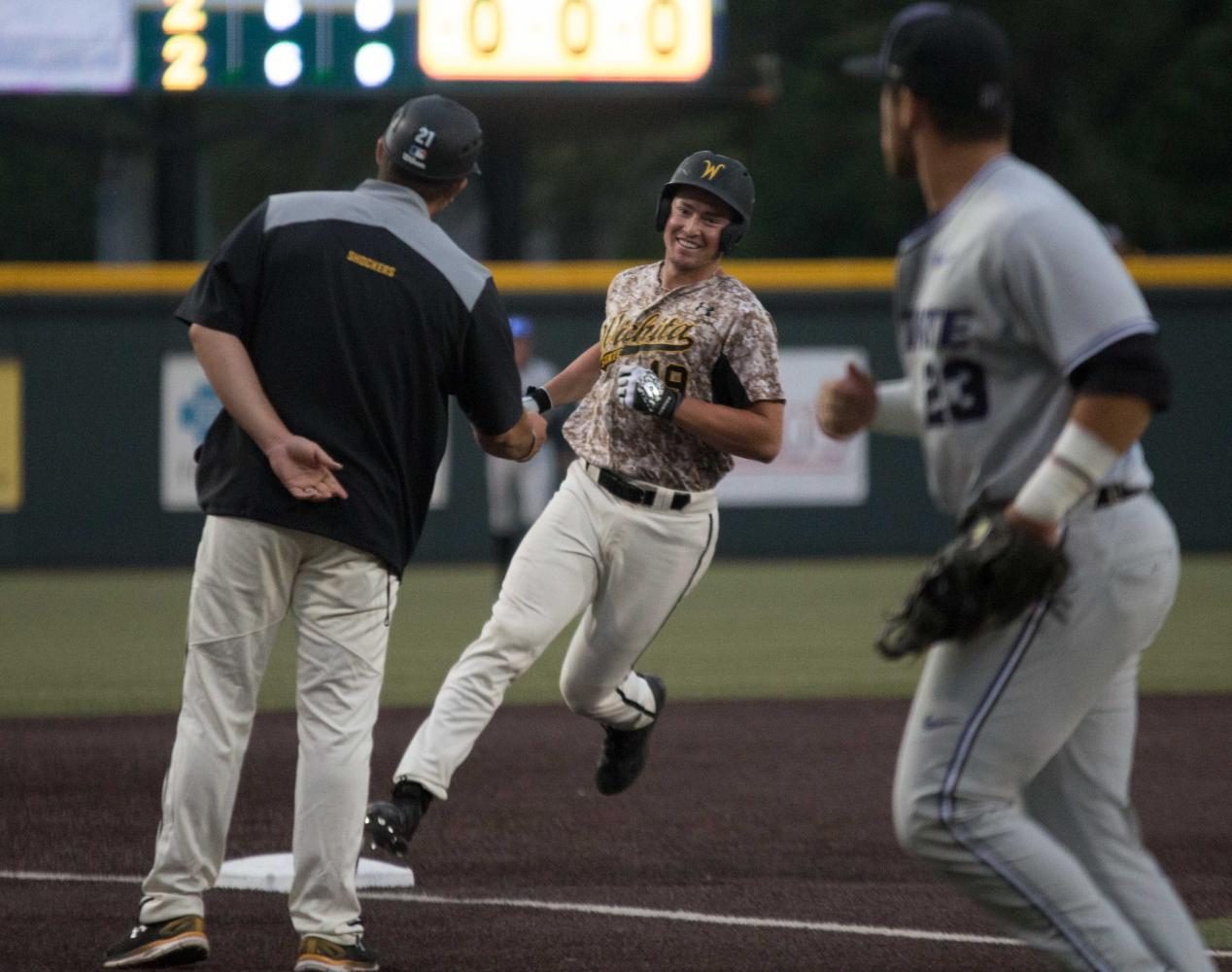 Selena Favela
Losing by one run to K-State in Manhattan, Wichita State was seeking revenge in the final home game of the season.
The Shockers got just that.
After being tied at two from the fourth all the way to the bottom of the ninth inning, sophomore Luke Ritter hit a homer for the walk-off victory.
"During the game, I was actually thinking 'It would be nice to win by a home run' and we did just that," head coach Todd Butler said. "We really wanted to get K-State split with them so that was big tonight. Hopefully we can use that as momentum."
Ritter said this win plays a big role for the games and Missouri Valley  tournament play to come.
"This is definitely something we can build off of, this is huge it kind of kick starts us for next weekend," Ritter said. 
In the previous matchup between the two, sophomore infielder Alec Bohm had a double and went 3-for-4 and senior pitcher Willie Schwanke went 2-for-4 with a double and RBI.
Overall, Wichita State leads the series with Kansas State 52-38.
This game the Shockers had one advantage: playing at home.
"We play well at home," sophomore Greyson Jenista said. "We have more confidence here."
Although WSU got the win, it did not come easy. At the beginning of the game, KSU was the dominant team on the field.
During the top of the first inning, the Wildcat's senior first baseman Jake Scudder doubled to left center allowing freshman infielder Cameron Thompson to get the first run of the game. 
The Shockers' slow start made their quest for revenge come to a screeching halt. The Shockers couldn't answer back and went scoreless during the bottom of the first.
The Wildcats continued their momentum into the second inning both offensively and defensively, with KSU sophomore center-fielder Josh Rolette scored after freshman outfielder Will Brennan singled up the middle in the top of the second inning.
By the fourth inning, the Shockers regained their drive and tied the game up at two.
Bohm and Schwanke had back to back walks which  loaded the bases. Ritter singled down the line, causing Schwanke to advance to second and allowing Bohm and sophomore Greyson Jenista to score.
The Shockers' momentum kept growing by the inning. They kept the Wildcats scoreless throughout the rest of the game.
In a neck-and-neck battle to see who would get the first run in nearly five innings, the Shockers came out victorious.
"We love getting to walk off at home," Ritter said. "We put our team ahead at the end, which is a great feeling for us on our home field."
WSU (26-26) wrap up the season with their final regular season conference series as members of the MVC. The Shockers take on Indiana State in Terre Haute, Indiana beginning at 5:30 p.m. on Friday.