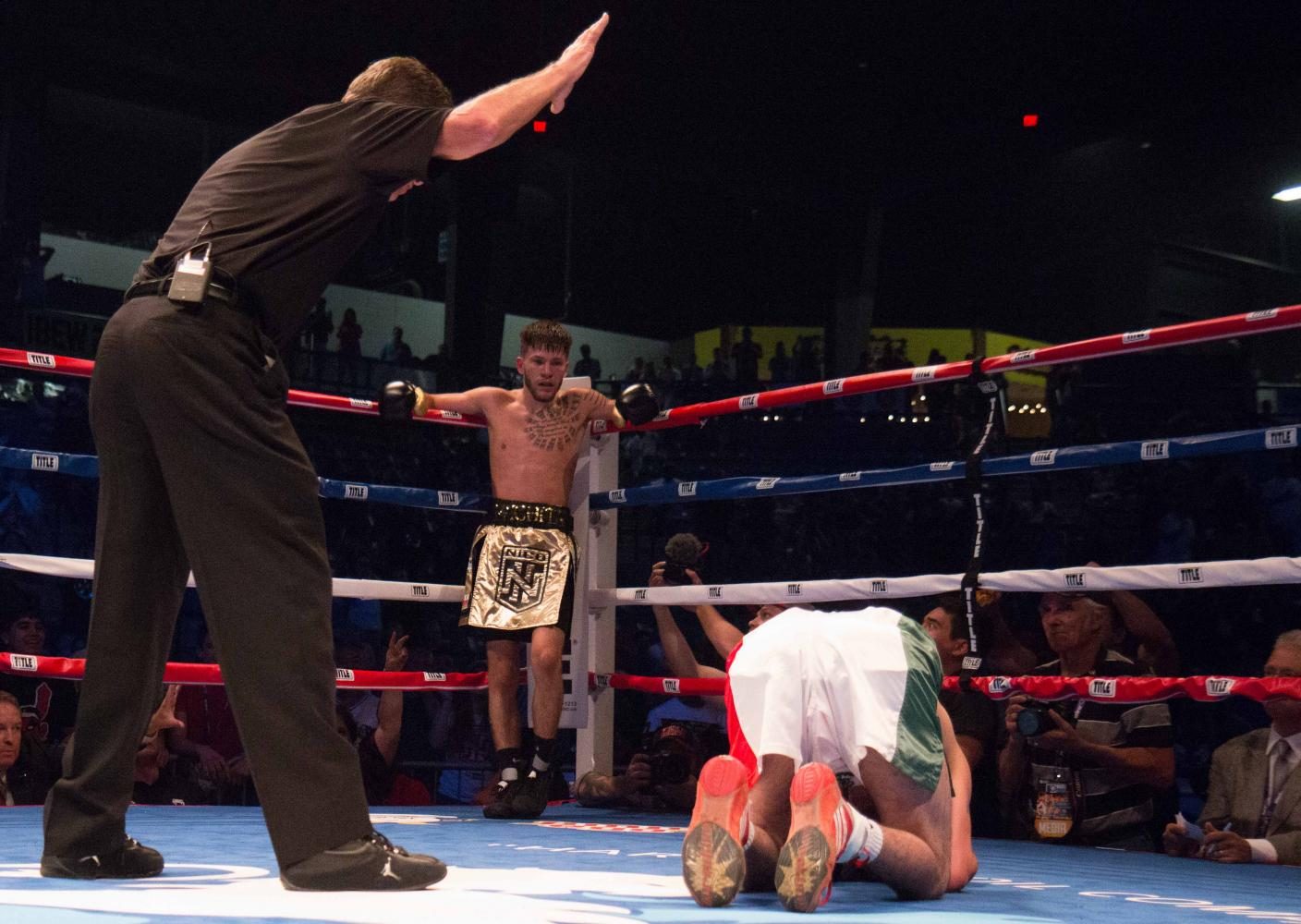 Selena Favela
PARK CITY – "I'm going to finish him."
Those words rang in 2016 Olympic bronze medalist Nico Hernandez's head before entering the ring.
His opponent, Jose Rodriguez (2-0, 2 KOs) told Boxing News 24:
"I'm knocking him out. If he thinks this is going to be an easy fight, he'll know who I am after our fight. I'm going to finish him."
Hernandez (1-0, 1 KO) used those words as fuel to add to the fire on his second professional debut in his home town.
"When his opponent says something [along those lines], I always see a different look in his eyes," Nico's father and coach Lewis Hernandez said.
To prepare for the fight, Hernandez's coaches and trainers put posters of Rodriguez's face so Hernandez would see it every day to serve as a reminder to train harder.
"Every time I left the gym, there would be posters of him all over my car," Hernandez said. "Every time it would remind me of what he said."
The energy in Hartman arena skyrocketed the second Hernandez's name was mentioned, which hyped up Hernandez as soon as he walked out to the ring.
"This is my time, this is my city," Hernandez said.
Hernandez started the fight off strong, with a right hook to Rodriguez. Hernandez seized the first round and stayed in control.
A jab and another right hook sent Rodriguez to the ground in the second round, but Rodriguez popped back up, showing resilience but lacked stamina.
"The reality is I guess I didn't know the kind of fighter he was," Rodriguez said. "He knows how to hit."
Hernandez's energy level soared as he jumped around the ring awaiting the third round to start, looking to get an immediate KO.
He did just that.
After unstoppable hooks and jabs from Hernandez, Rodriguez fell to the floor and Hernandez stood triumph, proving Rodriguez's pre-fight predictions wrong.
"I got tired of seeing his face," Hernandez said.
Hernandez handed Rodriguez his first defeat of his career.
"Now [Rodriguez] knows he can't knock everyone out," Rodriguez's trainer Ernie Haines said. "I will admit we ran into a hurricane tonight. He barbecued us."
Hernandez said the support from his team and their push to train harder, even when he might not want to at times, is what brought him to winning.
"My father told me when I was little if I was going to do this sport, I got to put my heart into it because this sport is nothing to play around with," Hernandez said. "I put my all into this and it shows in the outcome that all my hard work is paying off."