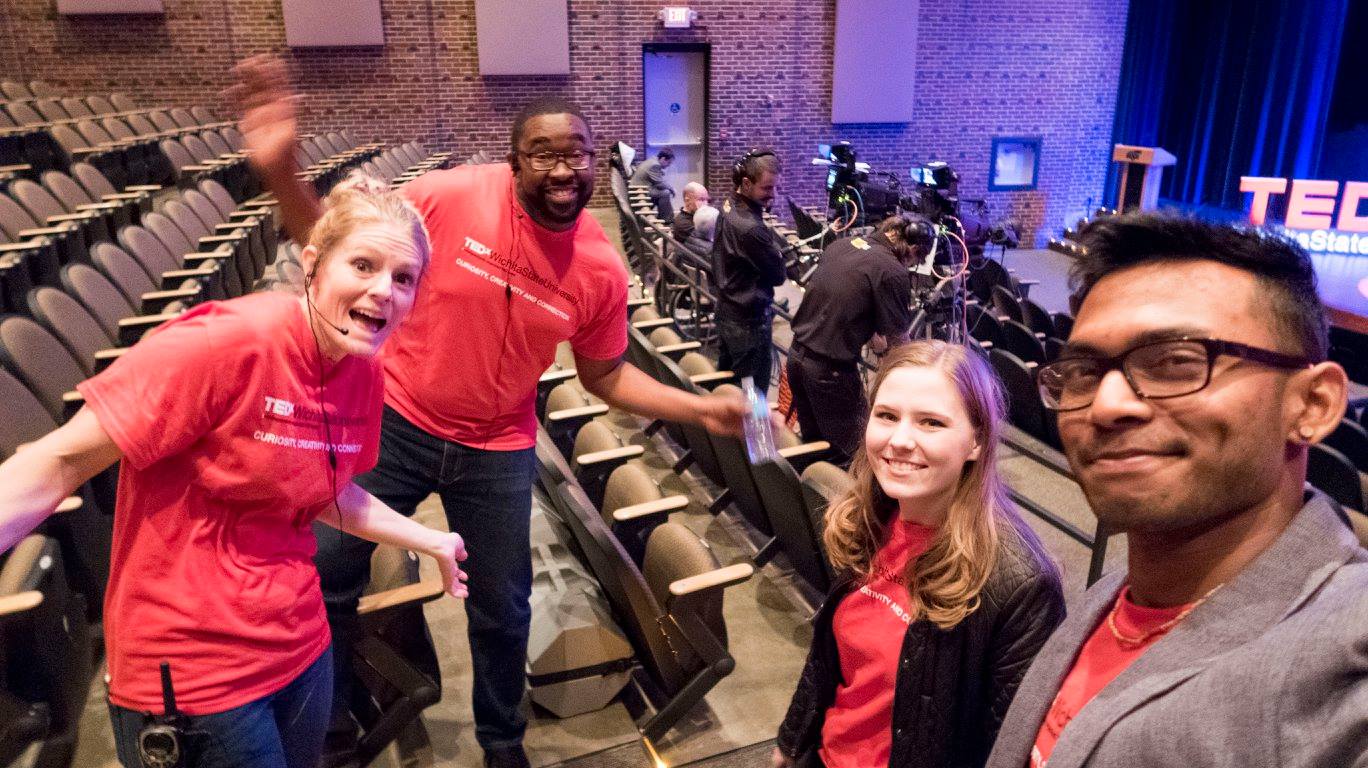 Courtesy
Lyston Skerritt summed up his last day at Wichita State in three words.
"Today is tough."
Moments earlier, a student left Skerritt's office in tears. On his desk, students left gift bags, jars of candy, boxes of chocolate, and handwritten notes bidding Skerritt goodbye.
He described his office that day as "a revolving door of tears" — students saying goodbye who had come to know Skerritt as a friend in his five years at the university working in Student Involvement.
Last week, Skerritt announced his resignation, citing ethical reasons and a lack of transparency and focus on students at the university.
Skerritt served as assistant director of fraternity and sorority life for two and a half years. This summer, he was assigned the role of co-advising Student Government Association.
Skerritt explained the reasoning behind his resignation in an email addressed to several students and faculty.
"The last year has been interesting and difficult for me personally and professionally resulting in great reflection," he said in the email.
"The root of my decision lies in a need to preserve my morals and affirm my ethics amidst an influx of operational culture and decisions made within the department and division.
"We must refocus on the students and be transparent about our intent," Skerritt said. 
Danielle Johnson, advisor to Alpha Phi Alpha and program coordinator for the Office of Diversity and Inclusion, said Skerritt's statement regarding his resignation spoke for itself.
"We've seen what we've seen on the campus and I think there are some changes that are happening that folks don't necessarily agree with," Johnson said.
"Anybody and everybody on campus felt like Lyston was a friend," Breck Towner, vice president of student government and a member of Sigma Alpha Epsilon, said.
"It's gonna be tough to replace him," Towner said.
Alicia Sanchez, advisor to Sigma Lamba Beta and director of the Office of Diversity and Inclusion, said Skerritt always had students' best interests at heart.
"I'm sad to see him leave WSU," Sanchez said. "I know he is going to be missed."
Danielle Johnson said Skerritt was good at building relationships with students from all walks of life.
"He has this ability to work with any and all students. And I think that is indicative of what a true student affairs professional should look like," Johnson said.
Johnson said Skerritt was a mentor and a friend to students, who also knew when to hold them accountable. "And that is what is imperative — to be able to check students when they need to be checked but be a great mentor at the same time," Johnson said.
"Students appreciate what you do for them when it's personal," Skerritt said. "I just try to be personal and genuine."
Skerritt began his career at Wichita State in 2012 organizing community service projects for students.
He said one of his fondest memories at Wichita State was a community service event where students volunteered to help paint a mural at the historic Dunbar Theatre.
Built in 1941, the Dunbar Theatre was once the only movie theater in Wichita available to black community members. The theater has since fallen into disuse and sat abandoned for decades. In recent years, efforts have been made to restore the theater and the surrounding historic McAdams neighborhood.
Skerritt said it was touching to see students and community members working side by side.
"One of my favorite memories is this elderly lady from the neighborhood," Skerritt said. "(The students) are sitting there painting and she's telling them about how the neighborhood used to be and how awesome it is that the kids are getting back involved."
Skerritt said the work that students did left a lasting impact on the community.
"This will be here, hopefully, in ten years when I come back and drive by," Skerritt said about the mural.
Skerritt took on the role of co-advisor to Student Government Association earlier this summer, along with Nancy Loosle, director of Student Involvement.
"Technically, that is the job that I am stepping away from right now," Skerritt said of his SGA advising role.
Skerritt said he plans to continue a career in education, no matter at what level.
"It's unfortunate to continue to see our young professionals leave, whether that's Wichita State or Wichita," Danielle Johnson said.
"We're losing amazing talent in a community that needs it so bad — and voices that can make true change. We're losing that."