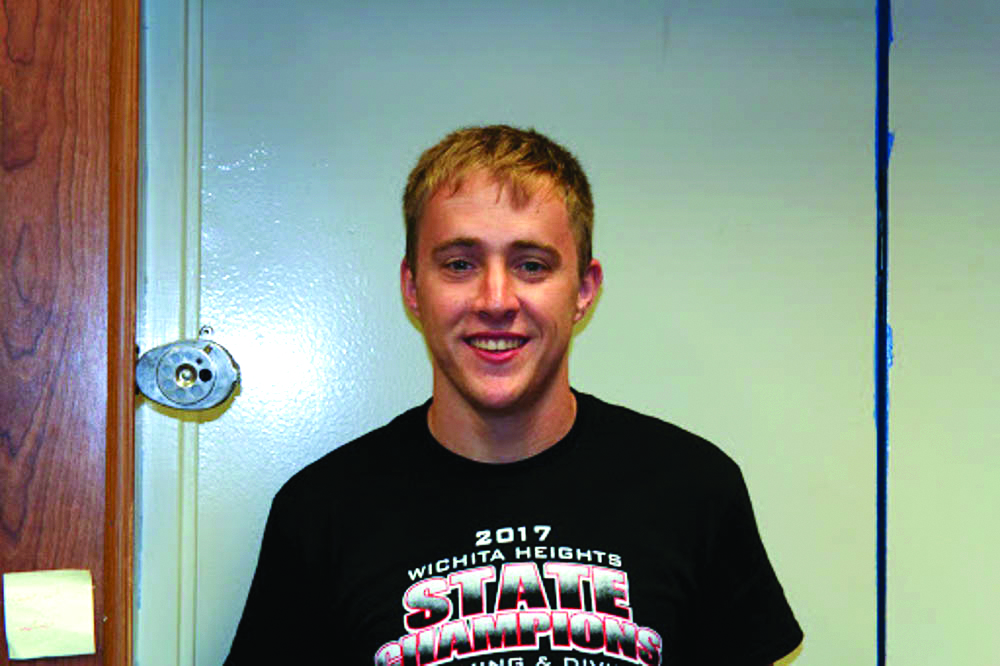 Dillon Cullinan
Jonathan Reeder, a 2017 graduate, wasted no time translating his physical education degree into success. In March, he was named Barton Community College's head swim coach.
"I learned a lot about sports science and about teaching," Reeder said. "They really helped me explain and teach techniques and different instruments on how to grow. Now that I'm a college coach, I get that it really pays to understand the human body."
Reeder admitted that even the classes he didn't think would be important have paid off in the long run.
"One class I got a lot from at WSU was Exercise Physiology with Dr. (Michael) Rogers," Reeder said. "Everything that he explained, I was hesitant to pick up. How was I ever going to apply this when a 10-year-old comes up to me and says he cut his hand? I didn't know that I would need that class, but eventually it became extremely applicable."
Reeder is no newcomer to swimming. He was a member of his high school swim team at Wichita Heights. Reeder was recruited to become a coach when BCC started their swim program.
"I came to BCC after they approached me and they told me that they were staring a program and they were looking for someone to build a program with," Reeder said.
Reeder said coaching was not in his original post-graduation plans.
"I didn't know it was a future — I thought that I would probably be a teacher until February 18 of this year. That's what I was going to be," Reeder said. "February 19, I decided I was going to be a college head coach. My plans changed, but they definitely changed for the better."
At BCC, Reeder's job isn't to recruit just anyone for the swim team. He must create a functioning team.
"In high school, everybody could join, but now you must be able to tell some people no," Reeder said. "You have to know if your team is balanced and works well together."
"If you have too many breaststrokers and nobody to swim butterfly, no matter how good your breaststrokers are, you're going to have a pretty crappy team."
His first meet as a coach has come and gone, and Reeder said he has learned a lot about the difference between college coaching and high school.
"In college, all the athletes are in much better shape and are much better swimmers," Reeder said. "Every swimmer on the team is a different piece in a chess game. From day one, you begin developing your team from good swimmers to great swimmers."
Kayla Hennen, one of Reeder's swimmers at BCC, said he has a favorite saying: "'Work hard'. He says it all the time."
Reeder said he's setting his goals high.
"I want to see how far I can go."