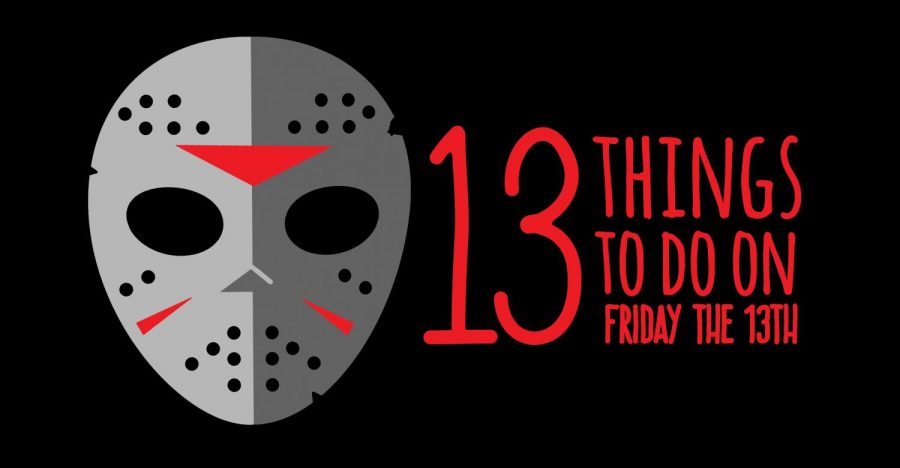 Madeline Deabler
1. "Friday the 13th" movie night and dance bar — Barleycorn's
Barleycorn's will be showing "Friday the 13th Part VI: Jason Lives" and hosting a dance party afterward.
2. Here Come the Mummies — The Cotillion
Here Come the Mummies, a funk band best known for their live performances dressed as mummies, will be making a stop at The Cotillion on their Friction Tour. Tickets are $30 at the door.
3. Field of Screams
Field of Screams will be running Friday the 13th specials including discounts for people with the name Jason or who have Voorhees in their name (Photo ID required). There will also be buy-one, get-one T-shirt for $13. The first 1300 people will receive $5 off of admission.
4. Museum of the Undead — Exploration Place
Exploration Place will be hosting survival skill demonstrations, a haunted castle and more. Alcohol will be served so attendants must be 21 or over. Ticket prices are $20 for Exploration Place members and $25 for non-members.
5. "Bender" movie screening — Cowtown
The Old Cowtown Museum will be showing "Bender" in the Empire House theatre beginning at 8 p.m.
6. Stay the Course, Rylee Dulaney, Tired Giant, Dakota Jackson — Donut Whole
Four musical acts will be playing a "Halloweeny acousticish show" at the Donut Whole starting at 7 p.m.
7. Costume contest & donut eating challenge — Hurts Donuts
Hurts Donuts will be hosting a costume contest and donut eating challenge at both locations. The winner will receive their money back along with a free t-shirt that gets them BOGO donuts for life. There will also be Jason donuts that can be filled with red jelly for free.
8. Freaky Friday Photos with Katie Maher Photography — The Lyceum
Katie Maher will be taking free (suggested donation $5) portraits from 3 to 7 p.m. at The Lyceum.
9. "Friday the 13th" movie showing/costume contest — Cox Farm
Cox Farm will be showing "Friday the 13th" at 9 p.m., and, while you're waiting for the movie to begin, you can wander around the corn maze. Admission is $8, but you can show up in a costume to get a dollar off admission and enter in their costume contest.
10. Wicked Island — Watson Park
Watson Park will be introducing Wicked Island Escape Room, an outdoor haunted attraction. Entrance fee is $20.
11. "Happy Death Day," "IT" and "American Made" triple screening — Starlite Drivein
Starlite Drivein will be showing a triple feature on both screens. On screen two, you can enjoy "Happy Death Day" and "IT" and then relax with the final feature, "American Made." Admission is $6.
12. ICT Bloktoberfest — The WaterWalk
ICT Bloktoberfest will begin on Friday the 13th this year, and has moved to the WaterWalk due to its popularity last year. The event is free, and there will be local beer samplings, live entertainment, a hot dog eating contest, and much more.
13. Drag King Show — Club Boomerang
Club Boomerang will be hosting a drag king show beginning at 10:30 pm. Cover is $4 and spectators are encouraged to come in costume.