Ghost paintings haunt the Cadman just in time for Halloween
Studio art senior Genna Pennington said she and Melvin, the ghost featured in her new exhibition at the Cadman Gallery, are similar to one another because they both don't know where she will be going next — especially, at least for Pennington, when it comes to graduation.
"Melvin travels from place to place, and he doesn't know where he's going," said Pennington. "I can relate to him. I don't know where I will be going, but I do know that I want to be doing art and be around art."
The exhibition, "The Marvelous Misadventures of Melvin the Friendly Ghost," is now on display at the Cadman Gallery. It's her second exhibition this year, following February's "Since I Met You."
The exhibition was inspired by a friend showing her an album cover of a person covered by a sheet sitting on a couch looking like a ghost, she said.
"Melvin is a ghost character that I've been working on for a year," said Pennington. "I think that the character 'Melvin' is a depiction of Halloween and I think that's what inspired me."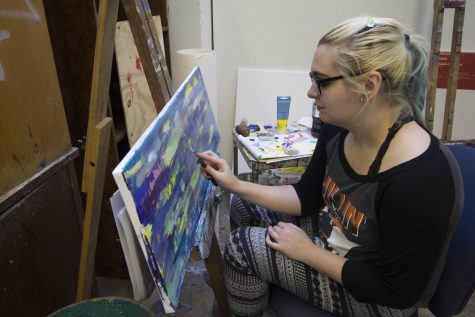 Pennington said her talent for art comes from her mom, who is also a painter. Pennington began creating art at a young age, she said.
When she entered elementary school, she realized she was good at it and wanted to continue doing what she loved.
"I think I just started creating art, and did it a lot, and realized I was good at it," said Pennington. "When I was in elementary school, people were impressed by what I was doing. So I just kept at it."
Pennington will be selling her exhibition work for prices ranging from $125 to $450. Students can also take photos with a life-size poster of Melvin at the exhibition.
Additionally, Pennington created the hashtag #MelvinTheFriendlyGhost for students to repost on social media.
"I just want students to enjoy the quirkiness of it," Pennington said. "Melvin is a playful character, and I think the individual can take whatever experience they want from that. Other than that I want them to enjoy the show."
Leave a Comment
About the Contributors
Fiona Kee, Reporter


Fiona Kee is a reporter for The Sunflower and is currently in her junior year, studying communications with emphasis in journalism. Kee was born in...
Kylie Cameron, Former Editor in Chief
Kylie Cameron was the Editor in Chief of The Sunflower for the 2019-2020 school year.

She is a senior studying political science and journalism and...