Tobacco Free? Maybe.
A closer look at Wichita State's Tobacco Free Wu & Me policy
Wichita State's main campus has been tobacco-free since July 1 — kind of.
Signs placed on campus, plastered to building doors and table-top displays in the Rhatigan Student Center all reveal Tobacco Free Wu & Me's message, asking for your compliance.
Compliance means forfeiting the use of all tobacco products on campus. According to Tobacco Free Wu & Me's policy page, this includes "cigarettes, cigars, smokeless tobacco, hookahs and electronic cigarettes."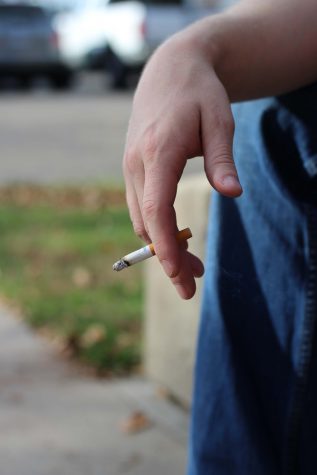 Asking nicely only makes sense to a small degree.
Here's a researched look at the policy:
Smokeless tobacco, including chewing tobacco, is supposed to be voluntarily banned from usage. Tobacco Free Wu & Me lists the benefits of a tobacco-free campus as lessening fire hazards and decreasing second-hand smoke on campus. Smokeless doesn't fit the profile here.
What message they're trying to send here clearly hasn't reached Eck Stadium, yet, where smokeless tobacco is used at a major league level.
Copenhagen aside, since July 1, hardly nothing has changed. This is my opinion.
Like Sunflower columnist Dillon Cullinan wrote earlier this semester, I still continue to see people to smoke, and I'm also on campus every day.
I associate regularly with colleagues who smoke. I'm not proud of their usage, but I support their right to do so. Until the university enforces clear rules limiting their right to smoke, why shouldn't they smoke?
Tobacco Free Wu & Me's mission statement is to offer "a tobacco-free policy sends a clear message that the school values the health of all students, faculty, staff and visitors." I care about these people, just like anyone else. These people are my friends, and I want them all to live healthy, happy lives. They shouldn't smoke — science has proven smoking isn't doing anything to help their health. I know that, and they do, too.
Here's something else that doesn't add up:
One way the initiative is "improving the lives of Shockers," Tobacco Free Wu & Me's information page says, is by removing the smoking posts. This will supposedly cut down maintenance costs for WSU. According to the information page, "Tobacco use on campuses consumes valuable staff time picking up cigarette butts." I'm sure Physical Plant had a time-consuming job sweeping these up all the time, but aren't they doing that more now? I'm not sure how removing the smoking posts made our campus cleaner. Smokers, now without a place to dispose their finished cigarette, opt for littering. Isn't that the opposite of what WSU wants?
WSU Policies and Procedures puts responsibilities in the hands of "all members of the University community."
"It is expected that, while on campus, students, employees, visitors, university affiliates, contractors and volunteers will comply with this policy," WSU's policy reads. "Members of the University community are empowered to respectfully inform others about the policy in an ongoing effort to enhance awareness of and encourage compliance with the policy."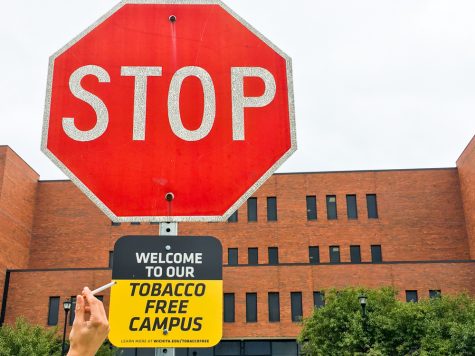 Culture change starts with non-smokers. That's the approach.
Enforcement is tricky, though. According to WSU's Policy, starting July 1, Tobacco Free Wu & Me "will engage student and faculty ambassadors in creating a tobacco-free culture based on respectful compliance from the campus community."
"Ambassadors will be trained to use scripted, courteous messages, reminding/informing students, employees and visitors that Wichita State University is a tobacco-free campus and directing them to available cessation services."
I've been around smokers on campus post-July 1. I've yet to have any student or faculty ambassadors approach the smoker. I'm not sure who the ambassadors are, how many exist, or if any exist. I've asked around, and nobody I've spoken to can identify an ambassador, either. And, if I were to join on as an ambassador, where's my script?
Essentially, what I think Tobacco Free Wu & Me is asking for is for volunteers to speak up and speak out against tobacco users. That someone could be me. But I'm not someone who will willfully scold my colleagues who choose to smoke.
I'm not saying this is a publicity stunt, but to have a policy enforced based entirely on volunteers is insufficient. If WSU endorses this at all levels — students, faculty, and administration — this means embracing the policy and enforcing this with real rules, not asking nicely for compliance.
About the Contributors
Evan Pflugradt, Sports Editor
Evan Pflugradt is the former Sports Editor of The Sunflower.

Pflugradt past served as the publication's Editor in Chief, Opinion Editor and a reporter....
Joseph Barringhaus, Sports Photo Editor
Joseph Barringhaus is the Sports Photo Editor for The Sunflower. Joseph is a senior at Wichita State majoring in marketing with a minor in communications....