Tales of a ghost-hunting instructor
Megan St. Clair and her friends, Hugo Zelada-Romero and Anna Blankenship, explored a broken-down amusement park one cold October afternoon in search for the perfect eerie story.
After walking around broken slabs of concrete and patches of poison ivy, they came upon a shack with warped walls, covered in graffiti.
The three proceeded to set up their camera equipment.
Pulling a long, black coat over her head, Blankenship led the way across the creaky floorboards, maneuvering through broken wooden beams and mangled wires with each step.
Zelada-Romero followed closely behind, Go-Pro in one hand, and St. Clair brought up the rear, flashing strobe lights that danced across the paint-chipped walls.
Though she spends her weeks as a Wichita State adjunct faculty member, teaching students the principles of design, the adventure was nothing new for St. Clair.
On weekends, she can often be found in the darkest, dreariest parts of Kansas with a flashlight in one hand and an EMF (Electro Magnetic Field) detector in the other, hunting for ghosts or looking for creepy places to shoot her next art piece.
Pepsi, potato chips and the paranormal
St. Clair said her fascination with the macabre was ignited at a young age with weekend trips to her grandmother's house.
"My parents were strict, but when I go to my grandma's, I could stay up until 3 a.m. drinking Pepsis, eating potato chips and donuts," St. Clair said. "It was just like a party over there."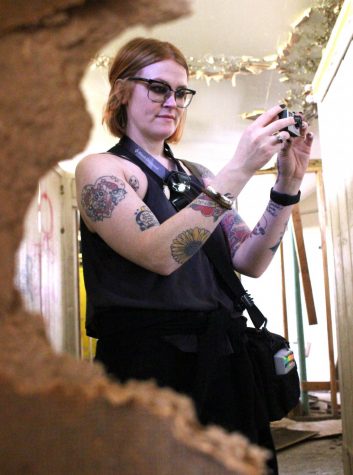 St. Clair said it was on a long night at her grandmother's that she had one of her first paranormal experiences.
"I grew up playing the Ouija board over there like it was no big deal," St. Clair said. "My sister and I would just sit on our grandma's bed just talking to spirits. I knew the house was haunted because doors would slam shut on me. The dog would always sit and stare at the end of the hallway for no reason and if you were in the kitchen washing a dish, you would always feel like someone was behind you."
Late nights with serial killers
Although St. Clair describes her first contact with spirits as heavily shaping her as an artist, she said it wasn't until one late night when she saw a man with knives for hands on television that her love for horror truly blossomed.
"I remember watching 'Nightmare on Elm Street 3' and being so scared," St. Clair said. "From 5 until I was like 10, every time I saw that movie, I would think Freddy Krueger was under my bed."
St. Clair said that, since then, horror movies have become her passion. She now incorporates that passion into her work by sampling some of her favorite films.
When it comes to cinematography, lighting, and overall aesthetic, St. Clair said directors such as Wes Craven and Rob Zombie have been hugely influential to her.
"The theory of the abject is so engrained in [Zombie's] work," St. Clair said. "That's what horror is, is abject. That's what he has in his work and that's what I want in mine."
On top of sampling her favorite horror films, St. Clair also intermixes samples from some of her favorite music.
One such example of this is in her recent art piece, Intrūdere.
The opening scene features a flickering neon cross sign with the word 'church' below it. Through each dismal scene, the industrial grinding sounds of Sweet Tooth by Marilyn Manson can be heard looped with the line, "You're going to die up there," from "The Exorcist."
Growing up ghost-hunting
St. Clair attended Wichita State, graduating in 2011. She went on to receive her MFA from the University of Oregon in 2015.
She said that, during the time she was writing her thesis, she would often draw on memories with her grandmother for inspiration.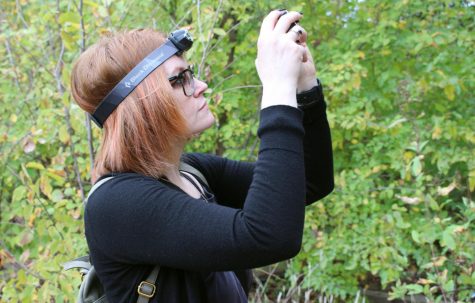 "My grandma has always been a large part of my work, not only because I saw her die, but because her house was haunted," St. Clair said. "My experience with the paranormal stemmed from my relationship with her."
St. Clair has gone on to create many art pieces that showcase her love for horror and the paranormal. Though she said she tries to keep ghost-hunting separate from her work, she always finds time to do both.
She said her favorite ghost-hunting memory was recording her first EVP (Electronic Voice Phenomenon) when she was given access to the Wichita Aviation Museum.
"I had turned my ghost box on and asked if there were any spirits in the room," St. Clair said.
She said that, when she listened back to the recording, she heard something unusual
"A male voice coming on saying 'yes,'" St. Clair said. "I was nerding out so much. I had tears in my eyes when I heard it."
St. Clair has a long list of places she's investigated, from abandoned buildings to Theorosa's Bridge, but she said she hopes to go on to explore something greater.
"Getting access to these certain places is very hard," St. Clair said. "However, if I could go into an abandoned asylum to shoot a video I would in a heartbeat."
Leave a Comment
About the Contributor
Madeline Deabler, Advertising Manager
Madeline Deabler is the advertising manager for The Sunflower. Deabler is a senior and is double majoring in journalism and graphic design. Originally...