Midtgaard finds a mentor in Nurger
Asbjørn Midtgaard, a freshman center from Denmark, said he has looked to Rauno Nurger, a senior center from Estonia, as a mentor — both on and off the court. 
"He's telling me how we do things around here, especially because he's a big man and I'm a big man and this is his fourth year here."
In fact, Midtgaard said Nurger being on the basketball team was one of the things that drew him to playing at Wichita State in the first place.
"He's just incredible for me," Midtgaard said. "He's one of the reasons I chose to go here. They have another European big man."
Nurger said he has tried to help his teammate adjust to the new environment.
"I've just been trying to help him, on and off the court," Nurger said. "I think he's been doing a really good job here and he's going to continue it."  
Nurger said he has seen great improvement in Midtgaard since his arrival at Wichita State.
"I think he's a lot better on his feet," Nurger said.
"He's a good rebounder and can play some good defense. I'm looking forward to playing with him."
Midtgaard said he credits Wichita State's program with helping him develop his all-around skills.
"We work on everything," Midtgaard said. "There's not one thing I try to improve. I try to improve as a player as a whole."
Midtgaard said his transitions to the States is going smoothly, although he has experienced some culture shocks.
"[Wichita is] everything I expected," Midtgaard said. "The biggest shock is everything is so spread apart. In Denmark you can just walk down to the grocery store and get some food, but here, you have to drive everywhere."
"I'm hungry all the time so I need food."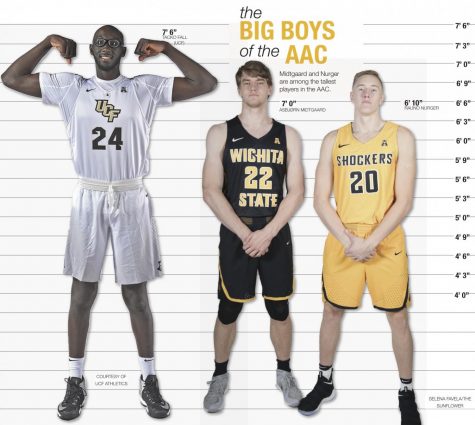 Leave a Comment
About the Contributor
Aliyah Funschelle, Sports Reporter
Aliyah Funschelle was a sports reporter covering men's basketball for The Sunflower. She's a junior studying sports management at Wichita State, and currently...