Walk-ons continue Shocker Basketball legacies
Freshman walk-on guards Brycen Bush and Jacob Herrs share a unique quality.
Both have family ties to Shocker Basketball.
Jacob's father, Ryan Herrs, played for the Shockers from 1992-96.
Ryan still ranks in the top-10 all-time for three-point field goals at Wichita State.
"[Playing at WSU] was a blast," Ryan Herrs said. "Playing at this level is incredible. I'm very proud to be a Shocker and very proud to see the program where it is now."
Jacob Herrs said he has always dreamed of following in his father's footsteps.
"I've always wanted to be a part of this program," Jacob Herrs said. "I just never thought it was possible to get the opportunity to do it."
As soon as he was given the opportunity to walk on, Jacob said he was determined to make it happen.
"It was a long process, and as the days went on, [making the team] became a little more possible every day," Jacob Herrs said. "It was a quick decision but it took a while to make it happen."
Ryan Herrs said he was proud of his son for working hard to earn his spot.
"I was very proud and it was really cool because he was really excited," Ryan said.
"I knew and he knew it was going to be the best thing for him."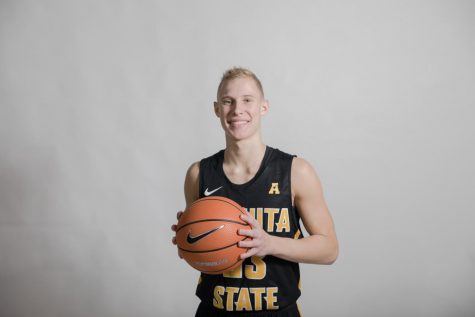 Brycen Bush followed the same path to Wichita State as his brother, Zach, who was a walk-on from 2012-17. Zach Bush was WSU's first five-year walk-on of the 13-scholarship era.
Since Brycen had a connection to Shocker Basketball for five years prior to walking on, he was given a unique chance to get to know the program.
"I think [Zach] coming here and being around it all the time for five years and seeing the guys and seeing what's expected made it a dream of mine," Brycen said. "I was given the opportunity, so I'm blessed to have it."
Zach Bush said he wanted to see his brother end up wherever he would be happiest and most successful, and that he was proud to see him follow in his footsteps.
"He really liked what this program was about and everything that goes with it," Zach Bush said.
"I want him to do what makes him happy and what puts him in the best position to be as successful as possible."
Over the summer, Brycen Bush received pointers from his brother to prepare him for what would come next.
"I worked with him on things that took me a little bit to learn when I first got here," Zach Bush said. "So I tried to instill that in him."
He said he tried to prepare his brother not only physically, but also mentally.
"I just trying to mentally prepare him for everything," Zach Bush said. "This place is a lot different from our circumstance as a walk-on. You're expected to practice, and not just to practice, but to keep up and to perform.
"Coach treats you like everyone else which is good and bad. It really pushes you, so I'm trying to prepare him for that."
Leave a Comment
About the Contributors
Aliyah Funschelle, Sports Reporter
Aliyah Funschelle was a sports reporter covering men's basketball for The Sunflower. She's a junior studying sports management at Wichita State, and currently...
Selena Favela, Photographer
Selena Favela is a photographer for The Sunflower.

She was the photo editor for The Sunflower her junior year. Favela is currently a senior majoring...