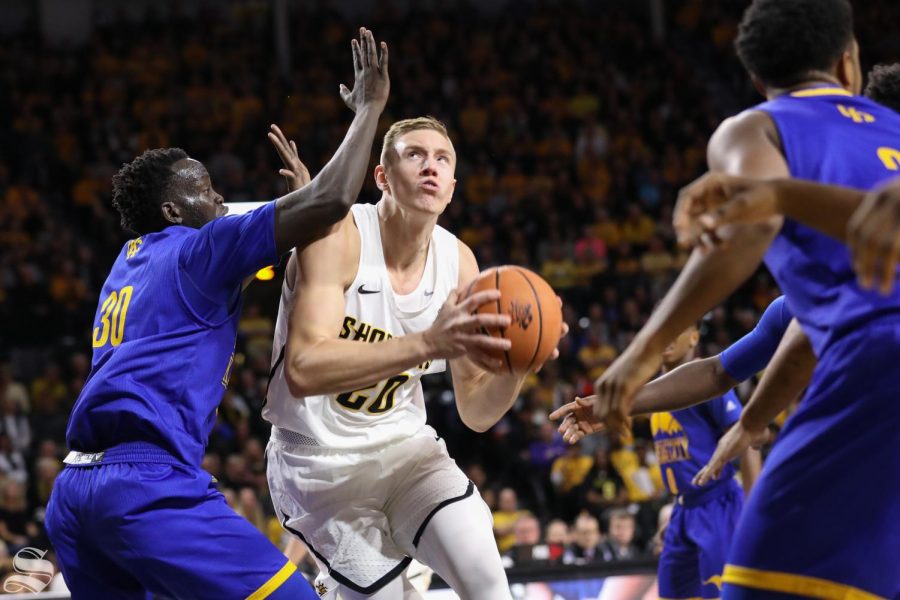 Matt Crow
No. 7 Wichita State officially opened their season with a 109-57 victory over UMKC Friday evening at Koch Arena.
"We'll take that," Head Coach Gregg Marshall said. "Anytime you can win that handily in Division I basketball, you'll take it."
In WSU's first game as a member of the American Athletic Conference, they came close to breaking a conference record
WSU's 62 first-half points was the fourth most put up in a half in AAC history.
Marshall said the key to his team's success is unselfish play.
"Great teams, there's not envy, jelousy . . . We haven't had it," Marshall said. "That's just the way we do it here."
The team's big men, senior centers Shaquille Morris and Rauno Nurger, and senior forward Darral Willis, even contributed from behind the three-poin arc.
Last Monday, Marshall said he gave the bigs the "green light" to shoot threes — and they took full advantage Friday.
Morris went 2-2 from the three, Nurger 1-2, and Willis 2-3.
"They all work at [the three], sophomore guard Landry Shamet said. "It's going to be an added factor this year for sure. Our bigs can stretch the floor this year. It helps a lot."
Willis was the game's leading scorer with 19 points.
Shamet followed right behind him with 17 points in his 17 minutes of play. Shamet started the game, and said he didn't have a playing time limit based on his injury, except for being smart and "not over-doing it."
Shamet was expected to be back around the Maui tournament in a week and a half.
"The fact of the matter is that I'm back and I'm playing," Shamet said. "It feels good being back before you're expected to be back."
The Shockers had a total of 26 assists, a record for any team Marshall has coached. Senior guard Conner Frankamp led the team with nine.
"Man, [Frankamp] was really dealing tonight," Marshall said. "He was setting everybody up."
The Shockers are back in action Monday at Koch Arena, facing College of Charleston. Tip-off is at 8 p.m.
Check out the full photo gallery.