Cooper: Dishes I'll savor this Thanksgiving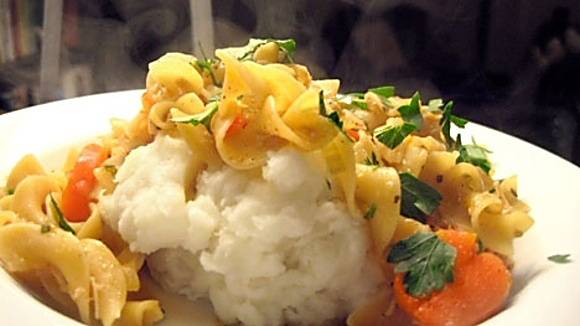 My black labrador Star's birthday falls on Thanksgiving, and we're both getting ready for the best cuisine of the holiday season. She licks her chops and my stomach grumbles with giddiness at the turkey day possibilities.
No doubt, there will be plenty of opportunities Thursday for us both to dine in opulence.
From my girlfriend's parents' to my mom's house, there will be no shortage or goodies.
What are we looking forward to most?
Mom's Chicken and Noodles
Most of us think about carving up a big, fat turkey, come time for the Thanksgiving breaking of the bread. But in my family, we have a penchant for all things carbohydrate. No other dish rolls with the astoundingly caloric, yet savory taste, quite like mom's home cooked chicken and noodles. Whole wheat noodles slathered in chicken bouillon and resting on a bed of buttermilk mashed potatoes is just the thing to hit the spot.
Broccoli and Cheese Rice Medley
Yet another classic that comes at the hands of my mom is a broccoli and cheese rice medley. I've got a love-hate relationship with this one. Despite being a tad-bit lactose intolerant, I always make the sacrifice to my stomach lining for at least one helping of this delicious side-dish. It's probably a good idea to break out the Lactaid this year. After all, this is Thanksgiving we're talking about.
Deviled Eggs by the Dozen
It seems that, upon entering my girlfriend's parents' house every Thanksgiving, there's one dish that's always ready to go: deviled eggs. Do I partake? You bet your bottom dollar I do. There's just something about a sliced egg filled with mustard, onion, and pickle juice that gets my stomach rumbling. This year, I'll be slipping a few under the table to man's best friend. Why, you might ask? One can't let a birthday pass without sharing in the festivities of good food, can they?
Marie Callender's Chocolate Satin Pie
I know what you're thinking. A frozen, storebought pie is a bit low rent for a Thanksgiving dessert. You're thinking wrong. Marie Callender is as mouthwatering as your auntie's homemade pecan pie and apple cobbler. Quite frankly, it's supremely tasty. We all have our little traditions, and for my family, Marie Callender's holiday sweets fall right into the mix alongside peanut butter pie and pumpkin crescent rolls.
We are all looking forward to a little something succulent and extra sweet this year, despite the awkwardness of being trapped among our relatives for the entire day. If you need a little inspiration this holiday season to fully enjoy the holiday, take the words of Oscar Wilde to heart:
"After a good dinner one can forgive anybody, even one's own relatives."
Happy Thanksgiving from Star and your humble food reviewer.
Cheers!
Leave a Comment