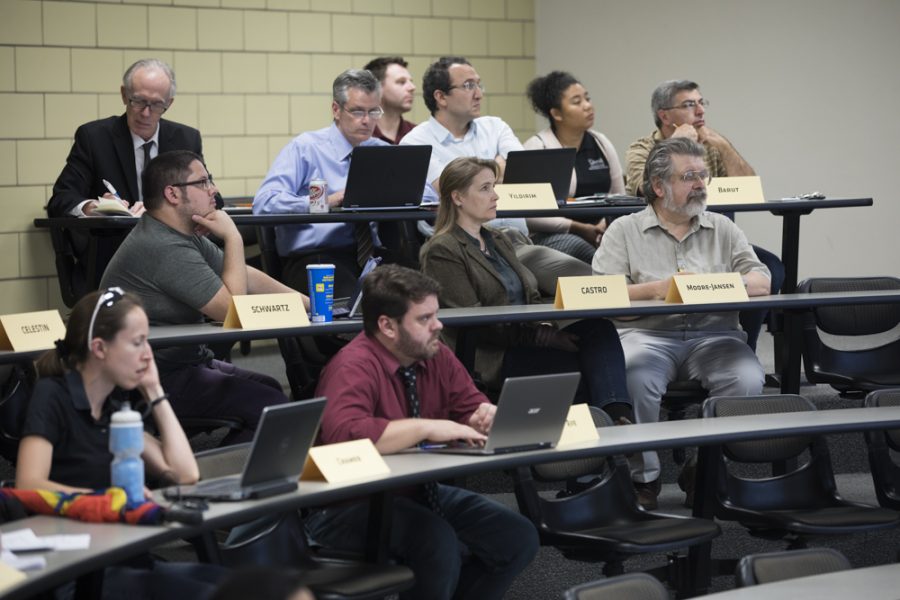 Brian Hayes
The Faculty Senate voted against a policy that would allow Wichita State employees to be terminated for being charged with a crime.
The proposed university policy, known as "involuntary separation," would allow the university to terminate any employee charged with a criminal offense, without a criminal conviction.
No senators voted in favor of endorsing the policy.
Several members of the Faculty Senate voiced opposition to the policy during their meeting Monday. Susan Castro, a senator from the philosophy department, said it would be unfair to fire an employee who has not been convicted of a crime.
"We're going to let people be fired just for being charged?" Castro said. "We're innocent until proven guilty in this country.
"That would be grounds for a lawsuit at some point," Castro said. "You shouldn't be fired until something is proven. Allegations can be made by anyone."
The Faculty Senate's approval is not required for the policy change. However, Judy Espinoza, director of Human Resources, said that Human Resources would not go forward with the policy change if the Faculty Senate did not support it.
"If (faculty) don't support it, I won't move it forward to the President's Executive Team," Espinoza said.
Molly Gordon, associate general counsel, defended the need for the policy by likening the university to a church handling accusations against a priest.
"Imagine someone accuses a priest of doing something and the church says 'we've got to keep him on, because he hasn't been convicted of anything,'" Gordon said. "People would be outraged — how can the church not take action?"
Castro said there were less permanent alternatives to firing an employee.
"I'm saying we take action, we just don't take that action," Castro said, pointing to the projection of the "involuntary separation" policy. "If they're charged with a crime, then they can immediately be put on investigative leave. I think that's fine."
Espinoza said the proposed policy change had been through the Unclassified Professional Senate and the University Support Staff Senate.
Jeff Pulaski, a senator from the school of art, design, and creative industries, asked if the other senate bodies discussed the same concerns that were brought up by the Faculty Senate. Espinoza said no.
"Then I don't think they really read it very carefully," Pulaski said.
The latest change made to the proposed policy removed tenured faculty from the scope of involuntary separation.
Gery Markova, a senator from the Barton School of Business, urged the Faculty Senate to consider the policy from the perspective of the employees that would be affected by it.
"Think about the janitor that can hit somebody on their way home. It's not their own fault, but before that, they may get charged," Markova said.
"They may even sleep a few nights in jail because they don't have money for bail. That is the person who's going to get fired.
"Because I probably will lawyer up before even the detectives come. But they won't."