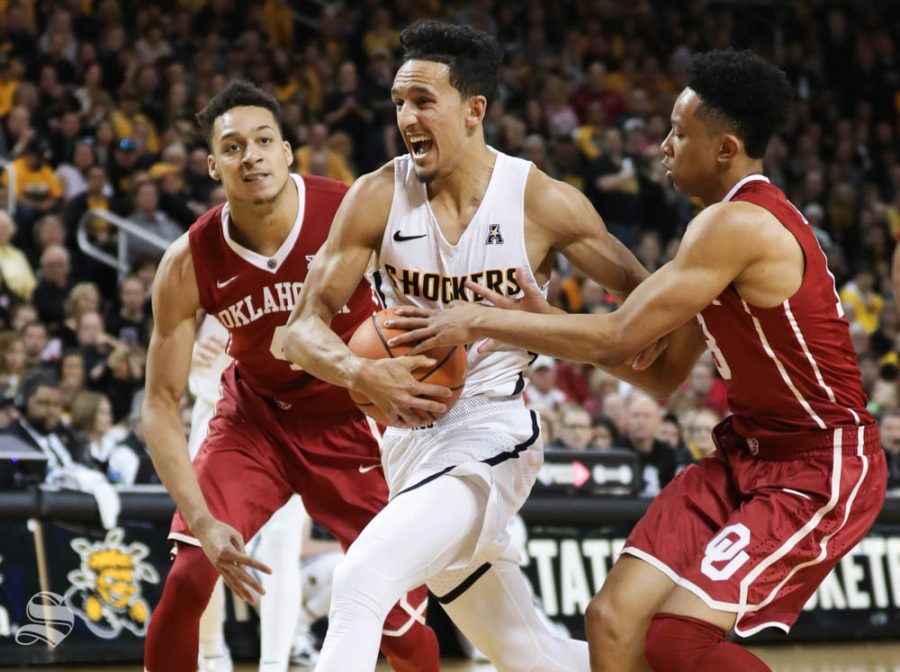 Brian Hayes
No. 3 Wichita State had their second-straight INTRUST Bank Arena loss after falling to Oklahoma by eight.
Despite their efforts, The Shockers could not slow down Oklahoma's transition offense and star point guard Trae Young.
"We couldn't sustain any momentum," Head Coach Gregg Marshall said. "We gave them too many open looks."
Marshall thinks Young was "as good as advertised."
"I said going into the game I hadn't seen a freshman guard that I've coached against that plays on that level," Marshall said. "He's obviously extremely talented and gifted and plays really hard."
Young finished with 29 points, 21 of which were in the first half. He also finished with 10 assists and four rebounds.
Along with Young, Oklahoma's Brady Manek also had a standout game with 21 points– knocking down five threes.
"I'm just trying to stay positive, I know we didn't play well," sophomore guard Landry Shamet said. "I'm not taking anything away from them, they had a hell of a shooting night."
Wichita State's defense was their biggest downfall according to Marshall. The Shockers gave up 54 in the first half alone.
The Shockers allowed 13 threes on 40 attempts, and only made six of their 24 attempts.
"In the second half we did a little bit better defensively but, we don't usually give up 91 points," Marshall said. "But that's a tremendous team on the other side."
Senior forward Darral Willis was the leading scorer and rebounder for The Shockers with 21 points and 12 rebounds. Shamet followed with 17 points.
Shamet is focusing on staying positive throughout the loss and seeing it as a learning point.
"We need to keep it in our minds were playing a really tough non-conference schedule," Shamet said. "The way I'm looking at it is it's just preparing us for March.
"[We're just] staying positive and staying with the process, and get back to practice tomorrow and just get better."
The Shockers are back at Koch Arena on Tuesday against Arkansas State. Tipoff is at 7 p.m.