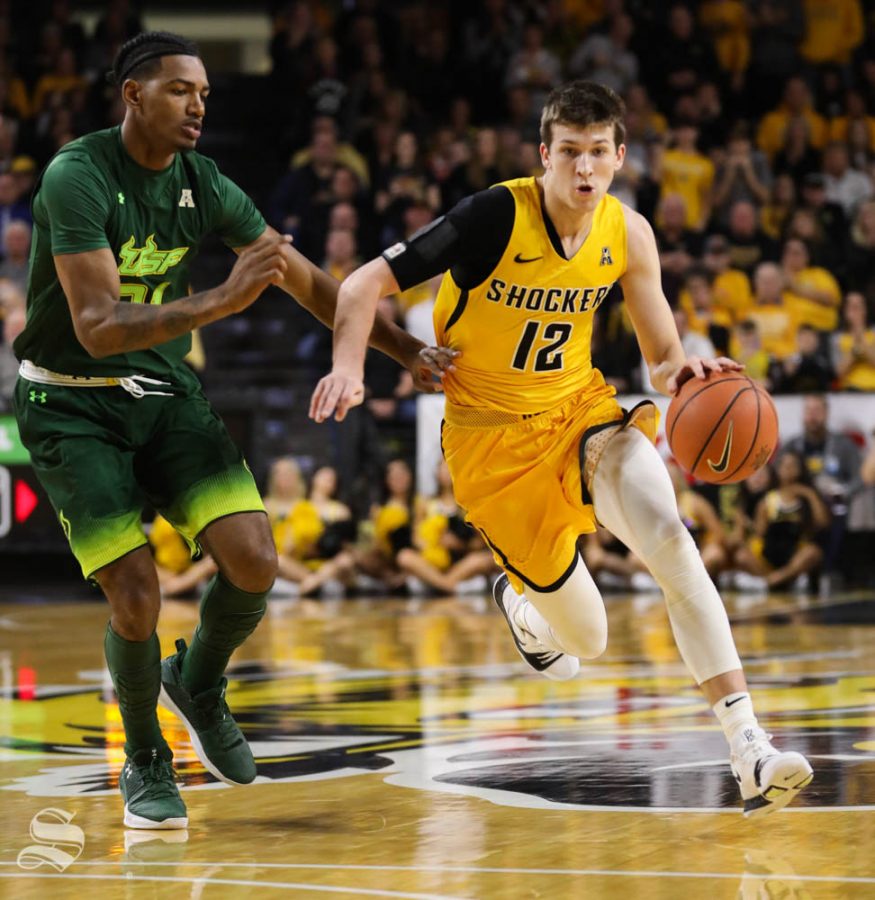 Brian Hayes
No. 9 Wichita State handed USF their fourth conference loss after a 38-point win.
The Shockers were able to win by almost 40 with the current leading scorer, sophomore guard Landry Shamet, only taking two shots the entire game.
"He doesn't have to score tonight," Head Coach Gregg Marshall said. "He's distributing, getting everyone else involved and playing as unselfish as you can possibly play."
Shamet had the most minutes but only had three points that didn't come until 10 minutes into the second half where he drained a three. Shamet only took two shots the entire game, but finished with seven assists.
"It show's that Shamet is a great leader, a great teammate. I know everyone on the team respects him and loves to play with him," sophomore guard Austin Reaves said. "He doesn't care about his numbers, he just wants to win…that is his best quality."
Despite Shamet's low-scoring game, Wichita State shot 63 percent—their best field goal percentage the season. Going 12-20 from the three, The Shockers doubled The Cougars'.
Shamet's unselfish play is something the entire team does as well. Wichita State had 28 assists on 59 shots.
"The ball movement was exceptional," Marshall said. "Go watch college basketball tonight, go through the box scores on ESPN. I bet you won't find five other teams with 28 assists."
12 of the 14 Shockers scored and Wichita State finished with 48 bench points. Junior forward Markis McDuffie believes that because of the team's depth, taking shots requires confidence.
"As a team we don't have one player that touches the ball all the time, we have a deep team," McDuffie said. "We all get an equal amount of shots so we gotta make sure that we knock those down."
The Shockers forced 18 turnovers from USF and was able to convert that into 32 points.
"I love it," senior forward Zach Brown said. "It means that we're listening, we're competing, we're putting the effort in, and working hard, and capitalizing on the other end."
Senior center Shaquille Morris finished as the leading scorer with 15 points—11 of which were in the second half.
Brown, who entered the game shooting 26 percent from the three and averaged 4.4 points per game, finished with 13 points and shot 100 percent from both the field and the three.
The Shockers head to North Carolina to face ECU on Thursday. Tipoff is at 8 p.m. and will be broadcasted on ESPN.