Student group will host Palestinian documentary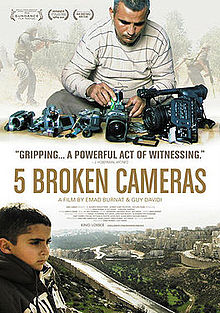 Students for Justice in Palestine is a group of students that hope to bring awareness to anyone that is willing to learn about the humanitarian crisis currently happening in Palestine. One of the ways that the organization is bringing awareness is with the screening of the documentary, "5 Broken Cameras" on Friday in Hubbard Hall 221.
"5 Broken Cameras" was shot by a Palestinian civilian, Emad Burnat, living in the small farming village Bil'in, which is surrounded by occupied territory. Outraged by the advancement of Israeli settlements on their beloved land, the Bil'in villagers peacefully protest. This peaceful protest is often met with violence from the Israeli military, though.
"It's a very heart-wrenching and emotionally difficult documentary to get through, but it shows everything," said Deena Helm, president of the Students for Justice in Palestine. "Much of what is seen today in American media is very heavily one-sided, and we want our fellow Shockers to understand that not all Palestinians are angry, violent terrorists. Many of the protests are peaceful and they still don't have any effect. It's to show a reality that American students don't often see and we hope it challenges their current views."
Helm said they chose this documentary because the student group is hoping students will have a better understanding of the Palestinian conflict through the screening.
"When Americans think of the Israeli-Palestinian conflict, their first thoughts are often something dealing with conflict of religion between Jews and Muslims," Helm said. "That is not at all the case. My sister, Zaena, and I come from a family of Palestinian Christians and have dealt with the same issues. We want students to know that this issue is not at all religious. It's an issue of occupation, violence, and colonialism. This documentary shows that very well. Our goal is one of knowledge. We simply want others to understand what is going on."
The groups goal for the documentary is to provoke deeper thought and a consideration to learn more about the Palestine's current situation.
Hang on for a minute...we're trying to find some more stories you might like.