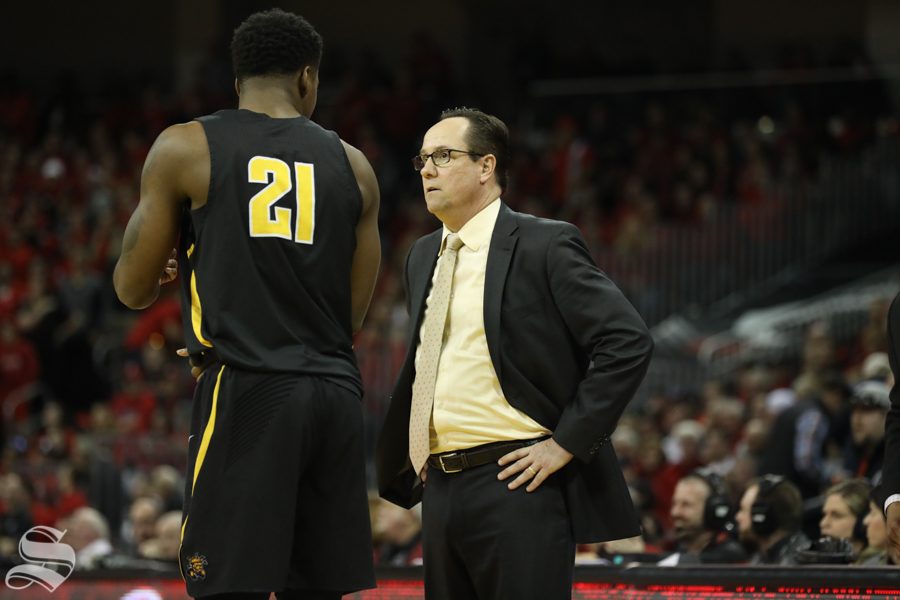 Matt Crow
No. 11 Wichita State has the opportunity to clinch their own share of The American's regular-season title if they can make it through the week perfectly.
The Shockers' fight for the title is tiring for the players and the coaches, but Head Coach Gregg Marshall said the excitement of this time of year tops the fatigue.
"If we win the two games, we get a No. 1 seed (in the conference tournament) in our first year. It's exciting, it's fun, it's challenging as heck," Marshall said.
"All players and all coaches right now are tired, but the excitement, the exhilaration of this time of year trumps all of that."
Marshall thinks whoever wins the regular-season should be the team to represent the conference in the NCAA Tournament.
"I think it's the most difficult, in fact, and should be more rewarded, honestly," Marshall said.
"I've always said a regular season champion should be the one to represent the league in the NCAA Tournament . . . I think that the two to two-and-a half months should be valued greater than a three or four day tournament."
The Shockers continue down that road with two games that could determine their fate.
Although the hype surrounds the rematch between No. 10 Cincinnati and No. 11 Wichita State, the Shockers are careful not to overlook Thursday's road game against UCF.
Thursday is just the second meeting between the two teams, with their first being a 19-point Shocker win in Wichita earlier this year.
The Knights were selected to finish third in The American's preseason poll, but the team has suffered from three key players being injured.
Tacko Fall's season-ending injury occurred just before the first game in Wichita. UCF's seven-foot-six center was averaging 11.3 points, 7.3 rebounds and 1.9 blocks per game for The Knights.
The Knights' guard B.J. Taylor also was out with an injury but returned Jan. 16 after missing 16 games due to a foot injury. Taylor was a preseason first team all-conference selection.
With absences from those primary players, UCF has gone 8-8 in The American and depending on how the rest of the week plays out, can finish anywhere from fourth to ninth place.
The Knights are most recently coming off of a 19-point loss to Temple. In that game, only one Knight finished with double-digit points — UCF's A.J. Davis who finished 19 points and four rebounds. Taylor finished with the second-most with nine.
Davis ranks second in The American in rebounds, averaging 7.8, and double-doubles with seven.
UCF averages 62.6 points per game with a +1.4 scoring margin, and 35.2 points per game with a +1.9 rebounding margin and a 0.8 assist to turnover ratio.
Wichita State is on track to setting American conference records for three categories: scoring offense (84.2), rebounding offense (40.8) and assists per game (18.9).
Not only are the Shockers on pace to setting new records, they also lead The American in rebound margin (+10.2), field goal percentage (.483), assist-to-turnover ratio (1.6), defensive rebound percentage (.772) and three-pointers per game (9.5).
If the Shockers win on Thursday, they are guaranteed a finish no worse than a tie for second place. WSU has finished first or second in all of their last eight conference seasons.
Tipoff is at 6 p.m. and will be broadcasted on ESPN.