Location:5600 E. Lincoln
 Eighteenth century writer Hector St. John de Crèvecœur once said, "What then is the American, this new man? He is either an European, or the descendant of an European, hence that strange mixture of blood, which you will find in no other country."
He was speaking of course of the American penchant for liberality and variance of taste we share given the complexities of the mixed background we share. One Restaurant in south city ICT, succinctly embodies this very spirit.
N&J Café is set along the low-key, used car lot and laundromat-laden drag of Lincoln and Edgemoor. This place has long been a staple for Wichita locals who want a taste of something traditionally Lebanese.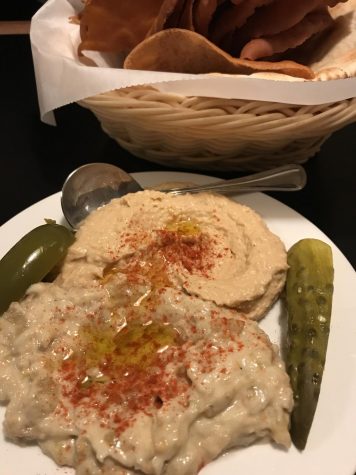 John Srour, the bakery gourmand of Zahle Lebanon, started the Mediterranean restaurant after moving his family to Kansas in the 80s. Since that time, N&J Café has been the culinary suggestion of more than a few Wichitan foodies with a propensity toward Middle Eastern Cuisine.
Having visited and dined at N&J a few times during my time in Wichita, I have never left with an unappeased appetite or empty stomach.
Best Appetizers:
Hummus & Pita Chips — Chickpeas, tahini, tomatoes, olives, oil, lemon juice and garlic breath for the rest of the evening. I wouldn't recommend a hummus if it wasn't particularly choice.
Baba Ghanouj — If you are a little unfamiliar with middle eastern cuisine this one might sound a little strange, but it's worth the try. It comes with a puree of perfectly roasted eggplant and tahini which is then served with either chips or freshly baked pita bread. It's pungent, but sweet and garlic-filled at the same time.
Kebbe Balls — This is another one that might seem a little different if you're not accustomed to dishes from the Levant. Kebbe at N&J comes in the form of fried cracked wheat balls made with ground beef, onions, pepper and pine nuts served with garlic sour cream sauce.
Dishes of Note: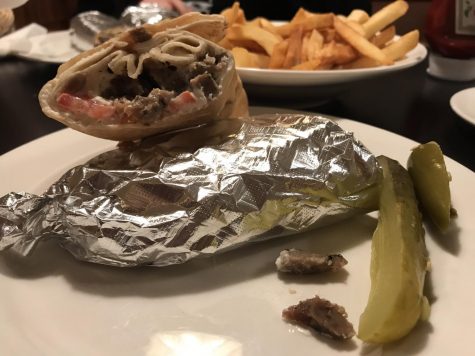 Chicken Shawarma — The basics at N&J are surprisingly good and the shawarma is no exception. The sandwich is served wrapped in pita with a mix of grilled, peppery chicken, onions, lettuce, tomatoes and garlic shawarma sauce. It's cheap. It's tasty. It gets the job done.
Falafel Sandwich — It comes as a pita wrap filled with fried patties of chick and fava beans. It's vegetarian, yet tastes of rich beef or lamb and leaves you with a full stomach despite containing no meat whatsoever.
Lamb Gyro — This one is a pita wrap which cradles a mixture of slow-cooked, rich, tender lamb capped off with onions, tomatoes, spices and a traditional cucumber accented yogurt filling. The gyro is pleasing if you want something in a wrap that is off the beaten path from your standard chicken or beef shawarma.
Crumbly Baklava — Pistachio, walnut or almond baklava at N&J comes made with flaky filo dough, nuts and honey. In terms of dessert, it comes in modest portions, but again, it's cheap and extremely flavorful.
Cost:
Sure the Shish Kabab and Mixed Grill of chicken, steak and kafta are a little on the expensive side at $16.25. Otherwise, nothing on the N&J menu is particularly taxing on the customer's wallet. The shawarma, both chicken and beef, are only $7. Appetizers range from $5 to $7 unless you want the combo of Hummus, baba ghanouj, tabouli, grape leaves, cabbage rolls, kebbe and falafel which is $11.75. All and all, N&J is economical. If you're a student, an underpaid Rhatigan Student Center employee, or just a sucker for a cheap meal, this is where to go.
P.S. on America, the Levant and Mr. Crèvecœur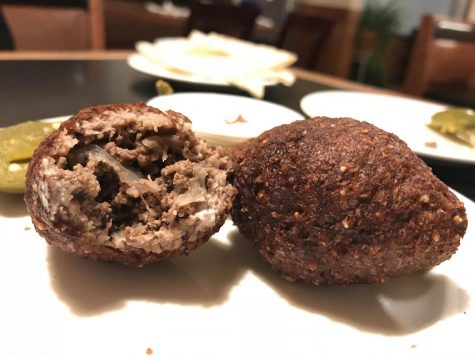 That thing Crèvecœur so melodramatically said about America being the land of peoples found in no other place on Earth, set upon me during my last meal at N&J. As the hearty lamb from the gyro sated my palate, it hit me. The tastes John Srour set out to achieve here are those which most Americans are wholeheartedly unfamiliar with. Nonetheless, these gems of restaurants continue to flourish in working-class America, there for the hungriest of us who work for a living. It seems Crèvecœur's words have lasted for posterity. Despite the times of xenophobia in which we live. Despite the freneticism and abhorrent violence, the buffoonery of legislators, both nationally and indeed at WSU, there is no pang a lamb gyro and a slice of opulent baklava can't remedy.