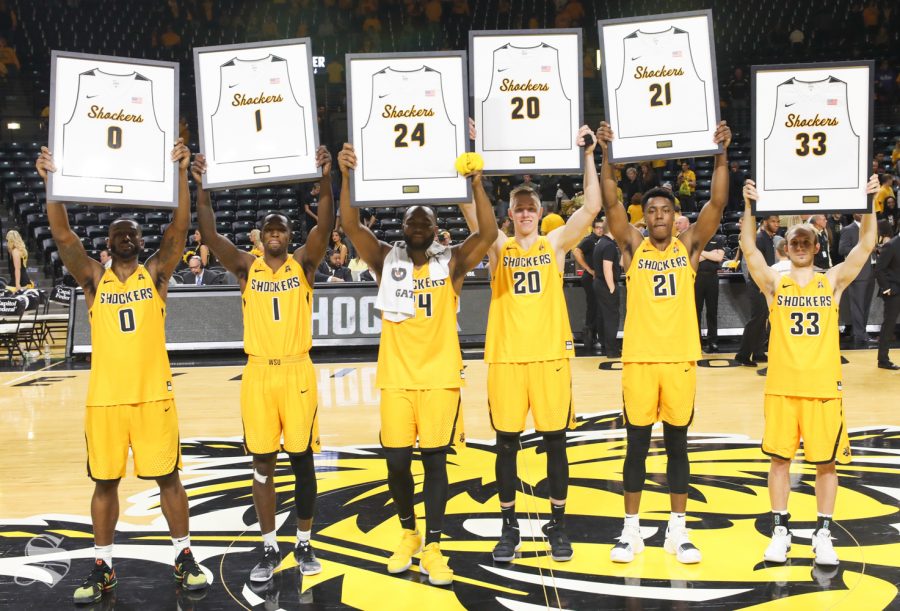 Brian Hayes
A single basket was the only thing that came in between No. 11 Wichita State and a share of the conference regular-season title.
On an inbounds pass with less than 10 seconds remaining, senior guard Conner Frankamp was left to take the game-deciding shot.
Frankamp's shot didn't fall, leaving No. 10 Cincinnati clinch The American's regular-season title outright by one single point. Regardless of the outcome, Head Coach Gregg Marshall had no regrets in having Frankamp shoot that crucial shot.
"Cincinnati's five-men are very athletic, and long, and do a good job with their feet. I thought it was going in, I just had that much faith in Conner," Marshall said. "Obviously he didn't make a three tonight, but he's one of the best shooters I've ever seen in my life."
After the game, Marshall ensured Frankamp knew he had faith in him and doesn't want his shooting confidence to diminish. Marshall said if he had to do it over, he'd have Frankamp take the shot again.
"I said 'Well that's not the last one you're gonna take,'" Marshall said. "I would do the same thing again. I would give him the opportunity to make that shot."
When Marshall went in the locker room, he expressed his love for the team, but also put a positive twist on losing on senior day.
"I just told them I loved them. I told them as a coach I wish I could've drawn up one more play, one more basket somehow," Marshall said.
The positive spin came from Marshall's personal experience, and the only other time he had lost a game on senior day: Evansville in 2013.
Despite losing on senior day and watching their regular-season and tournament conference title slip through their fingers, the 2013 team bounced back and made it to the Final Four.
"That's just a message to them that they're still champions, there's no doubt about it," Marshall said. "They're champions in every form shape, however you want to cut it.  On and off the court, those six seniors are still champions."
Marshall said the players bought into his story, and now they're ready to take on the rest of March. The players don't want to get stuck on the loss and want to do what they can to move forward.
"Marshall did a really good job of making light of the situation," sophomore guard Landry Shamet said. "I think we all understand where our heads have to be and what we have to do from this point forward."
Shamet said the players can't think too much into the loss with what the rest of March brings.
"Tomorrow when the sun comes up, it's another day, a new opportunity for us to move forward. You can't dwell on something like this."
Senior forward Rashard Kelly agreed that The Shockers can't get caught up in what could have been, especially when it's a one-point game.
"The camaraderie as a team, we never hung our heads and we fought the whole time. Cincinnati is a great team and a great program," Kelly said. "Yeah, the outcome should've been different, but it wasn't today."
"We gotta put our hard hats on and go back to work, that's it."
Getting back to work is exactly what The Shockers have to do with a swift turnaround from conference play to tournament play.
Wichita State will likely be a No. 2 seed, with brackets being finalized Sunday evening. The Shockers will play on Friday in Orlando.