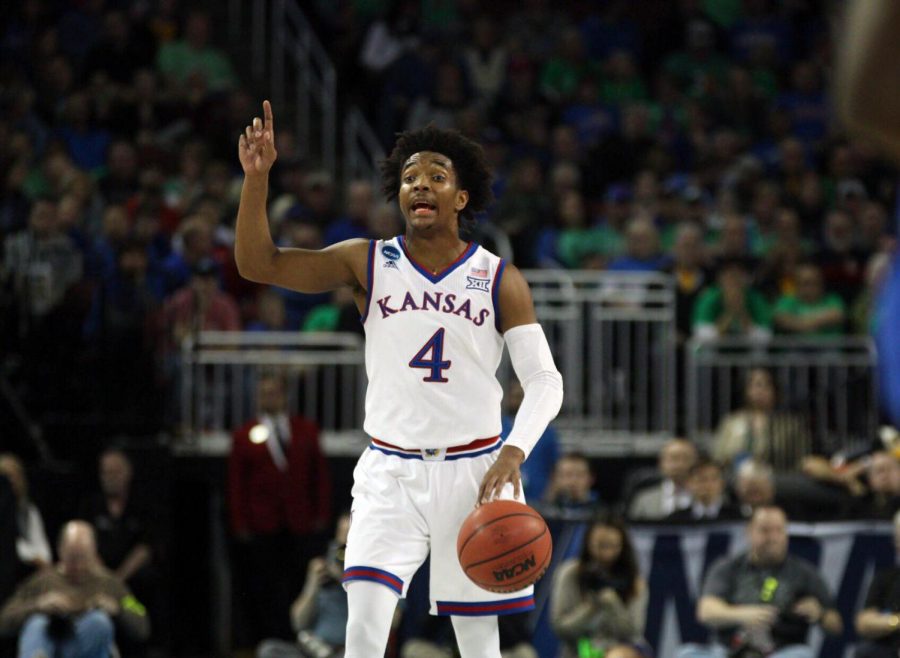 Selena Favela
WICHITA— Kansas guard Devonte' Graham led the Jayhawks into their third consecutive Sweet 16.
The Jayhawks defeated No. 8 Seton Hall in the second round of the NCAA Tournament in Wichita. They'll now advance to Omaha for the Midwest regional semifinal. 
KU secured the win despite back-to-back three-pointers and a quick two-point hook-shot by the Pirates in the final 30 seconds of the game. The Jayhawks won 81-76 in front of a KU-filled crowd chanting "Rock Chalk Jayhawk" in INTRUST Bank Arena.
Seton Hall senior center Angel Delgado stuffed the stat sheet with 24 points, 23 rebounds — the most in an NCAA Tournament game since 1973 — and five assists. Delgado had a double-double in the first half.
Kansas Coach Bill Self was at a loss for words trying to describe Delgado's performance.
"(Delgado) was obviously the best player in the game," Self said.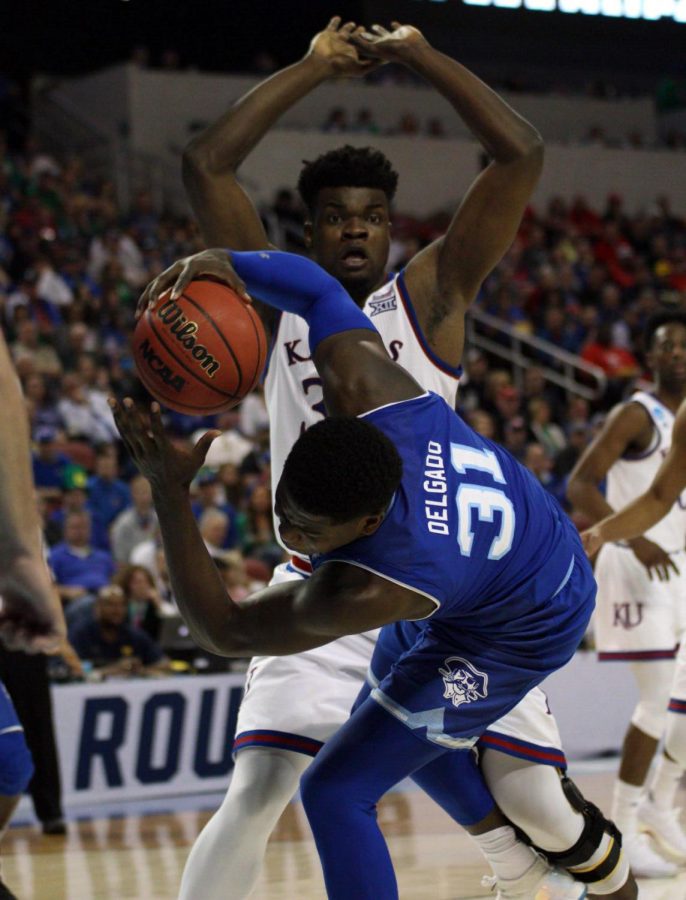 Delgado spent a majority of the game being guarded by Kansas freshman Mitch Lightfoot, a traditional reserve to KU's standout center Udoka Azubuike. Azubuike scored 10 points and had six rebounds in 17 minutes.
Self said Azubuike would likely play 15-20 minutes against Seton Hall, per the requests of the team's physical trainers. Azubuike is rehabbing a left-knee strain.
"If (Azubuike) didn't play, Delgado would have had 34 (points) and 30 (rebounds)," Self said after the game.
"We knew he was really good at rebounding the ball and he's a force in the paint," Azubuike said of Delgado. "Today he proved it."
Despite finishing the first half with more turnovers (4) than points (3), Graham turned the Jayhawks five-point halftime lead into a double-digit win that was never closely challenged in the second half. He finished with nine assists and five turnovers in what is statistically his worst performance of March. He scored eight points, including to free throws to close out the game. 
Graham followed his 28-point performance in the first round with eight assists, pushing teammate Malik Newman to score 27 points in Graham's scoring absence.
"I think anybody — any one of our starting five always have a chance to go out and get 20 plus," Newman said. "We're always capable of it."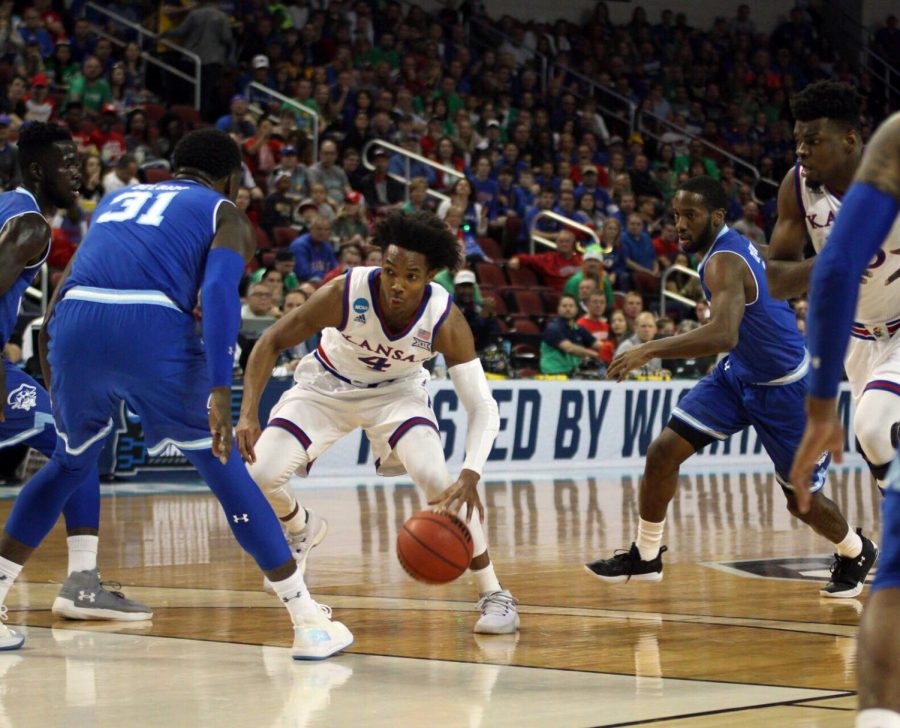 Graham, the unanimous Big 12 Player of the Year, has led the Jayhawks to mounting success, including KU's 14th consecutive conference title, an NCAA record, and a Big 12 Championship. His successes with the Jayhawks, and their trip to the Sweet 16 almost never came to be.
His story was originally an east coast narrative. In high school, during the early signing period, Graham signed a letter-of-intent to play for then-coach Jason Capel at Appalachian State University — three hours from Graham's home in Raleigh, N.C. Capel, who coached at Appalachian State until he was terminated in 2014, wouldn't release Graham, a late-rising star, and free up his eligibility to other schools.
Passing up a year at college, Graham went to Brewster Academy, a prep school, and in 2014, after Capel was fired from Appalachian State, Jim Fox granted Graham his release.
Since then, Graham has been nothing short of a sensation for the Jayhawks, who entered the NCAA Tournament the No. 1 seed in the Midwest region after cruising through a talented Big 12 conference. Graham leads the Jayhawks, averaging 17 points, 1.7 steals, and a little over 7 assists per game. He does so while shooting a 41 percent from three — his second-lowest numbers in his time with Kansas.
Graham made the second bucket of the game to put the Jayhawks up by three. Graham stripped the ball from the hands of Angel Delgado on the Pirates' first play of the game.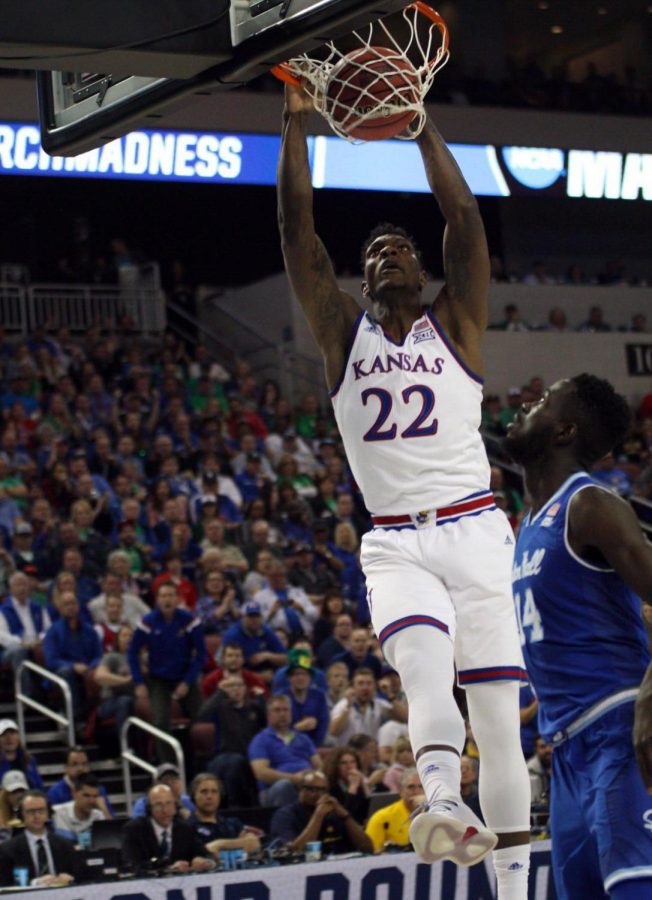 Graham, after catching a long rebound off a missed jumper, lobbed to forward Silvio De Sousa on a broken play, fresh out of the under 12 timeout to get Kansas fans on their feet. The Jayhawks jumped to a 15-6 lead, and the Pirates called a timeout.
"This is what we do," Graham said. "We got to help each other. It is a team effort. Guys are going to make plays, and you might have a good game and the next one you might have a bad one."
The Pirates cut KU's lead to four points in the second half, including cutting the deficit to four points in the final 29 seconds, but Seton Hall never led. 
"We're in a position we expected to be in," Graham, who will leave for his third Sweet 16 appearance next week, said.