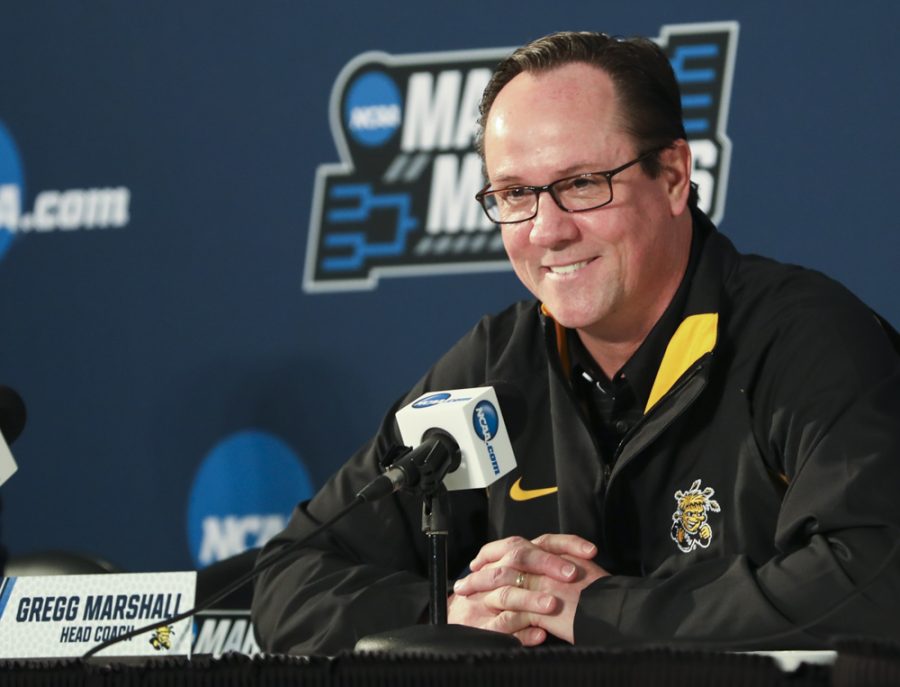 Brian Hayes
Although The Shockers' time in the 2018 NCAA Tournament might be finished, Head Coach Gregg Marshall and senior guard Conner Frankamp aren't quite done with the March Madness festivities.
Turner Sports announced Thursday morning that Marshall will join March Madness coverage as a guest studio analyst on Thursday and Friday for the Regional Semifinals on CBS and TBS.  
Marshall will be joining the Atlanta studio team of host Ernie Johnson and analysts Brendan Haywood, Candace Parker, and Seth Davis.
The Regional Semifinals begin Thursday evening at 6 p.m.
In addition to Marshall's involvement with the tournament, Wichita State Athletics announced on Wednesday that Frankamp will be competing at the 30th annual State Farm College Slam Dunk & 3-Point Championships.
Frankamp is one of eight men's basketball seniors selected to take part in the three-point contest. The contest will be next Thursday at St. Mary's University in San Antonio, Texas.
The event will be aired live on ESPN2 at 8 p.m. CT.
Frankamp is no stranger to 3-point competitions.
In 2013, he won the  US Marines 3-Point Championship on Final Four weekend, beating out future UCLA Bruin Bryce Alford in the final when he hit 22 of his 25 attempts.
Frankamp was three-time champion of the Shocker Madness three-point contest at Wichita State as well.
Alongside his 3-point competition success, Frankamp set a school record earlier this year. He went 40 consecutive games hitting  at least one three-pointer.
In his two-and-a-half seasons at Wichita State, he finished his career as a Shocker ranked sixth on the school's all-time three-point field goal chart (164).
The College Slam Dunk & 3-Point Championships have showcased some of the top college athletes over the last 29 years. That includes Gary Payton, Steve Nash, Jason Terry, Kyle Korver, Bobby Hurley, Michael Finley, Damon Stoudamire, Allan Houston, Denzel Valentine, Yogi Ferrell, Wes Matthews, Cappie Pondexter, Katie Gearlds, and Kristi Toliver.
Tickets for the competition are available at CollegeSlam.com for $15.