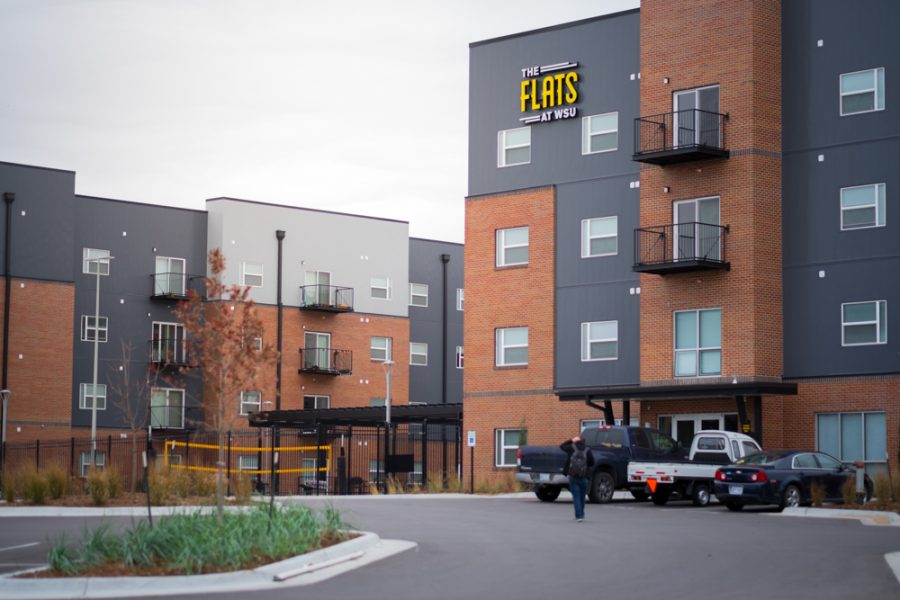 FILE PHOTO/TANAT MAICHAN
Wichita State expects to pay the chairman of the Kansas Board of Regents' company more than $2.5 million next year to lease The Flats, according to a lease agreement approved by the board of regents and projected occupancy levels for next year provided by the university.
The Flats is a university-run, privately-owned apartment complex on Innovation Campus. It was built by MWCB, LLC, a real estate development company owned by four prominent local businessmen: David Murfin, the chairman of the Kansas Board of Regents; Nestor Weigand, of JP Weigand and Sons; Ivan Crossland, of Crossland Construction; and Steve Barrett, of JP Weigand and Sons. The lease agreement was signed between Wichita State and The Flats of Kansas, LLC — a company a spokesperson from the board of regents said has the same ownership arrangement as MWCB — in December.
The lease agreement will begin June 1, the day the current lease agreement ends. That agreement was signed after Wichita State announced it was moving "about 300 students who had reserved space" in university-owned Fairmount Towers to The Flats on Innovation Campus, which had less than one in five beds filled the month before move-in day, before receiving the required state approval. Forty-eight students had signed up to live in the 280 available beds at The Flats at that time.
Wichita State's Director of Governmental Relations and Wichita State Innovation Alliance board member Andy Schlapp said in July that filling the apartments with Wichita State Students would take developers "willing to take a loss to solve this problem."
"They're going to lose their ass in this deal. But they think it's the right thing," Schlapp said of Murfin's company in July.
This year, Wichita State will pay a base rent of more than $1 million to Murfin's company to operate the Flats, according to the lease agreement signed in late July.
Next year, the university has agreed to almost double the amount it pays to lease The Flats. Students who were moved from Fairmount Towers to The Flats this year are paying the same rate they signed up to pay at Fairmount Towers. Next year, students who live in The Flats will pay an increased rate, which was approved by the Kansas Board of Regents in December. Murfin abstained from the vote to approve the rate increase.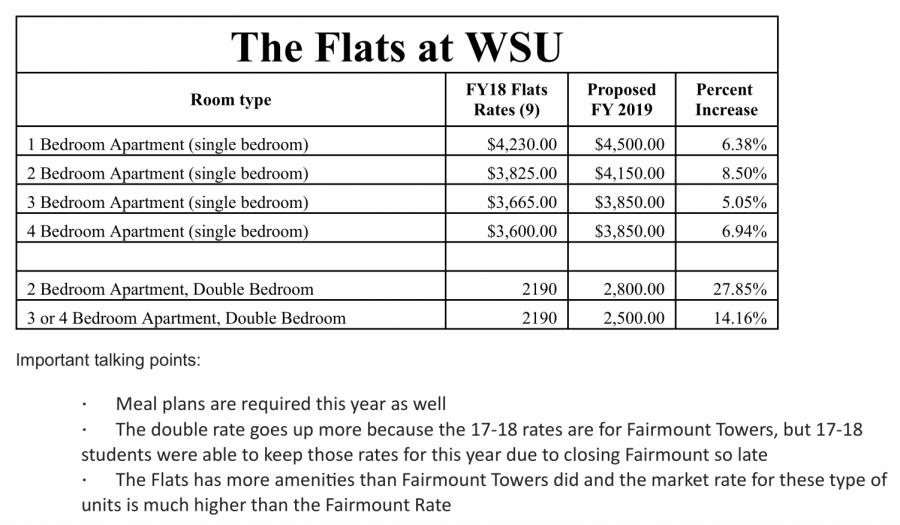 Wichita State will pay Murfin's company $7,000 a room for 281 rooms at the Flats, according to the lease agreement approved by the board of regents, making the base rent $1.96 million. Base rent will increase by 2 percent each year of the agreement, according to Kansas Board of Regents documents.
Wichita State will also pay Murfin's company 70 percent of gross rental revenue above the base rent. If The Flats reaches expected occupancy, gross rental revenue will be $769,000 above base rent. That means the university will pay an additional $538,300 to Murfin's company, on top of the base rent.

If occupancy levels go as projected, the university will make $230,700 from students' rent payments to run the facility. That's less than 10 percent of what Murfin's company is expected to pull in from student housing next year at The Flats. 
That amount also falls short of projected cash flow to Wichita State based on a commissioned study from 2015. That study compared a public-private partnership model to a university-financed model for new housing on Innovation Campus nearly identical to The Flats in the same location. The public-private partnership model provided more short-term cash flow to Wichita State but was projected to cost student tenants 16 percent more than a university-financed model.
Under the public-private partnership model from the study, Wichita State would have received $983,000 cash flow from The Flats in its first year and $435,000 next year. In the first 10 years of a public-private partnership model, Wichita State would have gathered more than $8.8 million in excess cash flow.
The Kansas Board of Regents also approved Phase 2 of The Flats, a lower-priced addition that will be built and attached to The Flats, set to open in the fall of 2019. In his March newsletter, Wichita State President John Bardo said The Flats has "been more successful than we hoped or imagined." 
"Because of this success," Bardo said, "we (Wichita State) sought and received approval from KBOR for a second phase of Innovation Campus housing. The developers have received feedback from staff and students for lower-cost, space-efficient housing units."
But it appears a second phase was in the works before The Flats opened. June 23 of last year, almost a month before Wichita State announced it would be closing Fairmount Towers and moving students to The Flats, Schlapp forwarded an email between him, Vice President for Technology Transfer and President of the Wichita State Innovation Alliance John Tomblin, Steve Barrett (of MWCB), and DJ McClenny (of Crossland Construction) to University Housing and Residence Life about an "agreement we (Schlapp, Tomblin, Crossland Construction, and Barrett) have worked out." The subject line of the email is "WSU Response Fairmount Tenants.pdf" and the attachment was not included in the emails obtained through the Kansas Open Records Act.
"I can better explain over the phone but year one is trying to help Flats. Second year and beyond negotiated much like original deal. They would commit to a building a low-cost option for our students.
"Key to Second year and until new low cost option is built is to have one house price," Schlapp wrote. The email also went to Lois Tatro, associate vice president for administration and finance for financial operations and business technology; Werner Golling, vice president for administration and finance; and Stacia Boden, a university attorney.
Schlapp did not respond to requests for comment about the June email.
Director of Housing and Residence Life Scott Jensen, who received the email from Schlapp, said he was not aware of "any condition related to Fairmount Towers for Flats 2."
Asked specifically about the email from Schlapp, Jensen denied that filling the Flats by closing Fairmount Towers and moving students from university-owned housing to Murfin's company's apartment complex for the first year was a condition related to the second phase of The Flats.
"It does not change my answer," Jensen said in an email. "Flats 2 is being developed because WSU continues to see a need for new housing to meet the needs of our growing population wanting on campus housing."
A number of projects on Innovation Campus have been completed by Murfin's development companies, MWCB and BGC LLC, including The Flats, Starbucks, Airbus, Partnership Buildings 1 and 2, and the Law Enforcement Training Center.