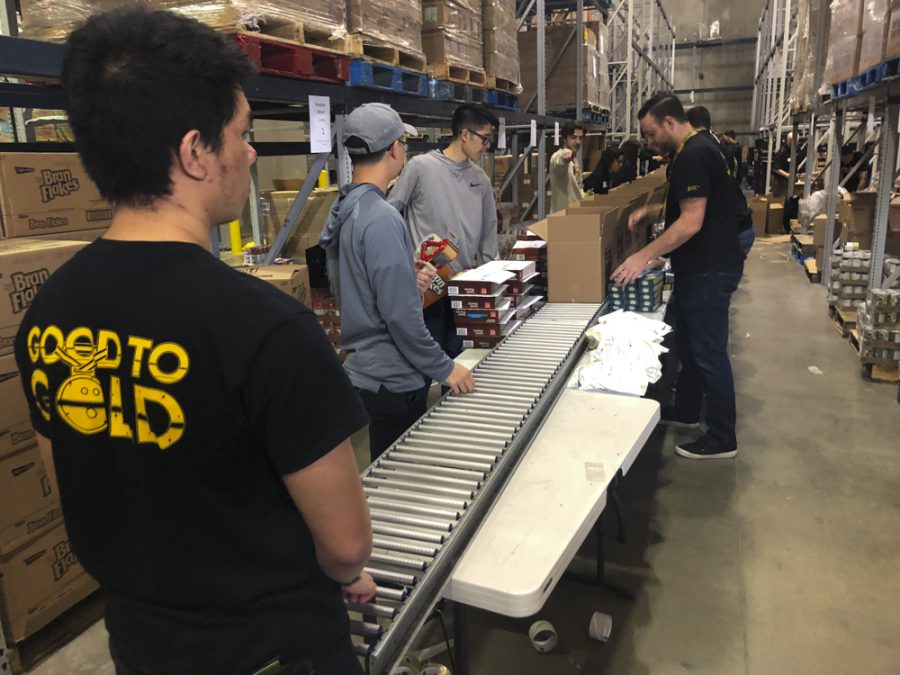 Aliyah Funschelle
Head Bowling Coach Gordon Vadakin knows a thing or two about coaching bowling at Wichita State — 40 years of knowledge to be exact.
In his time at Wichita State, Vadakin has found a way to help his team establish relationships and work on their teamwork without even being at the lanes — volunteering in the community.
Vadakin said volunteering is one of the purest forms of coming together as a team.
"It's a feeling that we're making a difference and helping somebody. The team has fun and they're collaborating," Vadakin said.
The bowling team makes it a point to go to the Kansas Food Bank once or twice a year in order to support people in the community and bond at the same time.
"It makes us feel good that we're making a difference," Vadakin said. "But it also helps our team. It's a nice team building exercise for our guys."
The team helped stuff boxes full of food for various programs for the Food Bank, such as the senior citizen food box program and the backpack program that provides children with meals on the weekends.
While doing so, the team was able to come up with an assembly line that made for top efficiency, and made for some fun.
"You can see all the teamwork that it takes and how you can make fun out of it," bowler Cortez Schenck said. "It brings us closer together and helps our team bond. It's cool to see the efficiency of the team working together."
The bowlers wanted a way to give back the support they receive from the community, and said even the simplest of actions can make a difference.
"The community gives so much to our program. Everyone comes out and supports us," bowler Jacob Kersten said. "Just to know that we can help out in some way, even if its as little as putting food in a box so people can have food for the weekend, means the world."
Kersten said that volunteering subconsciously builds up the team morale and that their volunteer experience brings the team closer than before.
"I think whether everybody knows it or not, it brings us closer outside of the lanes by doing something we know will help someone else," Kersten said.
"We're being selfless as a team and as a whole working together to help somebody else and bettering things for other people and not just ourselves."