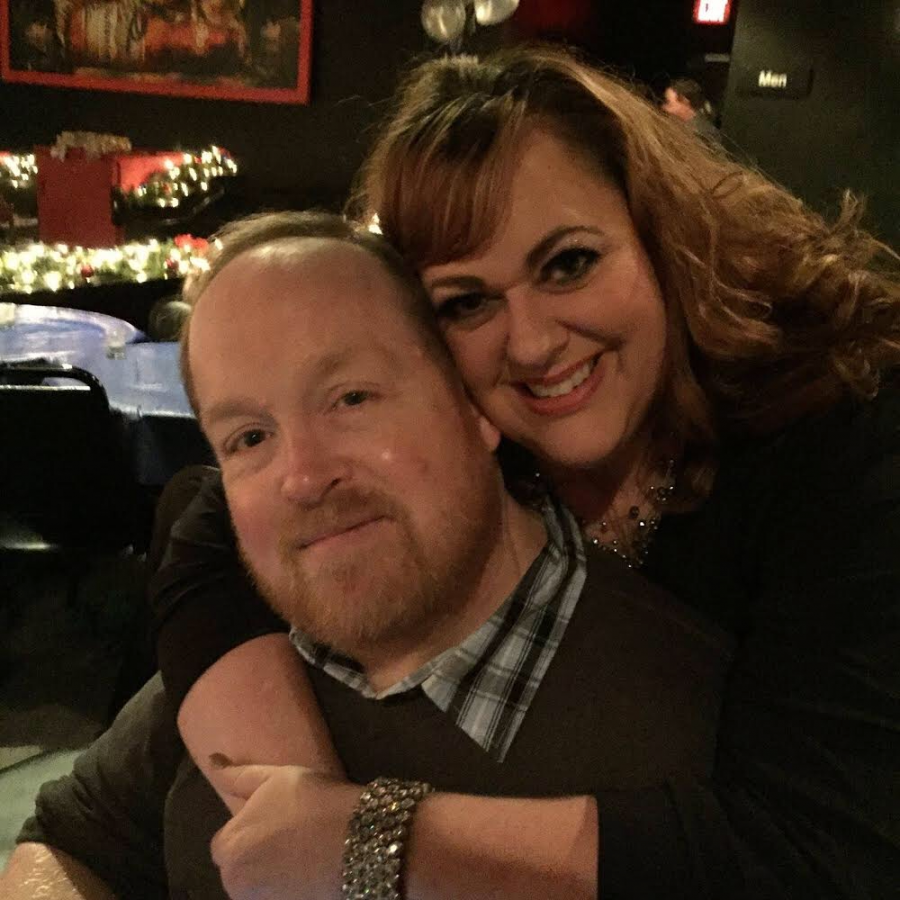 Courtesy
Friends of math instructor C. Patric Mitchell knew him as a protector — loyal to his family, his students, his colleagues, and his dogs.
"He liked to guard his pack," said math instructor Nathan Thompson, who met Mitchell in 2006 when they were both students. "If you got into his group, then he was going to do everything he could to look out for you. That's the thing I admired most about him, was looking out for the people that he cared about."
Math and physics professor Elizabeth Behrman remembers Mitchell as a guardian.
She recalled a time when a student, upset about his grade in her class, came to her office and threatened to "inflict bodily harm" on her.
"Patric, who was in the outer office, could hear what was going on," Behrman said.
"He came and he stood in the doorway, looming over this guy, and said 'You need to leave right now!'"
Behrman said the student left without another word.
"I will never forget how he bodyguarded me," Behrman said. "He was very, very sweet. He was a really good person."
Mitchell, 52, died of natural causes in his office last week, a university spokesperson said.
Thompson said Mitchell liked to tell stories about his time in the cavalry division of the army, stationed in Germany as part of the tank crew. Thompson said the sense of order and community Mitchell picked up during his time in the army was replicated in his work environment.
"I think it goes back to his roots. He had that taskmaster element to his personality," Thompson said. "That sort of regimented thing where people had a place and your close, tight-knit group was an important thing that mattered."
Mitchell earned his undergraduate, masters, and doctorate degrees in mathematics at Wichita State. He was a math lecturer at WSU for 10 years.
When Thompson met Mitchell in 2006 as a freshman in college, Mitchell served as an administrative assistant in the honors program while earning his master's degree in mathematics.
Thompson said Mitchell took it upon himself to make the honors program a welcoming environment.
"He liked to build communities," Thompson said.
"Patric was the kind of guy that if you needed someone to talk to, he tended to be around," Thompson said.  "I would often wander in (by the honors desk), sometimes to waste time, sometimes to ask curious questions."
Thompson said that Mitchell still played that role in his life as they worked together in the math department years later.
"As far as missing him goes, that's going to be the hardest part to deal with. Just not having that person around that I can go bounce ideas off of."
Mitchell was also remembered by his passion for rescuing dogs.
"He loved dogs. He had like five beagles at any one time," Behrman said.
"He thought everybody should have 10 dogs," Behrman said. "He would email me these photos of dogs that needed to be adopted."
Over the course of 20 years, Behrman came to know Mitchell as a student, a colleague, and a friend.
"He's 10 years younger than I am. He was my student. You don't expect your student to just sort of keel over. It's hard to believe I'll never talk to him again," Behrman said.
Behrman said she knew Mitchell had a heart condition, and that he had undergone surgery for it in recent years.
"He used to show off his scar. It was very impressive," Behrman said.
Behrman said friends and members of the department of mathematics, statistics, and physics are working on putting together a college fund for Mitchell's youngest son, who is in high school. "A department is family," Behrman said. "We need to take care of each other."