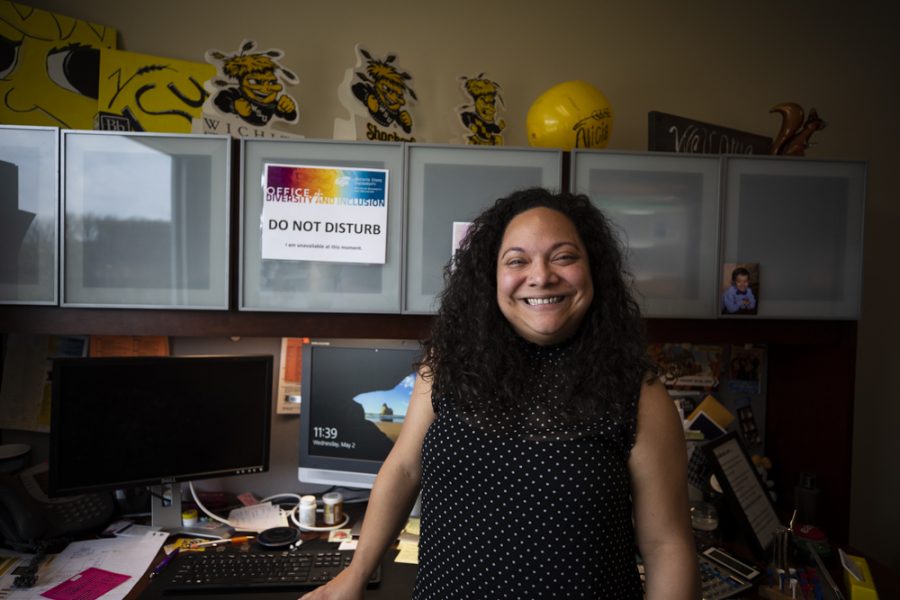 Brian Hayes
Alicia Sanchez, director of the Office of Diversity and Inclusion, was selected for the Community Champions Award by the Kansas Hispanic and Latino American Affairs Commission.
Sanchez will be recognized at the state capitol building in Topeka as a part of Hispanic Day.
Sanchez, who earned her bachelor's and master's degrees in business, said she had a "unique story" because her field of study did not align with her eventual career.
"If you would have told me I would be sitting in this chair today, I would have been like 'absolutely not,'" Sanchez said. "But it's been an exciting journey for me because I've been able to work with so many students, faculty, staff, and communities."
After working as an insurance agent during and after college, Sanchez decided to pursue a career in higher education. She eventually made her way back to WSU, where she earned her bachelor's degree, as an assistant director for the Office of Admissions.
That's where her work with underrepresented populations started. Her work with admissions involved multicultural recruitment and programs for low-income and underserved students.
"A group of students who were in our pre-college programs on campus were selected to receive a full-ride scholarship to Wichita State," she said. "I helped (those students) go through the admissions process and then get here."
Sanchez said she realized how much work she could do for underrepresented populations, but felt limited in her position at the Office of Admissions.
In 2013, Sanchez applied for the position of director for the Office of Multicultural Affairs — ODI's former name — and has served in the position since.
"I think students think about diversity and they think about race and ethnicity, but not all the other dimensions of diversity," Sanchez said. "We need all people of all races, religions, sexual orientations, genders, all of those things because we are the one-stop shop when it comes to diversity."
As director of the ODI, Sanchez said she has aimed to create a more inclusive department for all students at WSU where anyone can be comfortable with "difficult" topics.
"However you identify, if you feel like our office is a safe space for you, a place for you to feel supported, we want people to come to us," Sanchez said.
Sanchez said she also wanted the ODI to serve as an academic resource for students.
"That's something that we've really tried to enhance in terms of making sure students feel like they have the resources, they know how to have good study skills, they know how to interact with their professors," Sanchez said.
Sophomore Jade Mursch works as a marketing intern at the office. While getting to know Sanchez over the last two years, Mursch said that she has seen Sanchez as dependable and hardworking.
"Alicia goes above and beyond," Mursch said. "Students see that she really puts in a lot of work. With everything she does, a lot of the times, you can't catch her in the office because she's so busy working with other people."
As a Mexican-American woman, Sanchez said feels a personal connection to the Latino and Hispanic community in Kansas. Throughout her time working at Hutchinson Community College, she advised the school's branch of the Hispanic American Leadership Organization and currently advises WSU's Sigma Lambda Beta fraternity.
Off campus, Sanchez serves as the board chair for the Wichita Hispanic Chamber of Commerce, a volunteer organization that promotes and aids Hispanic businesses in the region.
"That really has been the most impactful and meaningful work in the (Hispanic) community," she said.
"We also help our larger corporations. Koch Industries is a member," she said. "They're looking at the workforce. How do they attract talent? How do they keep talent? Especially around the Latino populations."
Sanchez said that there are about 68,000 Hispanic-Latinos in the Wichita area, and that they are the fastest-growing demographic.
"We have a $2.2 billion purchasing power in this area, so that's a lot of money," Sanchez said. "Our job is really to make people aware of that, so it's kind of two-fold."
Half of the job, she said, is helping already-established Hispanic businesses, and the other half is helping new businesses connect with the Hispanic community.
"What I've noticed in my time in Wichita is that Hispanics and Latinos are underrepresented when it comes to business opportunities," Sanchez said. "They're here, and we're here, but for some reason, people aren't aware of what's happening in the north end, and what's happening even in the south part of town."