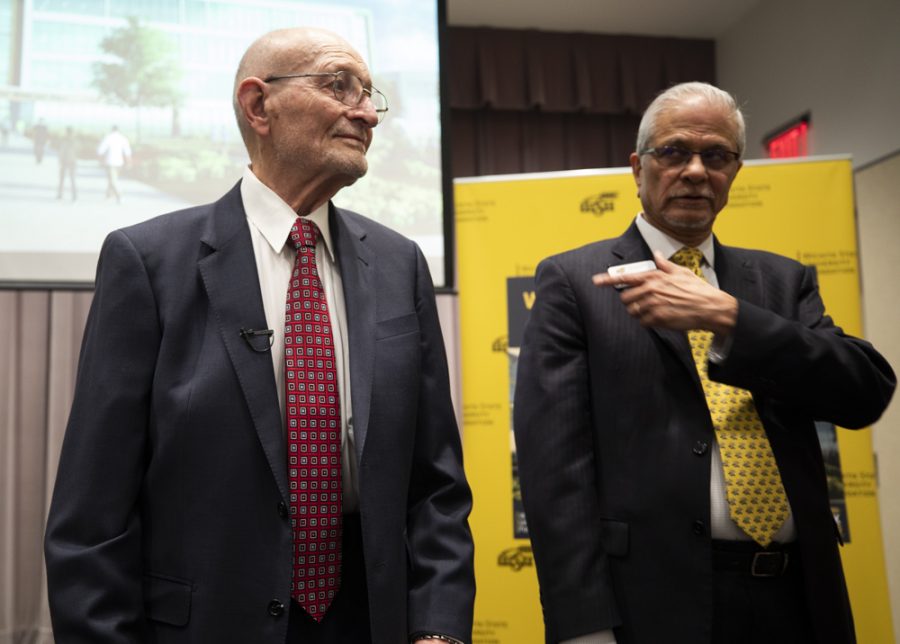 Brian Hayes
Wichita oilman Wayne Woolsey and his wife, Kay, announced Wednesday that they will make a $12 million cash donation to Wichita State — the largest such gift in school history, according to the WSU Foundation.
The Woolsey's lead gift of $10 million will go towards building a new home on Innovation Campus for the W. Frank Barton School of Business, which will be named Wayne and Kay Woolsey Hall in the couple's honor. The remaining $2 million will be donated to the geology department for the petroleum geology program and to provide scholarships for field-camp experience.
Wayne Woolsey, 87, is the founder and chairman of Woolsey Companies, an oil and natural gas exploration and production company that drills in Kansas, Oklahoma, and Texas. He is also an inductee into both the Kansas Oil & Gas Hall of Fame and the Kansas Oil Museum.
Although neither of the Woolseys attended WSU, their son, Marc, is a graduate of the Barton School of Business.
"I've been fortunate to find success in a field that I enjoy a great deal, and I view this gift as something that will help develop other successful entrepreneurs and business leaders," Wayne Woolsey said in a university press release. "A great business school facility at Wichita State will strengthen our workforce and our economy, and that is worth investing in."
Groundbreaking on the 136,000-square-foot facility is expected to begin in 2019, according to the press release, and the Woosley's donation brings the total amount raised for the business school to $21.5 million. The project is expected to cost roughly $50 million.
"The mission of the W. Frank Barton School of Business is to be a national model for research, knowledge transfer, and applied business learning," Anand Desai, dean of the business school, said. "Wayne, through your generous lead gift, we will build a new facility that will propel us towards this mission."
WSU Foundation President Elizabeth King said the new facility's location on Innovation Campus will foster an environment of hands-on learning.
"One of the exciting things about the new business school building is that it will be located on the Innovation Campus," King said. "It will be very close to the Experiential Engineering Building as well as to the new buildings that all of our partners — Spirit and Airbus and other partners in the industry — so students have closer proximity to industry."
The facility will house the new Koch-funded Institute for the Study of Economic Growth and the Koch Global Trading Center.
Koch Industries CFO Steven Feilmeier was on hand for the announcement. He said Clinton Hall, which currently houses the Barton School of Business, "served its purpose," but that it's time for a new facility.
"We're grateful for Clinton Hall, but things have changed dramatically," said Feilmeier, who attended WSU starting in 1979.
"Clinton Hall is not conducive to having interactions with other disciplines that are across the college," Feilmeier said. "Being on the Innovation Campus in a new facility architected in a way that will enable these kind of interactions to happen for students early on — waiting until you're in business to get this kind of education, that's not going to work."
Prior to the Woolseys' $12 million, the largest donation WSU had ever received was an $11.25 million gift from Koch Industries and the Fred and Mary Koch Foundation in 2014.