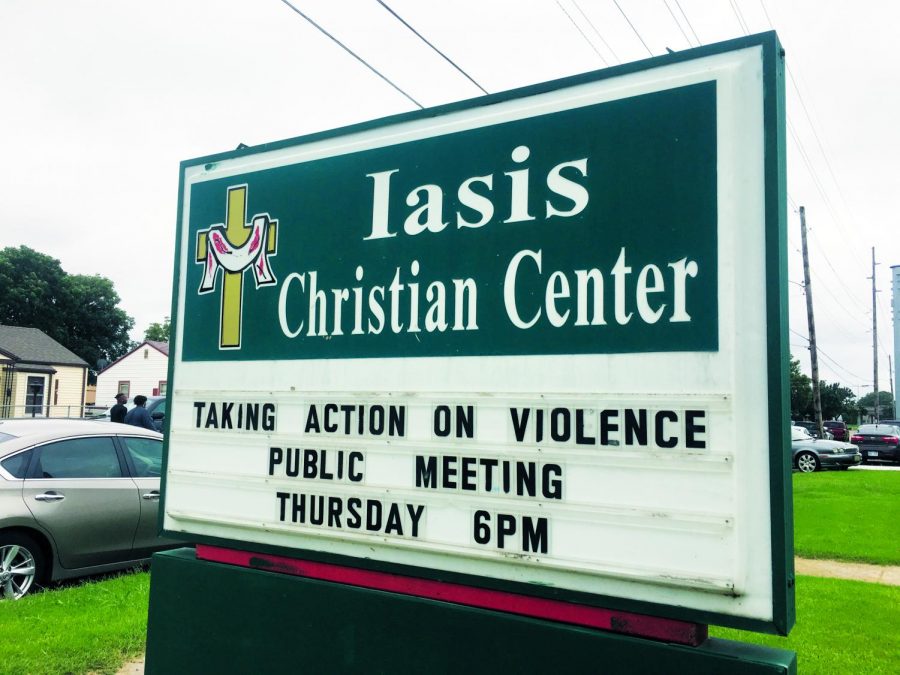 Jenna Farhat
In light of record-high homicide rates in Wichita this year, Wichita State's Division of Diversity and Community Engagement partnered with a local nonprofit to host a meeting to address violence in the community.
Wichita is clocking in at 38 homicides this year, already beating 2017's tally of 35 and 32 in 2016.
Around 150 people and more than a dozen Wichita Police Department officers attended the discussion, which took place Thursday at Iasis Christian Center, near 13th and Grove.
Wichita police officers at the meeting reported that there have been 316 rapes, 399 robberies, and 1,674 aggravated assaults so far in 2018.
Attendees were asked to discuss and share their answers to three questions: What are the boundaries of your community, what type of crime are you noticing in your community, and what are some solutions?
The WSU division partnered with CORE, a community empowerment nonprofit ran by Wichita City Council member Brandon Johnson and his wife, Danielle.
Danielle Johnson is also assistant director of WSU's Office of Diversity and Inclusion.
She said discussions like Thursday's are important for keeping WSU community members informed.
"You hear some of the students talk about hearing gunshots in the community," Danielle Johnson said. "There's crimes going on all over the place but we tend to get more sensitive around our students."
Kevin Harrison, community engagement coordinator for the WSU Division of Diversity and Community Engagement, said it's important for the university to be a part of solutions in the greater Wichita community.
"There's been 38 homicides in Wichita this year," Harrison said.
"It would be senseless for a university with all the resources that we have to just sit there and not at least try to be part of the solution."
Thursday's meeting was the first of its kind. Harrison said the plan is to hold the meetings every three months — the next being in December.
"Any time when we're on pace to have record homicides, without a doubt it's going to create a sense of urgency," Harrison said.
He said he thought the first meeting was the first step towards a more concrete solution.
"Today, I think, was the first step — building trust, getting people comfortable talking to each other," Harrison said.
Danielle Johnson encouraged members of the WSU community to attend future meetings.
"If you're a WSU student or you're a part of WSU, come out and learn more. It'll help dispel some of these rumors and these fears that we have," Johnson said. "Crime isn't just on the north side."