Student Senate recommends WSU outsource veteran benefit certification to VA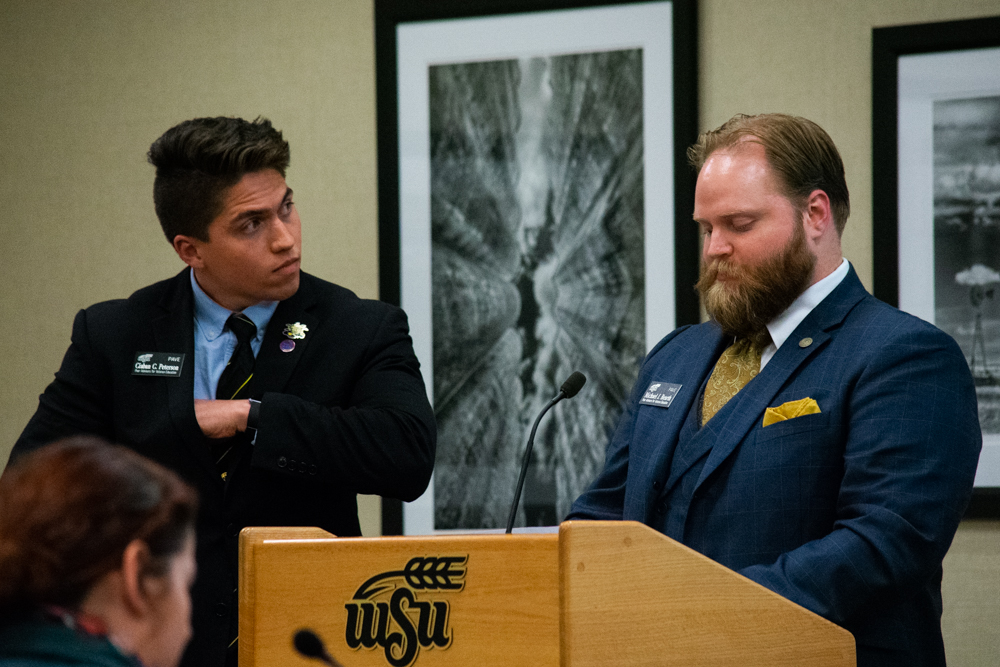 In light of a backlogged GI benefit certification process at the Student Veteran Center, SGA passed a resolution recommending the university outsource the process.
"I believe that the past recommendation for more individuals to work on this matter could be alleviated by a consulting team coming in to help this," Business Senator Ciaban Peterson said.
Peterson, a U.S. marine, co-sponsored the legislation, which was written by Veterans' Senator Michael Bearth.
Student senators passed a resolution at an SGA meeting two weeks ago raising concerns that more than 100 student veterans at Wichita State had not received payments for GI Bill education benefits due to understaffing at the Student Veteran Center on campus.
Friday, the university released a statement saying that three new people had been certified to process veteran benefits and that a new director for the Student Veteran Center had been hired.
If the university were to outsource the process as recommended by the resolution, it would mean utilizing a consulting group comprised of Veteran Affairs National Office certifiers, as well as the university's VA educational liaison.
Deanna Carrithers, a representative from the Division of Diversity and Community Engagement, spoke in public forum at the meeting. This division oversees the veteran center on campus.
She said the division is "in the process of unveiling some new certification processes, but [doesn't] want to announce anything without all the facts and documentation."
Peterson said that, along with Returning Adult Senator Eugene Potts, some student veterans have already left WSU due to not receiving their GI benefits.
"Effort or no effort, the road to hell is paved with good intentions," Potts said. "I don't care what your intention is, this needs to be done yesterday."
Peterson and Potts expressed concerns not only for students currently in the backlog, but for future registrations as well.
During debate over the resolution, Sen. Aaron Mounts took opposition to wording in the resolution that said the university has made "minimal efforts" to solve the issue with a backlogged certification system.
Mounts said that though the resolution addressed an important issue, it was important for SGA to maintain "civility" in its relationship with the WSU administration.
"You want [wording in the legislation] to be confrontational now because the minute a veteran commits suicide because he didn't get his benefits, you don't control the narrative anymore," Potts said. "I understand people have tried, and I appreciate it. But you didn't try hard enough."
Potts, also a veteran, co-sponsored the resolution.
The new resolution states that, despite the university's claims of "significant" reduction of the backlog, only 15 people were certified over a nine-day period.
According to the resolution, there are currently more than 80 individuals awaiting certification, and an anticipated influx of nearly 800 students will occur as registration opens for spring 2019.
"The school has been aware of [GI benefit issues] by previous administrators, by students, student leaders in the SVO (Student Veterans Organization)," Peterson said. "This wording will put pressure on the school to be able to understand how dire this is."
In other business:
A slew of appointments were made to the Senate and Supreme Court.
Freshmen Jillian Newfield, Cameron Morgan, and Alex King were appointed as at-large senators.
Freshman Anna Martin was appointed to the position of fine arts senator.
Junior Jonathan Miller was appointed to the Supreme Court.
About the Writer
Daniel Caudill, Editor in Chief
Daniel Caudill is the editor in chief for The Sunflower. A staffer at the paper since 2017, Caudill first covered Student Government Association and general...