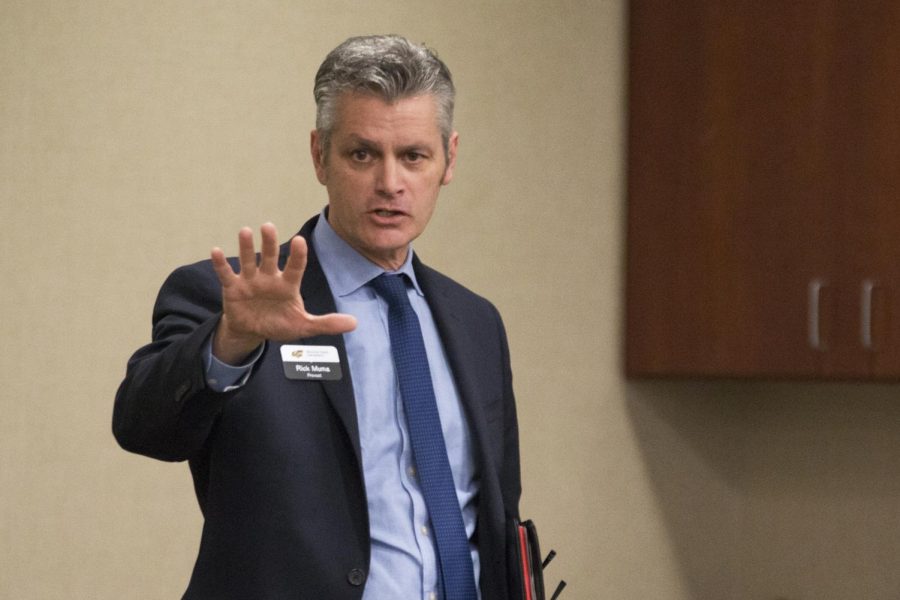 Selena Favela
Representatives from the student steering committee for the student-driven campus infrastructure project and proposed increase to student fees — Hannah Foster, Gentry Thiesen, and Ashley Estes — presented to student senators during the open forum of Wednesday's Student Government Association meeting.
Most of the answers were either provided or clarified by Vice President for Student Affairs Teri Hall and Provost Rick Muma.
​The student committee explained that the state of Kansas would not pay for the construction or maintenance of any building on campus, so the funding would come from increasing student fees. The proposed increase would be a $6 per credit hour increase, but the increase could initially start as low as $4 before gradually increasing.
INSTITUTIONAL ACCOUNTABILITY
​SGA senators voiced a number of concerns during the presentation.
"If the students vote no, how do we know that the school won't go through with it?" asked At-Large Senator Xan Mattek of the referendum scheduled for next March.
"We don't really know what will happen if this doesn't pass," Hall said.
​Mattek also asked about the process of taking out bonds to fund the initiative.
"When we voted on the YMCA and the new health center, we were told that the university couldn't take out any more bonds. What changed?" Mattek said.
"How it was communicated was that we would not take out any bonds for non-academic facilities. These are academic facilities," Muma said.
At the time of the YMCA vote, senators were told that the university was in no financial position to bond money.
Vice President for Finance and Administration Werner Golling told The Sunflower that the university's financial standing has not changed markedly since the YMCA proposal last spring, but that the fee hike would provide enough money for WSU to bond money.
TRANSPARENCY CONCERNS
Several senators raised concerns about the student fee increase needed to fund the infrastructure initiative. These concerns were presented in context of other issues, including where the money would be allocated, how student input would be gathered and received, and the university's need to approve the initiative before information about costs and timing were finalized.
"A lot of my constituents, and I personally, are concerned about the lack of transparency about the situation," said Business Senator Ethan Balzar.
"When we ask, we're being told we'll get more information later on. If we're in such a preliminary stage now, where the information is sparse because we don't really have it, why do we have to pass this referendum now?"
Muma and Hall said they didn't have all the answers yet.
"We have that information and will provide it. We're not trying to not provide it. I have it here. I can leave a copy here or I can send it," Muma said.
"Part of the reason we're here, even, is out of respect," Hall said. "This is something that is being launched on campus. It's a major student initiative, and you are the Student Government Association. [We're here] to make sure that you are included in this, to make sure you have as much information that you'll see in the paper. We don't have a lot of the answers yet. We don't even have a date for the campaign yet. But the key was that we would get ahead of you, as it started, so that it would feel that you could see the transparency that we're going for."
'DO OUR PART'
Other senators were concerned that students who were paying student fees wouldn't see any benefits from the projects they were funding. Business Sen. Ciaban Peterson suggested that students might be more supportive of the initiative if they could see tangible infrastructure improvements, such as the establishment of a 24 hour library or gym, during their time at the university.
"If I understand correctly, you want to know if we could do some things immediately to get more buy-in," Muma said. "The answer to that is yes. The toilet, or lack of toilet facilities, in the 24 hour library space. That's something that we can do fairly quickly. That would be an example."
Honors Sen. Lucas Webb said his constituents, especially upperclassmen, were concerned about fee raises for two reasons — first, because they stacked on top of fee raises from previous years, and second, because they would most likely not see the infrastructural improvements their fees were paying for.
The student steering committee replied that such increases to student fees were inevitable.
"You're never going to have to stop paying student fees. They're always going to be going up," Theisen said. "I'm a senior. Especially for upperclassmen, it's important for us to do our part for the future students at Wichita State.
Estes said upperclassmen are "always going to take the brunt of" such fees.
"We may not see what's actually going to happen," Estes said. "It's like paying taxes. I pay taxes on roads I'm never going to drive on."
BENEFITS ACROSS DISCIPLINES
At-Large Sen. Jannet Balderrama raised concerns on behalf of non-business students who would not receive the brunt of the infrastructural initiative's benefits. More than half of the money in the initiative will be allocated for a new business school building on Innovation Campus.
"Just because it's a business building doesn't mean . . . you won't have access to this building," Muma said. "They [business students] are not in the building 24 hours, seven days a week. We're planning on scheduling other kinds of classes in that building."
STUDENT INPUT
Senators were also concerned that the student-driven aspect of the project was lacking.
"[The initiative] has not, in my opinion, been well publicized," said Liberal Arts and Sciences Sen. Aaron Mounts. "I have asked quite a few people and their first question about this referendum is, 'Wait, what is that?' What steps are you taking in the next five months to make sure students know the in-depth details about what this entails, how much student fees are going to increase?"
The student steering committee replied that open meetings would be held for students to attend. Publicity would also be increased through the establishment of Facebook and Twitter pages where students could submit their input and ask questions about the initiative.
"We're going to make this a really big deal," Foster said.
"Part of the issue is the willingness [of students] to seek out the information," Theisen said.
Hall concluded the Committee's presentation by asserting that the administration would provide information to the Student Government Association as the project developed.
"I promise you we will come back," Hall said. "When you walk into academic buildings this January, you're going to trip over the kinds of information we have put out for this. We'll have the whole timeline and have all the answers to all of your questions.
"We came here out of respect to let you in on this as we're getting started. That's what we're here for. And we heard your concerns and I promise you that we'll be able to answer them."
​At the end of the meeting, several senators remarked that, if the student steering committee, Hall, and Muma came to speak again, it would be helpful to have Hall and Muma speak at the front of the room with the speakers so that they could be heard clearly as well. Student Body Vice President Shelby Rowell said that initially, only the representatives from the student committee were going to speak. If the three came again, Rowell said, they'd arrange for seating so that all could be heard clearly.