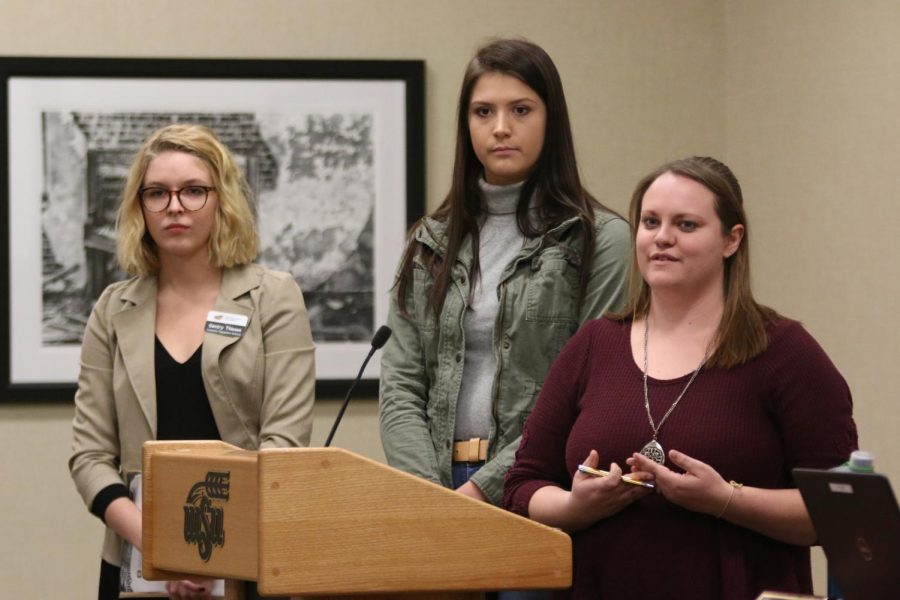 Selena Favela
There are 26 students on the steering committee charged with informing students and generating support for the proposed $6 a credit hour infrastructure fee to upgrade campus facilities.
Deans from every college appointed two students each to the committee, and there are also representatives from the Institute of Interdisciplinary Innovation, University Libraries, the Student Government Association, and Strategic Communications.
Three members of the committee, Hannah Foster, Ashley Estes, and Gentry Thiesen, fielded questions from student senators during Wednesday's Student Government Association meeting. After the meeting, Foster said it's important that students play a role in the university's decision-making process.
"We don't as students have all of the information that [administrators] have had for — it's been months to years, and we're just now getting involved," Foster said.
"The longer we do these meetings and the more we have our input, the more it's going to be student-driven."
Foster said she doesn't know what will happen if students vote down the proposal in March, but that they need to have all available information at their disposal to take a stand.
"We hope that by the time March comes around and the vote happens, that the students have all the information they need to make an informed vote," Foster said.
Here are your student representatives on the infrastructure steering committee.
Applied Studies
Kali Dorey
Karsten Bailey
Business
Cynthia Matson
Rigoberto San Juan
Engineering
Kaelee Knoll
Jesus Gomez Llanos Tirado
Fine Arts
McKenzie Hercules
Travis Tyson
Health Professions
Stephanie Tsang
Max Karst
Liberal Arts and Sciences
Kathy Johnson
Gentry Thiesen
Graduate School
Vijay Matheswaran
Grant Cosselman
Honors College
Jacob Tubach
Noor Farhoud
Institute for Interdisciplinary Innovation
Kristyn Smith
Kathy Johnson
University Libraries
Danish Charolia
Ashley Estes
Strategic Communications
Hannah Foster
Laura Restum
Student Government Association
Kenon Brinkley
Shelby Rowell
Haley Ensz
Charles Williams