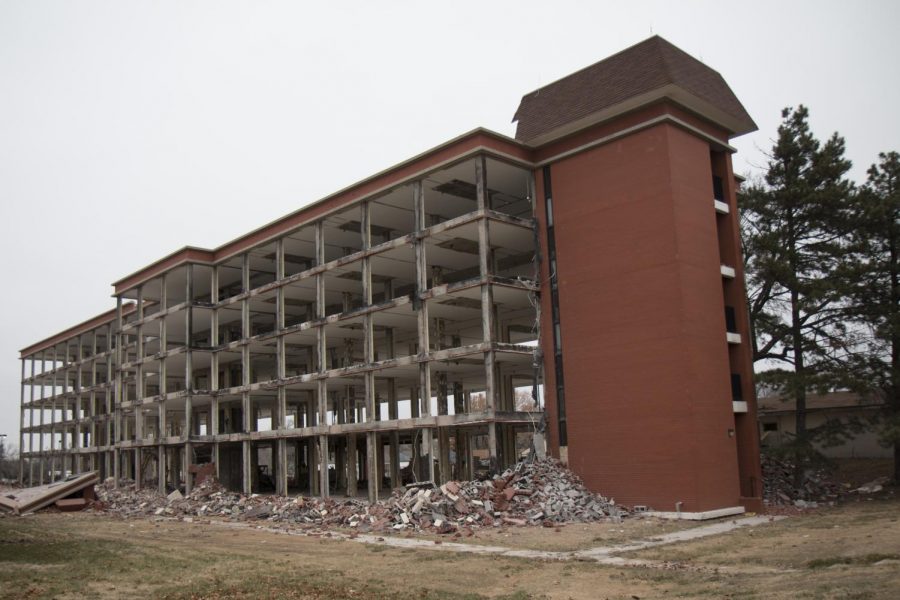 Selena Favela
Hannah Ruth Tabler
Lived in Fairmount Towers: 2016
"A group of probably six to eight of us got stuck on the elevator the day of move-in. I thought I was going to die in there. Fairmount always felt a bit like a death trap."
Gabrielle Owens
Lived in Fairmount Towers: 2013-2015
"I wish they would've tried to salvage it so that students could still have the option to live/eat there. I specifically remember, from undergrad, having late-night in the cafeteria. We all congregated, ate, laughed, all that. It was so nice having all my friends in the same central location. It felt like a sleepover with your best friends every night."
Payton Morgan
Lived in Fairmount Towers: 2016-2017
"My mother ran the TRIO Upward Bound Math and Science program and every summer, students from all over Kansas would come and live there for the summer. So from birth, I spent summers with her students . . . I grew up in Fairmount and spent most of my summers there, so I have lots of memories. It makes me very sad to see it close. I remember my freshman year, living there with my roommate and the long walks to campus every morning. I had fun there and felt it was easy to make friends there. A strong sense of community on every floor. It also helped that it was somewhat affordable compared to the other on-campus living options."
Luke McAdam
Lived in Fairmount Towers: 2012-2013
"My first night in the dorms set the pace of what wild shenanigans were to come from my fifth-floor comrades.  I was setting my dorm room up as I heard an uproar from a few doors down. The result of the noise came from cheers of people being tazed at will . . . Throughout the school year, I obtained a core group of friends. From making a questionable-looking snowperson during a snow day to playing Super Smash Brothers in the lobby, my friends and I were always on missions to entertain our naive selves. I will always be thankful for the exposure of people from all walks of life that I was able to call my friends."
————–
Demolition has started on Fairmount Towers, Wichita State's student dorms and home to many Shockers for more than 50 years.
No long-term use has been determined for the site of Fairmount Towers, university spokesman Joe Kleinsasser said Wednesday. Last year, the abandoned buildings were used as a part of training for regional fire departments.
In the summer of 2017, Wichita State announced that Fairmount Towers would close after more than 50 years of operation, saying that the student dorm building had "reached the end of its useful life." About 300 students that had signed up to live there were moved to a private apartment complex on campus, The Flats, after they failed to fill up.
When the university announced the closing of the student dorm, WSU still had five years worth of debt to pay off for Fairmount Towers — partially due to debt transferred from Wheatshocker Apartments when it was demolished in 2014.
Fairmount Towers was built in the 1960s and is located caddy-corner to WSU's main campus, across 21st and Hillside. The demolition process is expected to be complete before the spring 2019 semester.
Around 40 percent of WSU buildings are in the same or worse condition compared to Fairmount Towers. According to a Kansas Board of Regents report on building conditions at state institutions, 34 out of 84 campus buildings at WSU are in the same or poorer condition than Fairmount Towers.
The report rated Fairmount Towers a 76 out of 100, which falls into the "fair" category.
Buildings in worse conditions than Fairmount Towers include Henrion Hall, Clinton Hall, Devlin Hall, the Engineering Building, McKnight Art Center, and Wilner Auditorium.