Midtgaard, Echenique combine for 21 rebounds in Wichita State's first road win of the season
After losing their first six road games of the year, Wichita State now owns a road win.
The Shockers played far from a perfect game at East Carolina. The difference was East Carolina struggled to get much offense of their own going at any point in the game.
WSU had 10 turnovers in the game (to ECU's eight), and struggled to work the ball in the interior in the second-half of play. ECU couldn't respond, as they had just one three-pointer in the first half. Their offense, although improved in the second half, was stagnate for much of the game.
Samajae Haynes-Jones won the game for WSU. The senior from Wichita had 18 points. He hit his first seven shots — with two three-pointers — before fizzling out with two missed shots late in the second half. Haynes-Jones made his mark hitting step-back jumper from eight or 10-feet out. Markis McDuffie also broke double-figures with 14 points.
Haynes-Jones said following the game that he and McDuffie's leadership have both helped with the maturation of the nation's fifth-youngest team.
"Everyone has gotten better," Haynes-Jones said. "It's been tough — up and down — everyone goes through it. We're progressing."
Sure, the Shockers shot well from three-point range at 33 percent. What put the game — the Shockers' third win in a row — was the rebounding battle. The Shockers out-rebounded ECU, 46-27.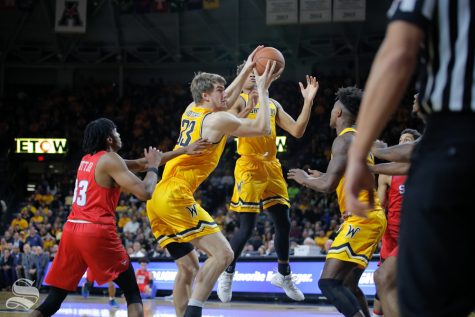 Asbjørn Midtgaard had a career-high 11 rebounds, and Jaime Echenique wasn't far behind with his own career-high of 10 rebounds.
Gregg Marshall's Shockers are moving up the ranks of the American Athletic Conference after the program's worst conference start in years. With a 4-6 conference record, the Shockers are inching that much closer to the middle of the conference standings.
WSU next plays Tulane, who is winless in conference play, on Saturday at Charles Koch Arena.