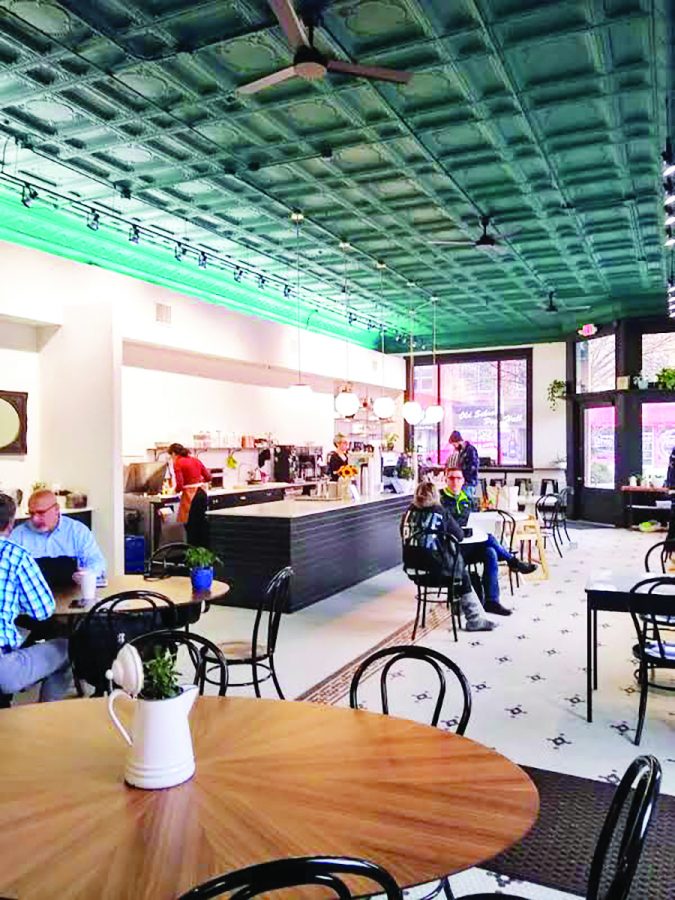 Becca Yenser
It's hard to imagine a more glamorous setting to drink a cup of coffee. Honeycomb black and white tiles grace the floor. Huge windows allow for natural sunlight to pour onto the tables adorned with succulents. But mainly, the eye wants to climb upwards to the soaring, turquoise tin ceiling. Since opening its doors last winter, Leslie's Coffee Company has quickly garnered attention for serving high-quality coffee in a stunning space.
On a Wednesday morning, the vibe is casual and cheerful. Bon Iver plays on the sound system. Several students do homework, businessmen hold quiet meetings, and a few souls perch on high stools facing the charming downtown of historic Delano.
I'm here for two things — coffee and 'millennial toast.' Leslie's avocado toast, already revered on Yelp reviews, is an elegant single slice of sourdough topped with balsamic pickled mustard seeds, Aleppo pepper, sea salt, and a soft-boiled egg. The sharp tang of the mustard seeds balances the creamy fattiness of the avocado. This is a seriously satisfying and protein-rich breakfast.
My latte arrives quickly, topped with a gorgeous design. A velvety microfoam floats on the surface of the espresso. There is a sweet, nutty quality to the coffee that is truly addictive.
I manage to catch up with the owner and namesake, Sarah Leslie, to ask her a few questions. My first one is simple: What was your motivation for opening up a coffeeshop?
"I wanted a place where I could be a barista," Leslie said. "But also, I feel like there's a need for more coffee shops in Wichita. I've worked at so many coffeeshops that I wanted to make the place where I would want to work."
When asked what sets Leslie's coffee apart from other Wichita coffee shops, Leslie cites her beans. She uses specific beans, responsibly sourced, for specific purposes. For example, the acidic yet sweet "Geometry" bean for espresso. The bean offers the perfect flavor for mixing with milk, she said. Upon mixing, the espresso mellows and smooths out without losing its flavor.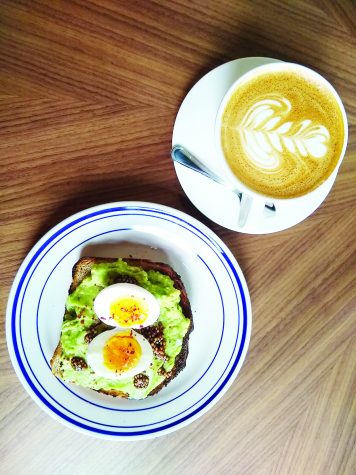 Another set of beans, called the "Southern Blend," has an almost fairytale-esque balance.
"The "Southern Blend" is like the three little bears," Leslie said. "It's not too dark, it's not too light, it's not too acidic — it's not boring."
Leslie is clearly passionate about Wichita's potential in coffee culture. She chooses beans from responsible sources and said she hopes to see Wichita move towards a coffee culture like the one in Kansas City.
"I think KC has a really open and collaborative coffee community that I'd like to see happen in Wichita," Leslie said.
Even though a thin sheet of ice coats the morning sidewalks, there's still an active hum inside and outside the shop. During her interview, Leslie gazed out the window and smiled.
"I'm excited we're on the corner here," she said. "I wanted to be in a place where people still walk on the sidewalks."
Buzzing from good coffee and the lovely atmosphere, it's easy to imagine Leslie's Coffee as the heart of Delano for years to come.