VanVleet, team-defense eliminates Arizona, Shockers advance to Round of 32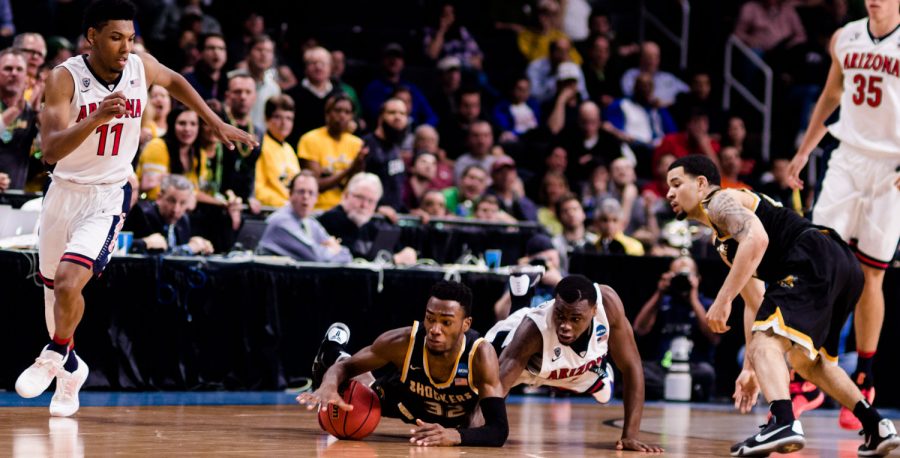 Providence, Rhode Island —Floor burns. The hardwood on the court of the Dunkin' Donuts Center leaves skins marked with red bruises and sometimes even gashes at the point of contact, nothing your typical basketball player seeks out or tries to take with them. But for Wichita State's Evan Wessel and Fred VanVleet, floor burns mean everything.
In the first minute of Thursday's game — a 65-55 win over sixth-seeded Arizona — Wessel and VanVleet dove to the ground, fighting for a loose-ball with Arizona's Mark Tollefsen, stuck in the backcourt, Arizona head coach Sean Miller was forced to call a timeout 53 seconds into the game.
"Just like any other game, address the wounds after and keep it moving," Wessel said.
Wessel hid his bruised knees and VanVleet scratched at a cut on his face, that occurred on contact during Tuesday's First Four game. Beaten, battered and bruised — they celebrated an entry into the Round of 32 — they celebrated 19 Arizona turnovers.
VanVleet recorded five total steals, including a strip in the post from Arizona's Dusan Ristic, that put VanVleet racing out into open court, igniting a 13-2 WSU run.
"Fred has a nose for steals, he won't stop," sophomore Rauno Nurger said. "He's not going to give up very easily, if he sees a ball coming at you, he's going to take it from you, go down, and score."
VanVleet's five steals put him one shy of tying former-Shocker Jason Perez's all-time steal record, with 221 steals.
"It's awesome, what a heck of a record," VanVleet said. "To be up there is nice, I'm just trying to be active on defense and try to find ways to help the team. Arizona is big, I'm trying to help those guys in the post."  
WSU held the Wildcats to their lowest scoring performance of the season — 27 points off their season average 82 points per game — while forcing Arizona to 19 team turnovers.
VanVleet led with 16 points, Baker added 13. Sophomore guard Conner Frankamp made two three-pointers. WSU finished with three total three-pointers as a team, shooting 15 percent from outside the perimeter.
Freshman Markis McDuffie and Frankamp added 10 points each. WSU had nine team steals and five blocks.
Wichita State will play third-seeded Miami at 11:10 on Saturday in the Dunkin' Donuts Center in Providence, Rhode Island.
About the Writer
Evan Pflugradt, Sports Editor
Evan Pflugradt is the former Sports Editor of The Sunflower.

Pflugradt past served as the publication's Editor in Chief, Opinion Editor and a reporter....