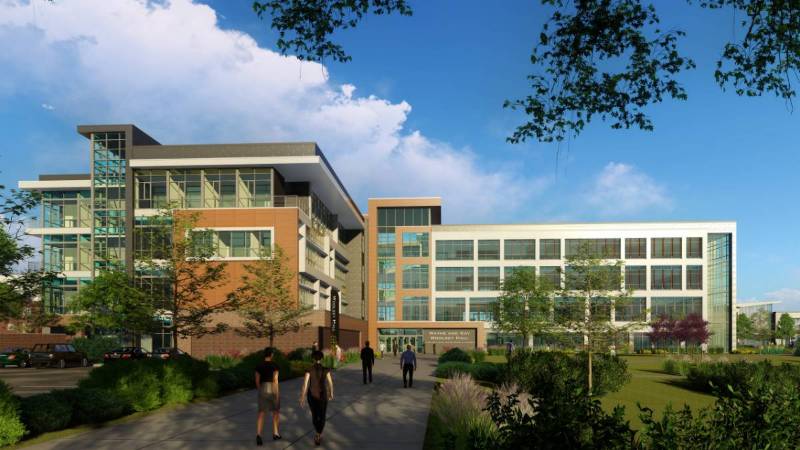 Courtesy of Wichita State
If this week's Shock the Future referendum passes, $20 million in student fees from students across all six of Wichita State's academic colleges will go towards Woolsey Hall, the $50 million business building set for construction on Innovation Campus.
Donors have already raised $30 million for the building, which would become the new home of the Institute for the Study of Economic Growth, currently housed in the basement of Clinton Hall. Announced in September 2017, the institute was funded through a $3.6 million grant from the Charles Koch Foundation.
Through his foundation, the billionaire Koch Industries CEO has supported the creation of centers for economic research on college campuses across the country — spurring on concerns that his conservative, free-market ideology could compromise universities' academic research.
WSU has a Center for Economic Development and Business Research that operates independently from the institute. WSU officials have maintained that the university's academic freedom will be preserved in the institute.
"Preserving academic freedom and following normal university processes . . . Those two principles were paramount in our decision to move forward," Barton School of Business Dean Anand Desai said in 2017. "It was important that we preserve those things at Wichita State.
"The goal is to expose our students to a broad range of ideas and methodologies so that they will ultimately decide. We're not forcing them to think in any particular manner. It's their choice."
WSU already named a director for the institute, Ted Bolema, who is teaching Principles of Macroeconomics this semester. There was no university press release announcing Bolema's hiring.
Bolema said the institute would take up "a very small portion" of Woolsey Hall.
Prior to coming to WSU, Bolema researched and wrote on communications economics and policy for the Free State Foundation, which promotes "free market, limited government, and rule of law principles at the federal level and in Maryland," according to their website. The Center for Media and Democracy classifies it as a "conservative" think tank.
Prior to that, Bolema spent five years as director of policy research editing at George Mason University's Mercatus Center. The center describes itself as "100% privately funded," and has received major contributions from foundations that support conservative causes, including $8.8 million from the Charles Koch Foundation between 2002 and 2012, according to the Center for Media and Democracy.
Bolema said that at the Mercatus Center, one of his initiatives was to make sure research was "unassailable in quality and could reach a variety of different audiences with differing viewpoints on public policy issues."
Desai said the Charles Koch Foundation played no role in hiring Bolema.
"The Charles Koch Foundation had no input in the process and none was requested," Desai wrote in an email. "After Dr. Bolema accepted the position and the onboarding process was completed, we connected Dr. Bolema with the Foundation."
Bolema said WSU is in the process of filling two more professor positions funded through the Institute for the Study of Economic Growth. Bolema said he, along with another member of the economics department and a member of the management department, reviewed more than 280 applications in January.
The committee is now conducting on-campus interviews with candidates, who will meet with business school faculty, the dean, and the provost, Bolema said.
"The Charles Koch Foundation did not have any say in who we choose to interview or hire, and has not sought to direct our hiring process in any way," Bolema wrote.
WSU officials discussed a potential Koch-funded institute in emails provided anonymously to The Sunflower in 2016.
"This opportunity is transformative for the Barton School," then Provost Tony Vizzini wrote in a July 2016 email. "By us being stewards for the [Charles Koch Foundation] we assist them in their mission. They, in return, transform us allowing us to advance in our mission."