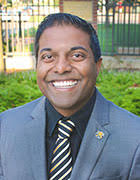 Courtesy
Bobby Gandu has been promoted to Wichita State's assistant vice president of strategic enrollment management, according to a university release.
Gandu, who has served as director of the Office of Admissions since 2008, will continue overseeing the admissions process in his new role, the release says.
"His new responsibilities will include continued supervision of the Office of Admissions, as well as playing a larger role of linking newly admitted students to our brand of applied learning, where every student has an experience leading to employment after graduation," the release says.
"I'm excited about the opportunity to amplify the good work already going on at the Career Development Center," Gandu said in an email. "Our institutional vision is to be recognized as the model for applied learning and research, and so my hope is to help make sure our entire student cycle — from recruitment to graduation — is providing sharp and intentional connections toward applied learning."
Assistant vice president of enrollment management is a new position at WSU. Carolyn Shaw was named associate vice president for strategic enrollment management last July when Rick Muma become provost.