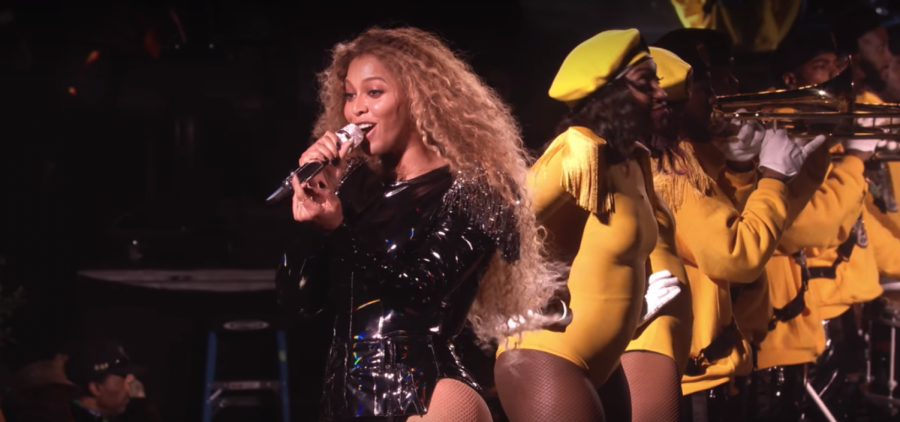 Courtesy of Netflix
The power of a concert comes from an undeniable presence: bass coursing through your bones, the voice of a singer swelling golden through the air, the look of joy on surrounding strangers' faces. This makes concerts nearly impossible to document effectively. If you're not there, you're just not there, right?
Just a handful of music documentaries overcome this massive boundary, and Beyonce's "Homecoming" is the latest to do so. Coachella's flashing lights and roaring crowd overflow the boundaries of the screen. Stunning costumes and camera angles create a visual feast for the viewer. Essentially, all the flash and bang is anchored by a driving purpose that the enchanting surface only hints at.
"Homecoming" is anchored in the dream of the Historic Black College / University (HBCU). Beyonce incorporates this stylistically through flashy Greek-lettered uniforms and musically through arrangements fleshed out by marching-band brass. What strikes as a confusing musical touchstone for Beyonce's genre-spanning discography proves itself within minutes as the brass-laden "Crazy in Love" segues into hit after hit.
Miraculously, the brass section adds power to almost every song in Beyonce's performance. When they're not needed, the band members simply flesh out the show's epic choreography.
Speaking of which, Beyonce's choreography is absolutely stunning due to a daring innovation. "Homecoming" alternates between strings of musical performances and behind-the-scenes footage of rehearsal. It's hard not to let your jaw drop as Beyonce explains the design of the dance in the show.
Even given the highly-ordered design of each dance, all performers were encouraged to bring their own flair to each move. Watching "Homecoming" in the wake of this knowledge is fascinating. Look at any one dancer, then another, and you'll find that no two dances are alike — even though the entire ensemble seems to move as a cohesive movement.
The other element brought to life through these making-of scenes is the ridiculous amount of hard work and human resources needed to bring Beyonce's live show to life. The four months of nonstop work play out like a saga of their own. This plays beautifully off the struggle and success embodied in the show's HBCU foundation, and the result is inspiring.
In such a way, "Homecoming" champions individual success even as it rotates around a larger-than-life persona.
It's of no surprise that a Beyonce concert film would succeed. Beyonce herself, whether live or on screen, carries the sort of undeniable presence that we hope to feel at any live show. She radiates through the screen — her confidence and composure unwavering even in close-up. Never has it been clearer just how capable Beyonce is as a performer.
More than that, "Homecoming" serves as a true illustration of Beyonce's legacy. The concert barrels through 40 songs, most of which will be familiar to even casual fans. The sprawling highlight-after-highlight setlist on "Homecoming" marks it as the culmination of a legend's 20-year career.
Now, with two excellent films under her belt, Beyonce continues to rise beyond her already-legendary status. We can only be thankful that, from such a high place, she dedicates herself to lifting others up.